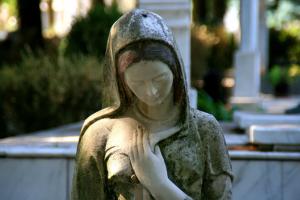 Everyone desires to "belong" to something: an institution, an organization, a cause. We are comforted when we belong to another person or group. Our marital and other family relationships provide us with stability and solidarity with something bigger than ourselves. All of these ties and bonds supply us with love, security and direction. However, there is no peace and security comparable to the safety and soundness of belonging to Our Lord. Pope St. John Paul II modeled a most excellent way of placing ourselves totally in the hands of Jesus through his Mother Mary with his loving and imitable dedication to St. Louis de Montfort's True Devotion to Mary throughout his life and particularly during his pontificate. Pope John Paul II's motto, Totus Tuus…totally yours, was inspired by a prayer of de Montfort in True Devotion: Totus tuus ego sum et omnia mea tua sunt…I am totally yours and all that I have is yours. To belong totally to Jesus through Mary, according to St. Louis de Montfort, is the most perfect way to reach heaven. Studying the True Devotion, applying it to one's life, and making the Total Consecration to Jesus through Mary is a safe and sure way to help secure our salvation. A mother's love for her children is the most extraordinary love, and this is especially true of Our Blessed Mother. From experience, I am certain that a person who turns to her as a Mother will never be disappointed, but will encounter her loving protection and counsel and experience peace and joy. The more we turn to her , the more she helps us to know and love her Son Jesus.
What is the Total Consecration?
A consecration is an act by which someone or something is separated from a common or temporal to a sacred use, or by which a person or thing is dedicated to God. St. Louis de Montfort's True Devotion and the Total Consecration are a method of devotion to Mary whereby we give ourselves entirely to Jesus through Mary in order to live in the greatest conformity to Him. St. Louis de Montfort said, "of all God's creatures Mary is the most conformed to Jesus. It therefore follows that, of all devotions, this total gift of our lives to her for her purposes makes for the most effective consecration and conformity to him. The more one is consecrated to Mary, the more one is consecrated to Jesus." (True Devotion 120) The Total Consecration consists of 33 days of prayer and preparation for the final consecration prayer, which is usually performed on a Marian feast day. It consists of giving ourselves totally to Mary in order to be totally united with Jesus through her; therefore, it should be preceded by much prayer and consideration. In it, we consecrate our body, soul, material possessions, and spiritual possessions, which includes "our merits, virtues and good actions of the past, the present and the future." (True Devotion 121)
Why Make a Total Consecration?
St. Louis de Montfort lists several reasons why a person would decide to consecrate themselves to Mary. Among these, the first reason is to give oneself completely to God. The decision is not to be taken lightly, as St. Louis de Montfort explains,"this devotion makes us give Jesus and Mary all our thoughts, words, actions, and sufferings and every moment of our lives without exception." The devotion helps us to imitate Christ and obtain union with him. We undertake the Consecration to obtain the many blessings that our Mother Mary promises us. Through it, we also give glory to God, obtain liberty of spirit and the grace of perseverance. The saint assures us that the with the practice of True Devotion we also help our neighbor: "We give our consent that all we have already acquired or will acquire until death should be used in accordance with our Lady's will for the conversion of sinners or the deliverance of souls from Purgatory." (True Devotion 171) If we resolve to live a Christian life, should we not aim high and endeavor to be the best Christians we can, and even to become saints? Jesus left us with the preeminent gift of his holy Mother at the Cross when he bound Mary and John as Mother and son: "When Jesus saw his mother and the disciple there whom he loved, he said to his mother, "Woman, behold, your son. Then he said to the disciple, "Behold, your mother." And from that hour the disciple took her into his home." (Jn 19:26-27) She is, in turn, our Mother, who lovingly cares for and nurtures us, and, most importantly, leads us to Jesus and gives him glory. "Mary, to whom we surrender the value and merit of our good actions, knows perfectly well where God's greatest glory lies and she works only to promote that glory." (True Devotion 151)
Benefits of the Devotion
St. Louis de Montfort assures us that if we practice True Devotion and the Total Consecration, we will enjoy marvelous benefits in our souls. First, by the light of the Holy Spirit, he says, we will gain humility and come to know our unworthiness. Through the devotion, we acquire a share in Mary's great faith, which was stronger than any other human who lived, and her pure love. We obtain confidence in God and Mary. Our spirit will be imbued with the spirit of Mary, we will be better able to imitate her virtue. St. Louis de Montfort states, "Mary is a mould capable of forming people into the image of the God-man. Anyone who is cast into this divine mould is quickly shaped and moulded into Jesus and Jesus into him." (True Devotion 219) We will be transformed into the image of Christ by consecrating ourselves to Mary and faithfully imitating her. Finally, we will obtain the greater glory of God through our offering. Mary receives our gifts and makes them more pure and beautiful so that the Father will be pleased with them. She can make holy what we, in our sinfulness, are not able to.
Performing the Consecration
It is advised that the 33 days end on a Marian feast, so that the Consecration can be made on a special day of hers. There is a formula set down in the Preparation for Total Consecration, with special prayers and meditations for each day. A more modern method is available in 33 Days to Morning Glory, written by Fr. Michael E. Gaitley, MIC. The Consecration day is preceded by a 12-day period of freeing ourselves from the spirit of the world so we can be filled with the spirit of Christ. This period is followed by three weeks of prayerful preparation: the first, to know ourselves and our sinfulness better; second, to know and love Mary; and, third, to know and understand Jesus. The Consecration is performed on a Marian feast day and is accompanied by Confession and Holy Communion. It is recommended to renew the Consecration yearly.
No Better Model
"Because Mary remained hidden during her life she is called by the Holy Spirit and the Church "Alma Mater," Mother hidden and unknown. So great was her humility that she desired nothing more upon earth than to remain unknown to herself and to others, and to be known only to God." (True Devotion 121) To be like Mary is to be humble, obedient, and devoted to Jesus. Aside from Our Lord, there is no one more worthy of imitating. If we diligently follow St. Louis de Montfort's method of True Devotion and Total Consecration, he assures us we can quickly ascend to her holiness in our own lives and become more perfect disciples of Our Lord Jesus.
(Image credit: Pixabay)