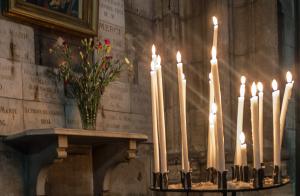 "I am the light of the world. Whoever follows me will not walk in darkness, but will have the light of life." (John 8:12) This past Sunday, we celebrated the feast of the Presentation, also called Candlemas, at which time the blessing of the candles to be used for the upcoming year took place. There is something about a blessed candle that evokes mystery, spirituality, other-worldliness. The light and warmth of the flame cuts through the darkness of this world and brings with it a palpable sense of the divine to earth. It seems to draw our attention inward, and, if we maintain a reverent spirit, we become more aware of the Blessed Trinity within us.
Jesus, the Light of the World
The Church uses candles in many ways to represent Jesus, the Light of the World. Our scripture study group begins with lighting a blessed candle and placing it in the center of the room for all to see. It helps us to become centered and focused on the scripture passage, which is read aloud and discussed. It seems only appropriate that when the Word of God is read aloud, there should be the light of a candle present to accompany it. Catholics visit churches to light a candle and offer a prayer of petition for a sick friend or relative or to receive financial blessings, employment, or some other favor. We light the Paschal candle at Easter, Advent candles, and the all-important red tabernacle lamp, which is present indicating that Christ is truly present within the church. The use of candles, or light, figures into this coming Sunday's gospel reading from Matthew, in which Jesus tells his disciples that they are "salt" and "light."
"You are the salt of the earth. But if salt loses its taste, with what can it be seasoned? It is no longer good for anything but to be thrown out and trampled underfoot. – You are the light of the world. A city set on a mountain cannot be hidden. Nor do they light a lamp and then put it under a bushel basket; it is set on a lampstand, where it gives light to all in the house. Just so, your light must shine before others, that they may see your good deeds and glorify your heavenly Father." (Matt 5:13-16)
Salt and Light at the Banquet
Imagine an elaborate dinner table, with ornate salt shakers and elegant candlelight adorning the tabletops. The Eucharistic feast is the banquet we are all called to, where salt and light are necessary to complete the scene. Jesus is truly present in the Eucharist, and when we receive him we are, in turn, to go out to season and flavor the world with our words and actions and spread the light of Christ to others. From the banquet comes the Kingdom of God, which is already taking place on earth among those who love and serve him. We should strive to do our best to let Christ shine forth in all that we say and do, and to spread his love wherever we go.
How Can We Be Salt and Light?
Our actions speak louder than our opinions any day. We can hear hundreds of opinions in a day, especially through media and social media, but what truly influences is a good example. If our actions imitate Jesus' and are rooted in love, humility, and service, we will be that salt and light for others that he is calling us to be. What are some concrete examples of how can we be salt and light in today's world?
Living a Virtuous Life
Fr. Conley Bertrand speaks of how we can be salt and light in his commentary, Understanding the Sunday Gospels. He says that living a virtuous life that is healthy and balanced physically, mentally, and spiritually will enable us to fulfill our particular vocation, and thus, be that good example for the world to see and imitate. Speaking well of others with love and kindness is also important. We should avoid idle talk and gossip, and our words should be positive and uplifting to elevate the conversation around us and life others up. Modesty and dignity in dress, speech, and actions is also important, as is kindness and consoling others and reaching out in service to them. Fr. Bertrand also says that to be salt and light requires prayer and meditation so that we can be transformed by Christ into what he is calling us to be. Meditating daily on the word of God and spending time in prayer are vital for this transformation.
Shining with Humility
What is the difference between showing off and letting your light shine? When we speak or act, we can ask ourselves, "Am I calling attention to myself, or am I pointing to Christ and giving him the glory?" The Superbowl Champion Chiefs' quarterback Patrick Mahomes gave an excellent example when he shared his faith in a pre-game interview with Fox4kc, saying, "Obviously I want to win every game, but I'm glorifying him every single time I'm out there." In his time in the spotlight, he chose to shine the light on Christ and give him the glory for his abilities and accomplishments. Like Mahomes, we should utilize our gifts and talents, but do it in a way that shines the light on God and not ourselves. We can ask God for the grace of humility and generosity in our words and deeds and trust that he will help us to acquire these virtues.
"So whether you eat or drink, or whatever you do, do everything for the glory of God." (1 Cor 10:31)
(Image by Carabo Spain from Pixabay)