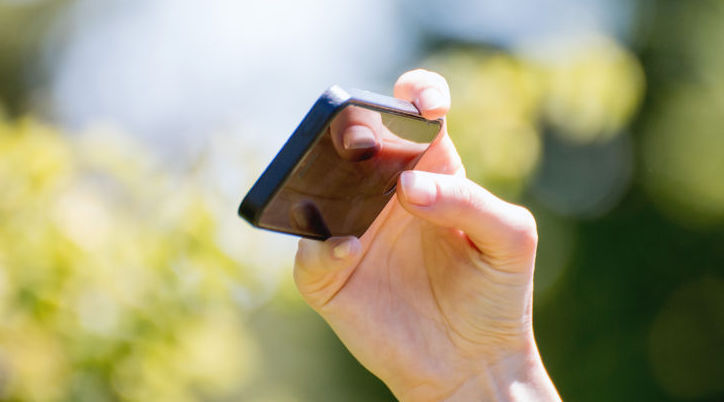 A little while ago, I wrote a blog post about the ways I modified my apps and smartphone use in order to made it "contemplative friendly" to help me pray more often.
On a certain level, such an aspiration appears absurd since smartphones are designed to be data-collecting, dopamine doling distraction machines. Can a phone designed for distraction and disruption become a positive force in prompting prayer?
The truth is that I've found myself trying to navigate compromises, making the best of things. The smartphone can be extremely useful, from providing directions, text messages with family on the go, Facetime for distant relatives, or easy ways to keep up clients on a busy day, but I often wonder if my spiritual health would be best served if I didn't have it.
Frankly, I would probably be in my best spiritual state if I didn't have any screens in my life at all. However, these screens also serve the vital purpose of providing work opportunities that I would otherwise lack and connection with distant family and friends.
The attempted middle road then is to keep technology, like my phone, around but to exert significant effort to mitigate its impact. If there are large teams of researchers luring me onto my phone as often as possible, then I'm going to need to invest significant time and energy into countering their efforts so that I have some space for silence, spiritual reflection, and mental health.
I'm using an app called "Moment" that tracks my daily usage and offers reports and updates throughout the day. My goal each day is to limit myself to 44 pickups, which involves turning the phone's screen on, and to 1 hour 15 minutes of screen time. Those can fly by pretty fast when you think of checking the weather, setting up a podcast, looking up the hours of a store, or access any of the other useful functions for a phone.
If I'm in a rut and crave a bit of distraction via a news site, sports app, or Instagram, time zips past as if I've entered a different dimension.
One app company tracked their users and found that they averaged 2,600+ touches of their phones per day–a touch not necessarily meaning they opened an app to interact with it. I can't vouch for the accuracy of that study , it's indisputable that simply having an appealing device such as a smartphone around means we are more likely than not to frequently interrupt what we're doing to use it or touch, even if it's only for a few seconds.
This trend does not bode well for prayer. If being present if not attentive to God means directing all of our attention to either silence or the words we're saying, an appealing distraction device in our pockets that we can't resist touching is not going to help.
If I am going to keep my smartphone or tablet around, then I at least need to think of how to minimize their impact on my life. Without some intentional separation, blocks, and countermeasures, they'll take up as much time as I'll permit them, and it's likely that I'll never even know the true cost.
Image Details: https://jeshoots.com/female-hand-using-a-smartphone-shallow-depth-of-field/, Royalty Free