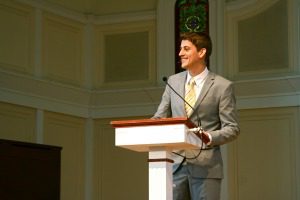 Just posted a new piece at the Gospel Coalition on Sports Illustrated sportswriter Thomas Lake:
It may surprise you to learn the finest young sportswriter—perhaps the finest young writer period—in America is a Christian. It's true: Thomas Lake, all of 31 years of age and currently a senior writer for Sports Illustrated, graduated from Gordon College in Massachusetts.
Lake has drawn major attention for his long-form journalism, which expertly mixes soaring set pieces and ground-level investigation. In most cases a journalist excels at either the craft of storytelling or the labor of research. Lake succeeds in both areas, and a third of far greater importance: writing with genuine moral vision borne of faith in a risen Christ. Readers new to Lake should start with the stunning "The Boy They Couldn't Kill," "2 on 5," "The Way It Should Be," and "Bad Nights in the NFL." Be prepared to shed tears as you read these stem-winding articles.
I recently conducted an appropriately long-form interview with this expert writer. Those who enjoy writing and examples of exceptional cultural engagement by Christians (recorded in books like Faith in the Halls of Power by Gordon College president D. Michael Lindsay) will profit from Lake's commentary. During an exhilarating hour and a half, we covered many things: Lake's winding background, what it's like to work at the country's premier sports magazine, and how pastors can best preach the ultimate story.
Read the whole thing.  This is a two-part interview, and I think you'll enjoy it if you like writing, the life of the mind, sports, and the way that faith drives and inspires public work.  (Tomorrow I'll have a revealing bit on Lake's love of basketball.)