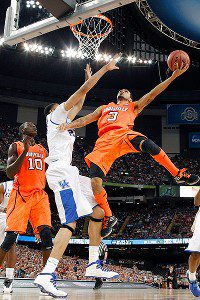 Today, right now in fact, is the Battle for the Bluegrass: the basketball game between the University of Kentucky and the University of Louisville. There are many cool things about living in Louisville–recently named the top travel destination in America by Lonely Planet–but this is surely one of the best. (Others include Quill's coffee–Louisville has amazing local coffee–Seneca and Cherokee Parks, Southern Seminary, Anchorage Cafe, and Crescent Hill/St. Matthews.)
I don't know a great deal about U of L point guard Peyton Siva's faith, but he sounds like an unusual leader and man of character. ESPN the Magazine ran a lengthy profile on him a few weeks ago. I highly recommend it. If you think you have overcome adversity in your life, check out what Siva has faced–and stared down:
He became the magnet for his extended family, eager to share his own successes and willing to accept their burdens as his own. He would not live like they did if he always worked to help them. He dumped out his brother's beer bottles. He counseled an uncle through addiction. He saved up a little money to help buy schoolbooks for his mother so she could earn a college degree. To push back against the temptations of gang life, he essentially started his own gang, inviting a dozen people to sleep over at his mother's house on the weekends under her supervision, staying up all night playing video games and drinking Capri Sun by the case, turning troubled acquaintances into friends and friends into roommates. There was Devon, who stayed over on Saturday and then accompanied Siva to church. There was Leon, who moved in for two years while his own mother struggled through rehab. There was LC, a 6'7″ basketball player who lived with Siva for a few months until he broke the house rules by sneaking out of windows in the middle of the night. When Yvette kicked the boy out, Siva stashed LC in a family car, which worked until Yvette noticed an extension cord running to the garage. She followed it out and found LC huddled under blankets, playing video games.
Much of Siva's leadership of his family involved his father. The roles were reversed–Siva Jr. caring for Siva Sr.:
And Siva continued to guide, more than anyone, his father. He called every few days. He dropped everything to find his father when the demons returned. He suggested that Senior, working construction part time and living with his own mother, could find solace where Junior had, in sports. So Senior coached football and volunteered at the gym of the Boys & Girls Club. During his first year in high school, Siva asked his father to join a men's group at the church, and his father agreed.
Read the whole piece. (Here's another good one from USA Today.)
This is a great game so far (20-18 U of L leading), but there's one person above others I'm cheering for: Peyton Siva. Great point guard, strong leader, and from what I've read, a man of faith and character. Read this story, and think: what can you and I do in our corner of things for Christ? Who can we strengthen?
By god's grace, who can we lift out of sin and the despair it specializes in creating?
(Photo: AP)