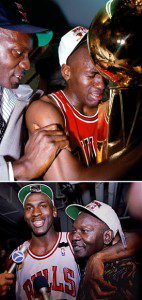 Wright Thompson just published a powerful long-form profile of Michael Jordan at 50. It's got some rough language, but it's a penetrating character study of one of the most interesting men of our time (HT: Vitamin Z)
The piece shows two major things to me: first, how Michael Jordan so beautifully displayed the image of God in his career; second, how Jordan so incontrovertibly is a selfish sinner, fallen just like all of us. It's impossible to miss either of these realities in studying him. His athletic ability is the most breathtaking display of physical talent many of us have ever witnessed; his ferocious will and massive ego has left many hurting people in his wake.
All of us in our natural state, outside of the mercy of Christ, are an awkward blend of these two things: beauty and sin. Light and darkness.
Here are some telling sections from the long piece. By the way, if you want a much longer and equally insightful and well-written account of what makes Jordan tick, read When Nothing Else Matters by Michael Leahy. It's one of my favorite books, period, though it's frankly hard to read.
Here's Jordan's competitiveness:
There's no way to measure these things, but there's a strong case to be made that Jordan is the most intense competitor on the planet. He's in the conversation, at the very least, and now he has been reduced to grasping for outlets for this competitive rage. He's in the middle of an epic game of Bejeweled on his iPad, and he's moved past level 100, where he won the title Bejeweled Demigod. He mastered sudoku and won $500 beating Portnoy at it. In the Bahamas, he sent someone down to the Atlantis hotel's gift shop to buy a book of word-search puzzles. In the hotel room, he raced Portnoy and Polk, his lawyer, beating them both.
And Jordan's kindness:
They know how kind he can be, having roses sent on Mother's Day to every mom who works for him. They see him gutted after meeting with another Make-a-Wish child. They see him swell with pride over any success of his children.
Jordan is not only successful, he's a brand–and his code name is among his team is, blasphemously, "Yahweh":
A group from Nike comes into the suite, along with a team from the ad agency Wieden + Kennedy. Around these people, you see most clearly that Jordan is at the center of several overlapping universes, at the top of the billion-dollar Jordan Brand at Nike, of the Bobcats, of his own company, with dozens of employees and contractors on the payroll. In case anyone in the inner circle forgets who's in charge, they only have to recall the code names given to them by the private security team assigned to overseas trips. Estee is Venom. George is Butler. Yvette is Harmony. Jordan is called Yahweh — a Hebrew word for God.
Jordan, according to this Yahoo profile of his son, Marcus, was somewhat surprisingly present in different ways for his kids:
Marcus gets some comfort in knowing his dad's the same way, also ready to lace 'em up again.

"It's funny watching him watch the Bobcats," Marcus says. "Seeing him talking to the TV."

So instead of basketball, the two watch a lot of old Western movies. They might put one on Sunday in Florida, where the family will go to celebrate the big day after the party in Houston.

Oh, and there will be one more activity. Marcus and his dad will face off again – in another sport.

"One time I'm gonna beat him," Marcus says, "on the golf course."
(Images: ANDREW D. BERNSTEIN/NBAE/GETTY IMAGES. BOTTOM: SUE OGROCKI/REUTERS)