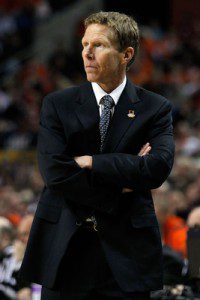 I really enjoyed this New York Times story about Gonzaga University basketball coach Mark Few. Few has had outrageous success at the Catholic school in Spokane, Washington, winning 80% of all games coached and a stunning 89% of conference games. Look for Gonzaga to be formidable in a few weeks, when March Madness tips off.
What's even more noteworthy, though, is that unlike so many similarly talented coaches, Few isn't trying–apparently–to climb a ladder to get to a job perceived as "tops" in the college game. He's got a very nice program, to be sure, but GU is not Duke or Kansas or Kentucky. Yet Few is content–how unusual a word for a conversation about modern successful types of varying vocations–to be where he is.
Quoth the NYT:
Few, a Northwest guy from small-town Oregon, the son of a pastor, an avid angler who once hooked a 52-pound king salmon, or so the story goes, dislikes the term midmajor and the perpetual notion that he will eventually depart. His story, the story of Gonzaga basketball, a real whopper in its own right, always returns to a simple question.

Most wonder: why stay?

"Why leave?" is Few's response.

Last month, he took a lap around the office. Trim and fit, he wore brown loafers and a red pullover sweater, the uniform of a suburban father. He revealed his preference for fly fishing at five nearby lakes with his four children and how he loved to mountain bike. He sidestepped the trophies on the ground.
Read the whole piece.
I like Mark Few alot. In an age when basketball coaches do everything but get down on their hands and knees and actually chew up the floor, Few is generally calm and even-tempered. He lets his players play. They stay under him and don't bolt early.
I admire Few's perspective on his job, too. It reminds me of a marvelous (and short) piece Mark Dever wrote on pastoral ministry a few years back. Dever covered how in an age of pastoral ambition, when churches can be seen as stepping-stones, he's found inspiration in the ministry of three Anglicans who stayed in one place for decades: Richard Sibbes, Charles Simeon, and John Stott. (Really, if you're in ministry or training for it, read this brief, but potentially paradigm-shaping, essay.)
It is by no means wrong for a pastor to leave a church and take another for a variety of reasons. God does call men to different works. Many of us are thankful that there are men who will fill historic pulpits when they are vacated by death or retirement, for example. That's necessary! In some cases it might be right for a pastor to leave; the church may genuinely need fresh blood. Furthermore, a sense of what you could call "gospel ambition" is very much needed in our day. The three Anglicans Dever mentions, of course, all found themselves in influential pulpits suited to their ministry gifting; we shouldn't miss that reality.
It is good, though, to consider the older model, too, and especially to check what isn't "gospel ambition" but is "selfish ambition" according to James 3:16. Many of us can see that in our hearts, necessitating discernment, prayer, and a continual focus on ministry for God's glory, not our own.
All this to say I'm thankful for examples of those who genuinely enjoy being where they are. They carve out a life, they see goodness in familiar things, they are committed to a people (covenanted in the case of a pastor), and they're eager to see God accomplish his redemptive purposes not only in a flash or a bang (if he graciously wills), but over the long haul, for decades, for a lifetime, if need be.
That's what Christ does with us, after all. He saves us, and then he walks beside us, and he never leaves, and never stops.