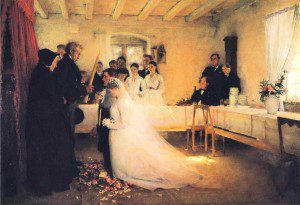 This is a confusing age for Christians. There are many cultural challenges to marriage popping up, so many that it's hard to keep track of them all, let alone respond biblically to them.
I just wrote a piece for Desiring God entitled "Can You Define the Relationship?" that tackles three new perversions of God's design for marriage: the "abortion contract," the "wedlease," and the "throuple." If these terms are unfamiliar, the piece may be of interest. I wrote it to equip the church to understand the times and to respond to them in a gospel-driven way.
Here's a swatch:
In 2007, J.J. Redick launched his NBA career with the Orlando Magic. Much ballyhooed out of Duke University, Redick entered games for essentially one purpose: to hit three-point shots. This he did with enough panache — and game-winning success — to make opposing fans all over the country dislike him (it's a Duke thing, too).

Though his on-court role was uncomplicated, it appears that Redick's off-court life was anything but. In the course of "seeing" model Vanessa Lopez, Redick allegedly hired a legal team to draw up an "abortion contract." Basically, the document required Redick to "maintain a social and/or dating relationship" with Lopez for at least one year as long as she agreed to abort a child she claimed had been conceived by the couple (Redick says no child was conceived). In addition, should Redick decide he couldn't "maintain" his "relationship" with Lopez, he would pay her $25,000.
Want to read more commentary on this? Here's the link to the whole piece, with 4 practical suggestions for evangelical response.
(Image: "Blessing of the young couple before marriage," Pascal Dagnan-Bouveret, 1881)