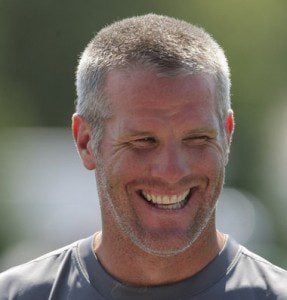 I saw these words from former NFL star Brett Favre on memory loss and concussions today. Favre was asked by the St. Louis Rams to come out of retirement at age 44 and play again. Here's what he said in a radio interview recently:
I don't remember my daughter playing soccer, playing youth soccer, one summer. I don't remember that. I got a pretty good memory, and I have a tendency like we all do to say, 'Where are my glasses?' and they're on your head. This was pretty shocking to me that I couldn't remember my daughter playing youth soccer, just one summer, I think. I remember her playing basketball, I remember her playing volleyball, so I kind of think maybe she only played a game or two. I think she played eight. So that's a little bit scary to me.
Something is happening in the world of professional sports. Marquee athletes are holding themselves out of competition for vast amounts of time. They're doing so, admittedly, after major injuries (I'm thinking of Rajon Rondo and Derek Rose, for example). It seems like there is the perception among top athletes that pro sports take too great a toll on the body. I don't know if that's true, but it's worth noting.
Favre's comments reflect this concern. He is clearly concerned about his mental abilities after decades playing football and taking hits (it was a concussive hit that closed out his career). Here's my sense: I think Favre is the crest of a wave. More and more players will express fear and anxiety over their post-football lives. These are questions,
as I said for Christianity Today a few weeks back
, that Christians should think about.
Actually, we'll be doing just that at Southern Seminary on this coming Tuesday, October 29th at 10pm in Heritage Hall. I'll be part of a four-person panel debating the question "Is Football Too Violent?". Seminary president R. Albert Mohler, Jr. will lead the discussion, which will likely be lively.
Evangelicals take few things more seriously than football, after all.