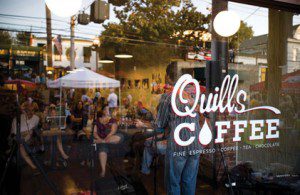 I enjoy few creature comforts more than one of those hand-crafted, artisanal coffee drinks that have suddenly taken over America (that's Louisville's excellent Quills Coffee to the left).
If you're at a local coffeeshop or a Starbucks, you can be sure that you will hear someone order a very complex drink. Often said person is trying to thread the needle between two extremes: they want a non-fat mocha (health: check) but are glad to have some whipped cream on top (health: uncheck).
Paradoxes aside, some of the jumpier folks around might order a triple-shot drink designed to give maximal boost to their day. I think there's a spiritual parallel between our coffee consumption and our evangelical spirituality. I detailed this connection in a Christianity Today piece:
You know the difference between, say, a restaurant that strives for excellence, and one that's content to serve an average product? That applies to us. We settle for average. Our marriages are okay. Our kids are fine. Our church—well, it's getting along. We're not setting new benchmarks for Christian laborers in our jobs, but we're doing what we need to do. Sometimes we pray. Occasionally we read the Bible. Once in a while we talk with someone about the Lord. But it's all very maintenance-y. Ordinary. Without zip.

This is decaf faith. And that means the people around us, those we should lead and influence to live on mission for the living Messiah, who reigns in heaven, live decaf lives. They may not be crashing and burning, but they're not soaring, either, because we're not building something big.
You can read the whole thing here.
The above section is from my brand-new book Risky Gospel (Thomas Nelson, out Nov. 26). You can read the first review of it–also by Christianity Today—right here. I just saw a second review pop up as well.
But there's more. If you want to read an excerpt from the book about why church is mind-bending, check that out here. The folks at 9Marks were kind enough to run that one. There will be more stuff associated with Risky Gospel that I'll put out in coming days; there may even be a rap project affiliated with it. More to come.
Now, about that coffee…