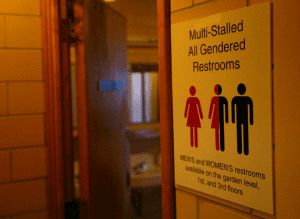 Did you see the recent stories in Maine about public restrooms? Apparently, if you identify as "transgender," you can now enter a restroom of the opposite sex. I wrote about this shocking development for The Federalist in a piece entitled "Children's Restrooms Are the Next Front Line in the Gender Wars":
The gender revolution will not be televised. Why? Because it is taking place in your local public bathroom.

It's true: gender upheaval, coming soon to a commode near you. In Maine, the state Supreme Judicial Court found in a recent court case that a young woman described as transgender could enter male or female restrooms. In California, the state legislature passed a bill that gives students who self-identify as "transgender" the right "to participate in sex-segregated programs, activities and facilities," including the use of restrooms of both sexes. As if using public restrooms wasn't frightful enough!