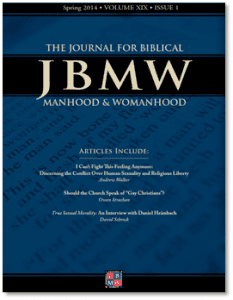 See this announcement from Denny Burk, the outstanding Editor of the Journal for Biblical Manhood & Womanhood. CBMW has produced JBMW for three decades now and continues to produce a rich body of gospel-fired content aimed at helping the church to think biblically and theologically about challenges and opportunities related to gender and sexuality. The journal, as ever, is free for readers, though we produce it at considerable cost in terms of investment and time.
I'm eager to dig into this edition, with contributions from leading young complementarians like Andrew Walker, David Schrock, Courtney Reissig, and Lauren Lambert (wife of ACBC Executive Director Heath Lambert). This is a major part of our present work at CBMW: to identify the next generation of complementarian leaders who are fueled by a love for Christ and the health of his church.
(In this issue, I expanded on my blog post on the "gay Christian" terminology.)
Enough intro. Here's Denny's announcement:
The Spring issue of The Journal for Biblical Manhood & Womanhood has just been released. You can download the entire issue for free from CBMW.org. This issue includes articles from Owen Strachan, Andrew Walker, and more. Strachan's article takes a critical look at the moniker "gay Christian." Walker has an insightful piece about religious liberty and current debates about sexuality. This issue also includes David Schrock's interview with the author of True Sexual Morality, Daniel Heimbach. This issue is filled with helpful material, and you can read the full table of contents is below.

Editorial, pp. 2-3.
Owen Strachan, "Should the Church Speak of 'Gay Christians'?" pp. 4-7.
David Schrock, "True Sexual Morality: An Interview with Daniel Heimbach," pp. 8-13.
Andrew Walker, "I Can't Fight This Feeling Anymore: Discerning the Conflict Over Human Sexuality and Religious Liberty," pp. 14-21.
Trent Hunter, "Did God Actually Say? Hearing God's Voice on Homosexuality From the Storyline of Scripture," pp. 22-28.
David W. Jones, "A Review of Denny Burk, What is the Meaning of Sex?," pp. 29-30.
Lauren Lambert, "A Review of Aimee Byrd, Housewife Theologian: How the Gospel Interrupts the Ordinary," pp. 31-32.
Godwin Sathianathan, "A Review of William Loader, Making Sense of Sex: Attitudes towards Sexuality in Early Jewish and Christian Literature," pp. 33-34.
Courtney Reissig, "A Review of Sarah Bessey, Jesus Feminist: An Invitation to Revisit the Bible's View of Women," pp. 35-36.
Shane W. Parker, "A Review of Vern Bengston, Norella Putney, and Susan Harris, Families and Faith: How Religion is Passed Down across Generations" pp. 37-39.
Matthew Haste, "A Review of A. G. Roeber, Hopes for Better Spouses: Protestant Marriage and Church Renewal in Early Modern Europe, India, and North America," pp. 40-41.
David Schrock, "A Review of Jennifer Lahl, Eggsploitation (DVD)," pp. 42-44.