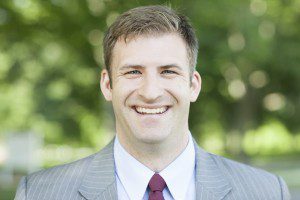 We live in strange days. Many of my parental peers are not training their boys and girls to be men and women. They're helping their little tykes select their gender, as ABC News recently reported.
It's increasingly considered oppressive and unkind to dare to give boys a sense of manhood and girls a sense of womanhood. Living in a culture like this makes me deeply thankful for a whole host of young complementarian men and women who love manhood and womanhood. They don't see either as a threat or a burden. They love God's good gifts. They see living as a man or a woman as a matter of delight, not duty.
These young, vibrant complementarians are not threatened, worried, or scared of the culture. They see today, right now, as an opportunity. They have the chance to make the case afresh for biblical wisdom and gospel identity.
Grant Castleberry, Executive Director of the Council on Biblical Manhood & Womanhood, just shared how excited he is for this cause. Here's a bit of what he wrote in reflecting on 2014:
At the beginning of November, I had the opportunity to speak to the adult leaders of the Christian boys' high-adventure organization, Trail Life USA, at a camp in the Upstate of South Carolina. My message to them at their closing campfire (in the snow and in a brisk, freezing wind) was entitled "How to Train Young Men." It was an incredibly surreal moment, as I was able to speak to close to 100 men from 2 Timothy 4:1-8, Paul's final admonition to Timothy, to explain three absolute necessities in training young men for godliness: 1) Preach and Teach the Word of God, 2) Be Vigilant, and 3) Finish Strong. By way of reminder, I explained to them why we must continue to teach the Word of God by pointing back to Paul's famous statement in 2 Timothy 3:16-17 that "All Scripture is breathed out by God and profitable for teaching, for reproof, for correction, and for training in righteousness, that the man of God may be complete, equipped for every good work."
Read the whole thing, and consider giving to CBMW as we close out 2014 (and seek to raise $10k in a day!).
Some folks out there don't care that much about manhood and womanhood. That's their prerogative (or lack thereof). But at CBMW, we do care. More than that–we're passionate about these God-created realities. We believe that we flourish when we embrace our manhood or womanhood, not when we deny it or remake it. We know that the gospel is not separate from our sexuality. The good news of Christ crucified and risen raises us to life not as androgynous blobs, but as men and women.
That's a message worth talking about. It's worth celebrating. It's worth all the cost of championing it. At CBMW, we're here to joyfully speak just this message, and link arms with a massive group of churches from across the denominational and international spectrum who share that passion.
***********
Image: SBTS/Emil Handke