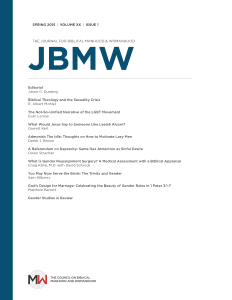 As you'll see in my just-published article (here is the HTML, and the PDF) in the brand-new, newly-redesigned Spring 2015 Journal for Biblical Manhood & Womanhood, John Calvin offers piercing commentary on what is called "internal temptation." Calvin's illuminating remarks have not yet been referenced in the vigorous debate over whether same-sex attraction occasions repentance or not.
(Get all the new JBMW content free right here.)
To be clear, Calvin does not address SSA directly. But his comments on James 1 help us understand how sin is found not only in our actions, but our thoughts and inmost inclinations. It is my hope that this article–entitled "A Referendum on Depravity: Same-Sex Attraction as Sinful Desire"–will help my brothers and sisters in Christ to see that James 1:14 (much more than Calvin) speaks to the experience of sinful temptation. This includes the hot-button issue of SSA. James, I argue from an exegetical study of this crucial verse, calls us to repent of all our sinful self-temptations.
SSA, as I make clear, is no special sin. People who experience it are no special class of sinners. They do not need a special gospel. We are all made perverse by the fall, and we all need Jesus to redeem and renew us. We do need a robustly biblical approach to this and all sin, however. As Francis Schaeffer taught us, we must give answers to the questions the culture is presently raising and the church is currently pondering.
I am thrilled to see the Spring 2015 edition of JBMW published. As CBMW's Matt Damico makes clear, we've not only published all JBMW content in both PDF and HTML form (for the first time), we're printing a select run of the journal. We've created a fresh, modern design that makes for easy reading. I'm really thankful for the excellent work of the JBMW staff on this issue. (Great job, Mathew Sims!) I say this even as I am grateful to past editors and staff of JBMW (including Denny Burk), who laid a truly excellent foundation upon which we can build.
This is the first time since 2009 that CBMW has published JBMW in print form. In other words, CBMW is investing afresh in both media and print expansion. We're seeking to reach as many people as possible in all formats. This issue has terrific content, starting with editor Jason Duesing's stirring editorial. We've got an original article on the Trinity and gender from Sam Allberry, commentary from R. Albert Mohler, Jr., a rich sermon from Matthew Barrett, and a rigorous piece on gender reassignment surgery authored jointly by theologian David Schrock and doctor Craig Kline. You'll also find reviews from gifted young complementarians on several recent books, material that will help you stay current on the conversation over gender and sexuality.
In sum, this is a really exciting day. Against the odds and the drift of modern media, CBMW is printing JBMW once more. At the same time, we're expanding the form of our content. Our HTML articles are easy to share on social media, and we trust they will serve and strengthen gospel-loving churches constituted in the name of Christ. All content is linked below.
********************
Table of Contents
Editorial

Essays & Perspectives

Studies

From the Sacred Desk

Gender Studies in Review