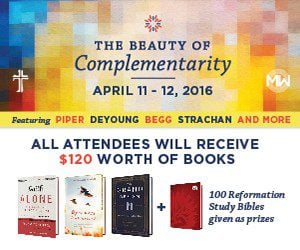 We at CBMW are thrilled to host a Together for the Gospel pre-conference next week in Louisville. Our event, entitled "The Beauty of Complementarity," runs from next Monday, April 11 to Tuesday, April 12. We're seeing tickets fly out the door, and I encourage you to register. (You can sign up all the way to the beginning of the event on Monday at noon.)
Below is the book list for the conference. If you sign up at the $99 fee, you'll get all of these books–over $120 worth of titles. For those of you who love books as I do, you'll note that you're going home with a whole bookshelf worth of titles, many of them brand-new.
Also, in addition to speakers like John Piper, Kevin DeYoung, Al Mohler, Alistair Begg, John MacArthur, and Mary Kassian, we're thrilled to announce that we've just added Anthony Moore of The Village Church. We're really excited to have Anthony, a young pastor-theologian, speaking for us.
********
Held In Honor, by Matt Haste and Rob Plummer (Christian Focus)
********
The Grand Design, by Owen Strachan and Gavin Peacock (Christian Focus)
********
What is the Meaning of Sex?, by Denny Burk (Crossway)
********
Openness Unhindered, by Rosaria Butterfield (Crown & Covenant)
********
Ministry in a New Marriage Culture, by Jeff Iorg (B&H)
********
Steadfast Love, by Lauren Chandler (B&H)
********
Battle Plan for Prayer, by Stephen Kendrick and Alex Kendrick (B&H)
********
100 Reformation Study Bible's in drawings throughout conference (Ligonier)
********
Men & Women: Equal Yet Different, by Alexander Strauch
********
Biblical Manhood, by Sam Allberry
********
Biblical Womanhood, by Sarah Collins
********
Faith Alone, Thomas Schreiner