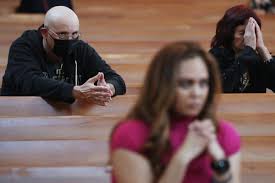 As Coronavirus is seeing a second major wave of cases sweep across the country, the divide over how to deal with the virus politically and economically rages with intense heat. But there is no facet of the battle more heart exposing than the battle of the mask. Within our society, there seems to be an ever-widening divide on the issue, and like many socio-economic issues, the church finds itself straddling the same, widening divide. But what makes the debate over a piece of cloth more saddening and sobering in the church, is that the behaviors and comments are being observed by a world no longer surprised when our words do not match our actions. The world is again reminded just how double minded we are.
The world is also reminded how spiritual and caring we are not.
Case in point, during June of 2020, the Palm Beach County Board of Commissioners voted unanimously to make indoor use of masks mandatory. And they were met with some of the most outlandish reasons why this was not acceptable:
'A second wave … will be due to masking'
'How will young children be able to know who the dangerous deviants are?'
'I don't wear a mask for the same reason I don't wear underwear. Things gotta breathe'
But as a follower of Christ, the ones that specifically broke my heart were these:
"Every single one of you that are obeying the devil's laws (the mask mandate) and you, doctor, are going to be arrested for crimes against humanity," (She later made the claim that anyone who voted for this mask mandate would be punished by God)
"They want to throw God's wonderful breathing system out the door. You're all turning your backs…"
The concern with this behavior as a leader in the Christian faith is not a political one. The concern is a multi-pronged spiritual problem, that, like the coronavirus, has put the American Church on a respirator. What these statements show us is that the faith of our spiritual ancestors is in jeopardy of being replaced by the faith of apathy.
Three Difficult Truths
The mask argument in the American Church has revealed three difficult truths about Christians: We do not care about science, we do not care about others, and we do not care about the message of Jesus Christ when it effects our personal comfort.
Since the early days of the Enlightenment, the church has struggled with science. Why? Competition. The church struggled with accepting science because it feared a loss of control. We do not care about science because we do not want competition when we are attempting to control people or narratives. There has been no more glaring case of this than in the mask argument.
Science, and experience have informed us that wearing a mask helps control the spread of things that come from our respiratory systems, like viruses we may have. When we say things like "people want to throw Gods breathing system out the door." What we are revealing is that we are afraid science is throwing God out the door. The only way to throw out the respiratory system is to quit breathing, and the mask does not prevent us from breathing. It makes us uncomfortable, spiritually, and physically.
Its Not About You
And its this physical part that brings us to the second point. We do not care about others. Many times I have heard this argument against masks from people claiming the Christian faith: "What's the point in wearing a mask? It isn't going to prevent me from getting the virus." Its in this one seemingly innocent and relatively truthful statement that we find the deepest lack of empathy for our fellow human, a concept in direct contradiction with the message of Jesus Christ. Its in this statement we find the true intention and concern of the believer, Their self. It is a true statement that the mask does not prevent particulates from entering one's system that are already airborne. Its also true that the mask prevents in relatively large measure, what we can make and spread within our own respiratory system. Wearing a mask, very much like the Christian faith, is not about you, its about service to others. We wear the mask in service to others and to prevent them from getting the virus from us if we are an asymptomatic carrier.
We choose not to wear the mask because it makes us uncomfortable. I have some news for you, if a mask makes you uncomfortable, you are going to be completely beside yourself when you find out what Christ asks of His followers! We have become a church that has turned away from its roots of love and concern for others in exchange for our own desires and comfort. The mask isn't the problem, it's a symptom of the much bigger virus of apathy infecting western Christianity. We have lost the message of Christ, and no longer hold a proper theology of Christian practice.
An Exchange of Theology
Which brings us to the fact that western Christianity has exchanged a theology of love for the theology of self. Rep. Nino Vatale of Ohio, in May, stated this on Facebook; "This is the greatest nation on earth founded on Judeo-Christian Principles. One of those principles is that we are all created in the image and likeness of God. That image is seen the most by our face. I will not wear a mask"
The discussion on this nation being founded on Judeo-Christian values is not the topic of this discussion, but in my opinion, debatable. The focus here is on the "image of God" statement. It may come as a shock to the reader (it should not), but God looks nothing like us. The deeper issue with believing that God looks like us is that we do not understand our basic theology, and we do not care. Being made in the image of God means that we have the capacity to love, the capacity to care and the capacity to show concern for others around us. The image of God is not found in our facial features but in our conscience. I can assure you, this image is not seen most in our face, its seen most in our concern, which we simply do not have as whole.
We have become an apathetic church and it shows. The mask is simply the last in a long list of proofs that we are denying Christ and his message in favor of ourselves. And it this case it can literally kill people.
Karl Marx is famous as having said "Religion is the opiate of the people" I would argue Apathy is the opiate of the Christian.
"Our love for others is our grateful response to the love of God." -1 John 4:19