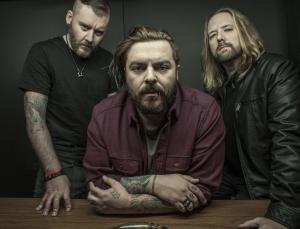 I met Shaun Morgan, the lead singer of Seether, in 2005 at Hooters in Amarillo, when I enlisted him in helping me with a surprise for my best friend (from South Africa, like the band) who survived cancer. And by "enlist," I mean I stalked him and weirdly just sat next to him as he drank a beer.
Not only did he make my friend's night by dedicating "Broken" to us, but he was a genuinely great guy. He was sincere, kind and soft-spoken. If you have heard some of Seether's music, you will understand why I didn't expect that to be the case.
On August 13, 2007, Shaun Morgan's younger brother, Eugene, committed suicide. It was one of those things that made me feel terrible for him at the time, but it was the kind of tragedy that happened to other people. Never in a million years did I think that Shaun and I would meet again one day … and that I would be part of the suicide survivors club, too.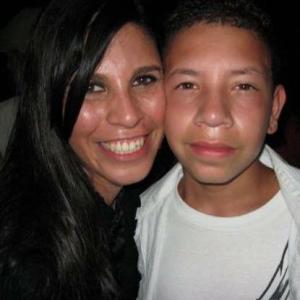 The Sunday before my son Anthony's suicide, he was at my house with his siblings. I told them that Seether had just released their tour dates and would be in Houston in August. I asked them if they wanted to go to the concert or to Rise Above Fest, a music festival Seether organizes in memory of Eugene to raise money for suicide awareness. Anthony said he wanted to go to Rise Above Fest.
He was dead three days later. I now wonder if that was because he was having suicidal thoughts. He knew exactly what Rise Above Fest was about.
In Anthony's honor, we decided to go ahead and see Seether in Houston.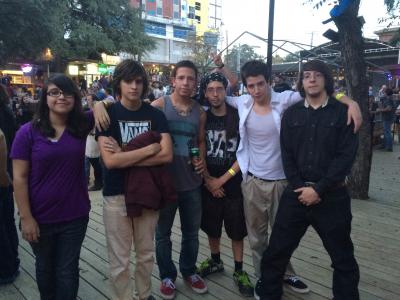 I set out to make sure my children could meet Shaun Morgan as a gift to them. I began to pray and I asked Anthony to pray for this to happen. Well, I didn't just ask him to pray for it, I demanded that he make it happen. It's the least he could do for his siblings, after what they have been through for the last five months.
That prayer was answered.
Last Sunday I sat down with Shaun Morgan for an interview. He said he agreed to do this interview even though it was for a Catholic blog and he rejects religion (his exact words were "I don't believe in that shit"), because he felt that a different perspective might be helpful. What I found in sitting with him is we pretty much have the same perspective. We are both angry at God and at the two people in our lives we love so much who committed suicide.
Shaun said he had just visited the place where his brother's suicide happened, a few days before on the 10-year anniversary of Eugene's death, and it felt like it had just happened yesterday. He was in tears during our conversation, as I tried to keep my tears in. My first impression of Shaun still held true all these years later. He is still kind, authentic, humble and generous.
When I asked him how he found motivation after the death of his brother, he answered me honestly. He said it took him a long time because he spent many years wallowing in misery and self-pity out of guilt and shame. He felt maybe he could have done something.
"It's different for everyone," Shaun said. "There's no handbook for it [this kind of grief]. It took me years to come out of that. I spent a lot of years in the bottom of bottles." We both agreed this is one of those things you don't really understand until you are going through it. "I spent a lot of the time wishing it was me instead," he said. "I felt that everyone liked him more. He was the life and soul of every room he was in."
When I asked Shaun if he was religious he said, "Not anymore," not after his brother's suicide. His father was raised Catholic, and Shaun himself was neither overly religious nor anti-religious, but he feels that he can't put faith in people or a religion that has never had his back. He said having something like this happen to him made him mad. "If there was a God, I would like him to come down here so I could fuck him up," he explained.
I understand that anger. The Friday after Anthony's suicide I went to daily Mass at 6:30 in the morning, specifically to cuss God out. After Mass, I went straight to the tabernacle. I'm sure it looked like some act of piety to anyone who saw me, but in my head I was telling God that Anthony's death was complete bullshit. I also told Him that I would never again do anything He asked of me. It took me months before I could go to Mass again.
What I loved about talking to Shaun is being able to talk about that without feeling like it was somehow wrong. I find that a lot of Catholics/Christians tend to avoid, or want people grieving to avoid, that anger stage of grief, as if it were offensive to God. But as my favorite priest told me at dinner before the concert, God is not some weak baby who is easily offended. God can handle our anger. He can handle our shaking fists and our feelings of "Fuck this!" He is God and He loves us, especially when we are angry and hurt. Nobody understands that feeling of being abandoned by God the Father like Christ, who asked "Why have you forsaken me?" as He hung from the cross. Why wouldn't we feel the same way when we lose our loved ones, especially to suicide, which comes with trauma as well as grief?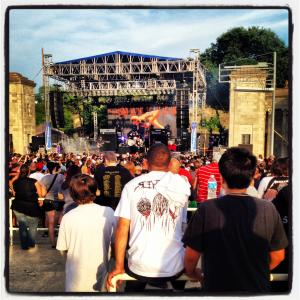 When it comes to being on tour and playing "Rise Above This," the song Shaun wrote for his brother a couple of weeks before he died, he said there are times when it is difficult to play it. "There's certain days when it's overwhelming, then I realize that there are three or four songs that deal with it," he says.
"The hardest thing is to wonder who he would be now. What would he be doing now and what kind of person he would be?" Shaun got choked up at this point, and I asked him if it is still difficult to talk about. "Yes," he said. "There's no time limit on grief, take as long as you need. It's OK to be mad at him (Anthony). To be really pissed at him. I was angry at my brother for a long time, still am sometimes. There is no rule book, there's no right and wrong."
As a mother, I can't really know what my children are dealing with as siblings who lost a brother to suicide. My boys were at the house when we found Anthony. Gabe (17) called 911. Dan (18) had gotten into an argument with Anthony that morning when Anthony took him to work. (Anthony, Dan and I all worked at the same place.) When Dan and I came home, we walked in the house and saw Anthony's phone on the coffee table and looked for him. We assumed Anthony had gone for a walk, not knowing that he was already in the garage. Felecity was with her dad for the first time in years, so she was not with us when we found Anthony. That comes with its own kind of guilt.
It was important to me to have my kids know someone who understands what it is like to walk in those shoes. Since Shaun is someone my children look up to, and he's been walking on this journey, I felt he was that person. When I asked him what advice he would give my kids, he said,
I found, for me, it is turning to a creative outlet, writing music about it, obviously. My sister was a long way away so it was difficult to try and be supportive of her. I regret that I wasn't available to her more emotionally, but I wasn't available to anyone. It's hard to be there for someone when you're in a complete emotional desert yourself. You gotta find something that makes you happy. I couldn't put my faith into a God or religion to have my back, that has never had my back in my life. But I understand for a lot of people there is solace in knowing there is something beyond this.
Shaun also explained how he is different since his brother's death. "I became a lot more emotional person since he died. I never used to be. I tell people I love them more often. The first time my dad told me he loved me was after my brother died — he just wasn't that kind of guy. Little things like that. Appreciate those things about each other."
Later, one of the kids asked Shaun what about the people who think we should get over it by now, and he said, "Fuck them." That was the best answer that we could have gotten. People who do not understand, just don't understand. It is not our job to try and help them understand.
After the show, my children, my husband and I were allowed backstage. My son Dan has looked up to Shaun since he was 7 years old. He has listened to every interview of Shaun's on YouTube, and listened to Seether when he was going through his most difficult teen years before he was diagnosed with OCD, anxiety and depression. When they were in front of each other in person, the look on Dan's face was priceless. I had not seen him look that happy in a very long time. Later he said that seeing Shaun so genuinely happy to see him was amazing.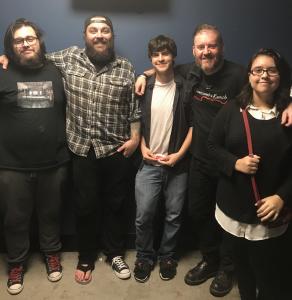 We had a great time talking. My children needed to hear from someone like Shaun that their brother mattered, that losing him is a real loss, that mourning him is personal and however they choose to do it is okay. And they needed to hear it from someone who was not going to try and tell them this was part of God's plan.
When we left, Shaun gave me a hug and I felt like I was saying goodbye to an old friend. I can never thank him and Dale enough for the gift they gave to my family that night. Their songs are my prayer when I can't pray, which is a lot of the time — since Anthony's death and even before that.
Please join me in praying for Shaun Morgan and his family. And as always, please keep praying for Anthony and my family.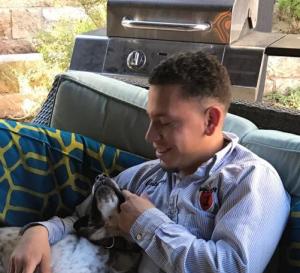 I love you Anthony. I miss you every single day. Please pray for me to have the strength to honor your life. I am so proud of you and the man and father you became. You are the best thing to ever happen to me. Love, Mom