I set out this time for New York City, one of my absolute favorite places to visit. My reason was to accompany my theologian friend, Christopher West, at his event. He and I have been doing these Theology/music events for years now and they are always fruitful for me. My goal was to make the most out of it. Like any trip I go on, i try to pack it up and make things happen. In this case, my goal was to get some podcast interviews and maybe add a show or two. Both ideas fell flat, but there is no such thing as wasted time in New York City.
I started by getting here early, as I always do. I have found that the first flights out of a city have a better chance of getting out on time…especially when the cold hits (I have no statistical evidence for this and don't care to see it, I like where this idea sits with me as is). And yes, I am still here, currently at a coffee shop in the East Village waiting for a Mass to start. I flew in and had 5 objectives.
The first was arrive here on time and head to SiriusXM radio where I was set to play on a show called the Busted Halo. It would be my 4th time visiting the show, so I felt comfortable and relaxed about all of this. Parking was a beast.
The second was to then race to Staten Island where the event with Christopher was being held. When I had an hour to get there and GPS decided to send me through Times Square, I started to sweat a lit bit…a lot bit…but it made me drive with the perfect level of aggression required for NYC. I made it in time.
The 3rd was to eat at Momofuku, one of the best places I have been and worth a stop every time. Nothing is like it. Their pork belly is always welcome in my belly.. and as often as I am in town. If you are ever in NYC go to Momofuku and wait in line.. and you are welcome.
Forth, I wanted to keep myself open just incase any of the interview feelers I put out came through last minute. I am sitting here typing at a coffee shop so I think you know how well that went…
Last, I wanted to catch up with some old friends. I have some friends I never see except when I am on the road. Some friends I have developed relationships with only from being on the road. This time its my old high school buddy, Arian Moayed. Arian and I used to do school shows together back in the day. During college we lost touch a little, which happened with most of my high school pals. He and I rekindled a couple years back and have enjoyed the stories of each others creative endeavors. He has had some real great success as of late, recently staring along side fellow north shore native, Bill Murray, in the new film Rock The Kasbah. We are set to meet tonight after his play ends…at x o'clock I guess. He is what I call a creative lighthouse. I have very few in my life and he is one of them… Our conversations have a language of their own and are both inspired and inspire. What a blessing.
So far the trip has been good and fruitful in a strange fruit way… but in honesty, i miss my family and look forward to home. These trips have taught me some things over time.
Its important to pay attention to where you are
its important to make where you are comfortable
its important to be nice to everyone you meet
its important to guard yourself when you meet every person
most of all…it is important to never confuse the road with your home.
Your home is one place, most comfortable and most forgiving. Speaking of…church bells are ringing…I gotta go!
Blessings my friends
mike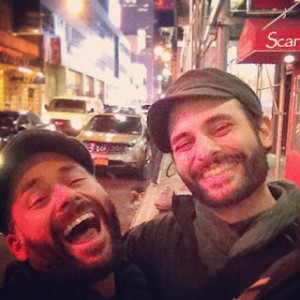 Arian and I after the hang
Times Square a day after the Paris attack
Songs to Inspire