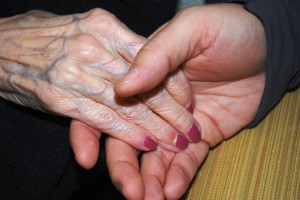 How is it they live in such harmony the billions of stars – when most men can barely go a minute without declaring war in their minds about someone they know? – Thomas Aquinas
Aquinas was on to something.
In pursuit of our daily goals – even very good, very worthwhile ones – we quickly fill our minds with grievances, with hurts, with bitterness.
We are always seeking an advantage here, a leg up there.
Whether at the workplace, in the home, or in our personal relationships, we tend to define ourselves by our latest victory or success.
Or failure.
But it's never enough.
Now understand, there is nothing at all wrong with setting goals and working hard to achieve them.
Financial security, great health, even a modest desire for fame, are or can be very good things. They motivate us, they move us forward, they can help us to become better in key aspects of our lives.
It's only when we lose ourselves, when we turn those pursuits into idols, that we get out of balance and then fail to recognize those things which are most important, those things which we easily forget or ignore.
And when we do get out of balance, our lives become smaller. They wither. We become isolated and lonely.
So what does make for a good, happy life?
Harvard University began a study 75 years ago – which incredibly is still on-going – on that very question. And it seems that they have found the answer.
First, here's a very brief excerpt about how the study began, and the way in which it was structured:
The research has its roots in a Harvard University Health Services examination of 268 members of Harvard classes between 1939 and 1944.

Begun in 1938 and called the Grant Study, it started with exhaustive physical examinations and included regular follow-ups over the years.

The second arm of the study began with Harvard Law Professor Sheldon Glueck, who recruited 456 young men from inner-city Boston neighborhoods between 1940 and 1945 as controls for a study of juvenile delinquency.

They were added to the study in the 1970s.

Today, just 68 of the Harvard cohort are still alive, many in their early 90s, while 120 of the Glueck Study are alive, most in their early to mid-80s.
While data is still being collected, several basic conclusions have emerged.
Here, according to the study, are the keys to a happy life:
1) Close Relationships;
2) The Quality of Those Relationships; and
3) A Stable, Supportive Marriage
The pursuit of money, fame, and success appears nowhere on that list.
Surprised? Of course not.
These conclusions are basic, simple, and extraordinary.
And life changing.
I've embedded below the recent TED presentation that summarizes this study. Psychiatrist Robert Waldinger, the current – and fourth – director of the continuing Harvard Study of Adult Development is its presenter.
I hope that you take 12 minutes to watch it.
And then take some more time today to think about it.
Peace
https://www.youtube.com/watch?v=0UAyeoUmr-w
If the above embedded video does not work with your media player, you can access the TED talk directly from here.
Image Credit: Pixabay.com