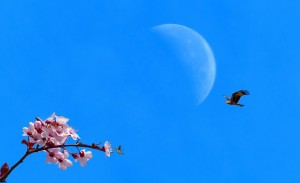 What if it weren't so easy?
What if we had to choose, each day, between the open practice of our faith, and the serving of the state or some other powerful and controlling overseer?
What if certain outward and obvious signs – a simple cross, a self-blessing – served only to set us apart as the state's next target?
Would we hide?
Would we completely abandon our faith?
Would we remove from our person and from our homes all markings, clues, and signposts?
Unlike many of our Jewish brethren who suffered so brutally at the murderous hands of Nazi Germany, most of us here have never experienced true religious oppression and barbarism – even as persecutions, torture, and beheadings continue apace today in parts of the Middle East and beyond.
We here in the West have rarely ever had to face such life and death threats.
And so, we have grown most secure.
And prosperous.
And sluggish.
We have chosen for ourselves only that level of engagement which is most comfortable – and no more.
This, despite our almost constant access to all the means of grace – as Thomas Merton once noted about his fellow Western religious in his autobiography, The Seven Storey Mountain.
Grace is there for us, and for the mere asking; and we have been granted full and constant access.
And it is just that available.
But by now you know the statistics.
Bishop Robert Barron has told us that over 70% of Catholics no longer attend Church, in what he has labelled "a spiritual disaster." The Pew Research Center's report from May 2015 tells the tale even more broadly.
And so our access hasn't been denied.
It's been rejected.
So, then, where are we?
In which direction are we heading as we let ourselves be guided by our own laziness, as we drift along in a self-imposed stupor?
Are we hot or cold? Or are we just lukewarm?
And how might we react if
the words of Revelation
were whispered in our ears today, right now, not on some
far off
day of reckoning?
I know your works; you are neither cold nor hot.

I wish that you were either cold or hot.

So, because you are lukewarm, and neither cold nor hot, I am about to spit you out of my mouth.

For you say, 'I am rich, I have prospered, and I need nothing.'

You do not realize that you are wretched, pitiable, poor, blind, and naked.
If we are being called out – if we are being awakened to that which we would not otherwise recognize, that which we would rather not know – how, then, might we respond?
Therefore I counsel you to buy from me gold refined by fire so that you may be rich; and white robes to clothe you and to keep the shame of your nakedness from being seen; and salve to anoint your eyes so that you may see.

I reprove and discipline those whom I love.

Be earnest, therefore, and repent.

I am standing at the door, knocking; if you hear my voice and open the door, I will come in to you and eat with you, and you with me.

To the one who conquers I will give a place with me on my throne, just as I myself conquered and sat down with my Father on his throne.

Let anyone who has an ear listen to what the Spirit is saying to the churches.
Tough but loving words.
As we fast approach Easter, as we contemplate His sacrifice, His mercy, and His love, today just might be the perfect time to forge a new path back to that constant access – that constant access to all the means of grace.
It's there waiting for us.
And we still have time.
Peace
Image Credit: Pixabay.com