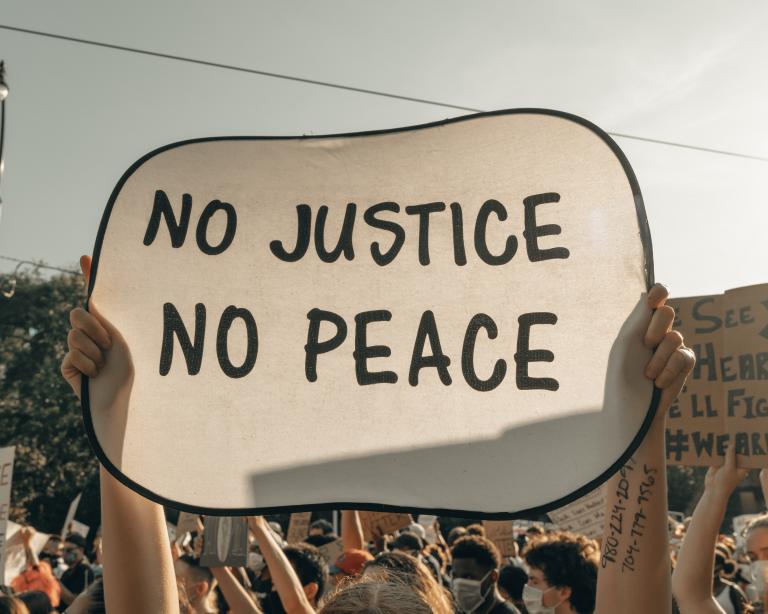 Is not this the fast that I choose:
to loose the bonds of wickedness,
to undo the straps of the yoke,
to let the oppressed go free,
and to break every yoke?
Is it not to share your bread with the hungry
and bring the homeless poor into your house;
when you see the naked, to cover him,
and not to hide yourself from your own flesh?
Then shall your light break forth like the dawn,
and your healing shall spring up speedily;
your righteousness shall go before you;
the glory of the LORD shall be your rear guard. (Isa 58:6-8)
Orthodoxy and Social Justice
In a recent Veritas Forum event, the Rev. Dr. Esau McCaulley said that if the prophet Isaiah were around today, he would almost certainly be labelled a Social Justice Warrior (SJW). A SJW is a pejorative title for someone who is supposedly so caught up on promoting social justice by fighting structural sin that they have abandoned the need for personal salvation and the reality of personal sin. The truth is, Isaiah spends a lot of time talking about both. But because he often addresses Israel's participation and perpetuation of unjust systems, Esau suggests he would be labelled an SJW. He's probably right.
Dr. McCaulley said this in the context of articulating the biblical vision of sin as both personal and systemic. If you're a Christian, caring about social justice doesn't make you a Social Justice Warrior, it makes you a faithful Christian. As Esau rightly and powerfully articulates it, the Scriptures call the people of God to be both theologically orthodox and to contend for justice.
For many Christians, particularly white Christians, contending for certain kinds of social justice is old hat. Take the church's activism against abortion, as an obvious example. Fighting against systemic racism and racial injustice, however, is new territory for many Christians. Hopefully the tragedies of recent days will wake us up and spur us on to join the faithful Christians and churches – especially black churches – who have been in this fight for justice for centuries.
As the church gets involved, it is just as important to condemn injustice as it is to equip folks to fight injustice. This is not a comprehensive list, but here are a few things the church ought to publicly condemn. We ought to own and condemn the sins of America including systemic racism and policies formed by this original sin of the nation. We ought to own and condemn our complicity in perpetuating racism (see Jemar Tisby's The Color of Compromise). We ought to condemn violence in any form. We ought to condemn the President's co-opting of Christian symbols for political gain.
Of course, pursuing social justice is more than condemnation. We must also engage in positive change. As a way to help shepherd Christians into a more faithful, humble, and courageous engagement, I have created a Guide to Prayer and Fasting in response to racism and racial injustice. You can download the PDF here: Guide to Prayer and Fasting. I am an Anglican priest and I created it mostly for our parish in Washington, DC. But I am also sharing it here in case others would find it useful.
A few words on this guide
It provides an overview of fasting and directions on how to fast but is not meant to be comprehensive. The guide is designed for people to use during six separate fasting sessions. Each session traces a theme related to the gospel and racial justice: the heavenly vision, a call to repent, an invitation to lament, a call to seek justice, to pursue peace, and to engage as ambassadors. There is a logic to the order: it starts by looking up, then inwards, then outwards. It is intended to help Christians see just how much the Bible has to say about the importance of social justice and racial reconciliation. Furthermore, I have included several helpful quotes from Christian authors who have been influential voices for my thinking about the gospel and race.
Let me be clear, this call to fast and pray is not a call to bury our heads in the holes of "political pietism or Christian quietism." It is meant to encourage and equip the church for active engagement in social justice that flows out of a deep spirituality. Prayer and fasting are necessary but insufficient. They are foundational but, if our faith is alive, it must work itself out in love, into more faithful action and engagement.
In other words, (white) Christians need to do more than just react and post on social media. We need to do more, even, than joining in the protests. We need to be committed to the hard work over the long haul. Committing to fast and pray once a day for six weeks is just a start. Lord have mercy.