"It is not the experience of the sacred that makes us spiritual, but rather it is our response to it. We are transformed not by standing at the threshold, but by crossing it. The Immensity does not provide you with any answers. It only provides you with questions. The answers must be discovered within yourself, in and through the things you do. Therefore, if the person does not act in response to the Immensity, then he effectively closes himself off from the fullness of the experience. There are parts of the Immensity which are revealed only through positive response to it, that is through words and deeds. Some one who remains humble and passive in its presence will never see this …The reason is because the response to the spiritual experience is very much a part of the experience." – Brendan Myers (The Other Side of Virtue)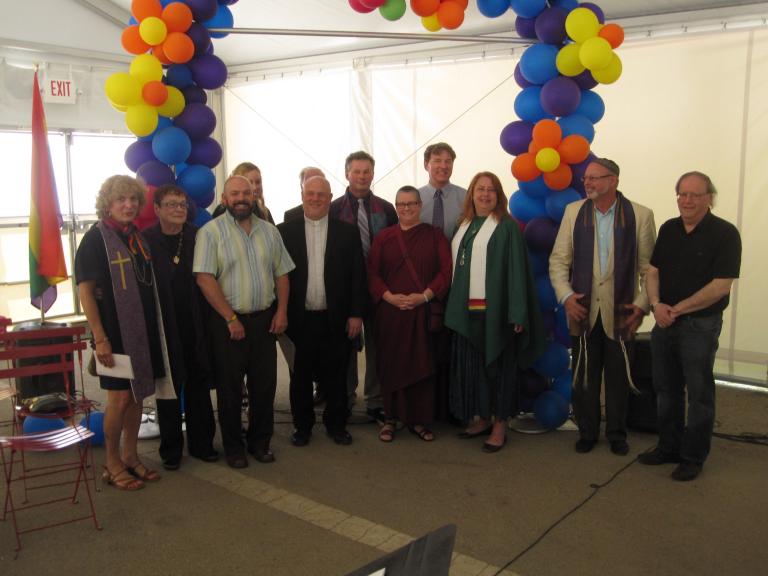 Ritual is not only religious but religious ritual is what people first think of when they hear the word. I'm not interested in converting people to a religion by the back door. And I think that the same tools of ritual can be used in any religion or to mark signposts in life without religion at all. The universe is not centred on human beings and our needs. The great creative force that gave rise to the galaxies, that caused the Big Bang and established the fundamental laws of gravitation, electromagnetism, and all the rest of it, is not concerned about your love life in particular. The Universe is not hostile to humanity, just indifferent to us. So, there is no meaning inherent in the laws of the universe. Things come into existence, persist for greater or lesser periods of time, and then cease to exist or transform into other forms.
Ritual constructs meaning; it does not just recognize what is already there. Which is why training and selection and a little bit of talent are so important. The fact that we impose pattern onto a chaotic and complex mass of experiences and impressions doesn't make our patterns less real or powerful. In fact, the making meaning that we do comes from our own needs and from genuine affinities and harmonies between facts and processes that we observe. Our stories and our imaginations are powerful forces in shaping our worlds. We can navigate through life more confidently, more powerfully, and with more joy, toward accomplishing our goals if we take ownership of our rituals and reshape them to fit us, instead of seeing them as handed down from on high.
We begin with the outcome we desire and with our intention. Ritual comes before religion; the experience comes before the explanation of it. After the shock of some experience, of beauty or awe, or fear, a natural impulse is to make some sense of it. The intellect makes sense of an experience or work of art, but it does not make meaning. We can understand what happened, and can find all of the here-and-now reasons for it, but still not have any idea of why it happened and what comes next for us as a result of the experience.
We find ourselves wanting to do something to remember and to relive powerful experiences, to keep some of the power but bring it under our control. We will dance or move or make up poems or songs, or travel to the place where the powerful thing happened to give a gift of flowers or food to the spirit of the place, or pray. All of these spontaneous actions and feelings that arise without us thinking about them are the basic impulses of ritual and the building blocks for it.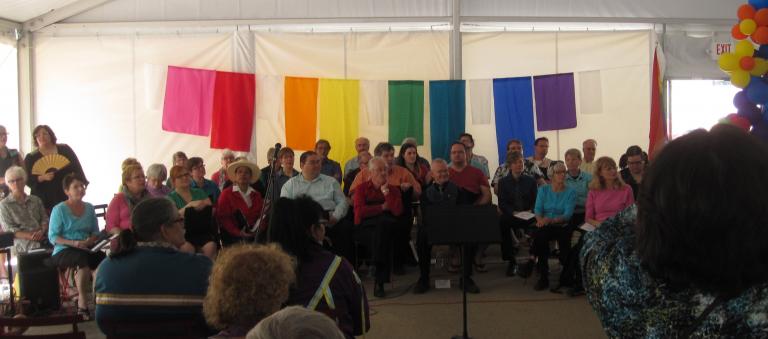 Ritual is about feeling and experience. The other things that come afterward must constantly return to those feelings to make meaning from them. The ritual practice, experiences and a pragmatic approach have to come before the theory and explanations. Beliefs do not come first because beliefs do not predict behaviours or produce experiences. Practice leads to practical results that can then spur on belief. This practice-based approach to ritual means that we can modify our rituals to make them more effective in getting what we want from them and consciously shape the experience and its energy to make meaning that is useful to us and to our communities.
Ritual in religion is the way to pass along complex theological ideas that have been developed out of personal revelations – the stories, truths and meanings at the centre of the religions. It doesn't just celebrate the experiences of revelation but tries to make the revelations part of the personal understanding and experience of each worshipper.
Three very different kinds of ritual that work with different kinds of memories are used – there are the talk rituals that are led by a single person who uses a very familiar pattern of standing, kneeling and listening to a story, that stays the same and is repeated often, there are the exciting occasional rituals led by a team of people that involve a lot of singing, movement, theatre, music, colour and action, and underlying them, there are the daily observances or little ritual things that people are moved to do on their own and when the time seems right, which are simple and private.
Each of these types of ritual has strengths in making meaning and in helping people to remember it and pass it along. Ritual borrows back and forth among all three styles. There is a toolkit of symbols and actions that can be used by all three and I talk about how to get that together and provide examples throughout this discussion. Remember that the ritual comes first, then the explanation, performance then the meaning, at least the first time. The best way to deepen the meaning that you get from ritual is to start with the first little bit of feeling or insight and then repeat it and develop it, pruning away things that don't work, adding things that do. Ritual is a practical matter – it is a kind of work on oneself and in life, a method for understanding – the ritual is not the experience that it is about and it sure isn't the meaning that we are making through it. When we approach ritual as a tool, we are going to get more out of it.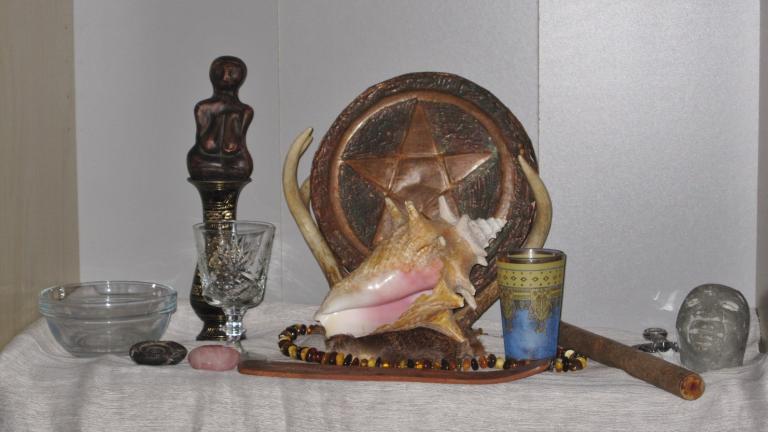 To start with – just about any action can be done as a ritual action, just about any thing or experience can be a ritual tool. For personal ritual select those actions or symbols that make sense to you and give them as much meaning as you can, for group ritual select things that the members of your group agree are appropriate. Although the range of possibilities is very wide, give the choice of symbols some thought if this ritual is one that you are going to perform more than once or if it is one that deals with a very important part of your life. Choose ideas and symbols that fit together in a natural and harmonious way (either because of your personal history or because of a reasonable connection that they have with each other – symbols of birth naturally fit together, of strength, of the sun and so on, because they are directly about the same thing).
It is very useful to take a little time to think about what things you associate with particular emotions or experiences that you have had. What colour is hunger, or grief? What does a butterfly mean to you? And so on. This will build the toolkit of symbols that you can use to make ritual that is powerful and meaningful – the larger the toolkit and the more flexible that you are in your use of the parts of ritual and these tools, the better that you will be as a ritualist, and the more effective this part of your life will be for you and your community.
Next week "Ritual is a Kind of Doing"