This is the collect ("opening prayer) from the Roman Missal's "Mass in Time of War or Civil Disturbance."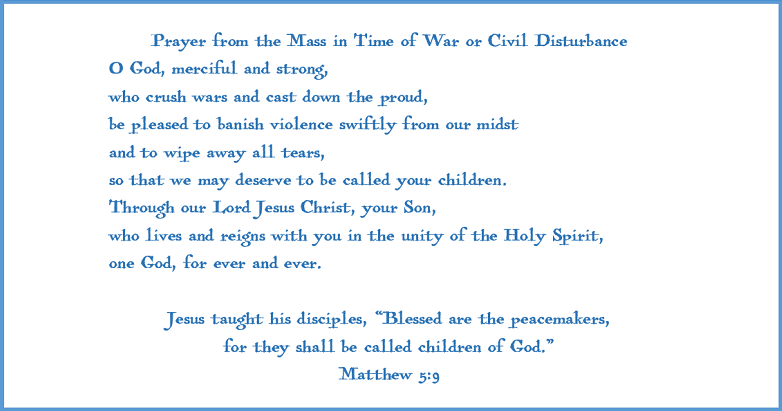 O God, merciful and strong,
who crush wars and cast down the proud,
be pleased to banish violence swiftly from our midst
and to wipe away all tears,
so that we may deserve to be called your children.
Through our Lord Jesus Christ, your Son,
who lives and reigns with you in the unity of the Holy Spirit,
one God, for ever and ever.
Jesus taught his disciples, "Blessed are the peacemakers,
for they shall be called children of God."
Matthew 5:9
---
Dear Readers of "Turn. Love. Repeat."
California where I reside had a new law go into effect on January 1. California Assembly Bill 5 forbids freelance writers, editors and photographers from providing more than 35 content submissions to a media organization per year unless the organization hires the freelancer as a salaried employee. Patheos is a media organization, and I am a freelancer. So now I must limit my posts to 35 per year, or 1 post about every 10 days.