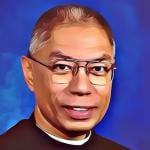 A Benedictine monk and priest of the Order of St. Benedict at Prince of Peace Abbey in California. I grew up a brown, Filipino, immigrant, naturalized U.S. citizen and Navy brat on various islands in the Pacific Ocean and on the California coast. I'm here chewing on the Gospels of the Eucharistic Covenant Rite, the Mass, hoping they'll help me figure out that vow St. Benedict gave us monks: conversatio morum, "ongoing conversion." In other words: Turn. Love. Repeat.

---
Dear Readers of "Turn. Love. Repeat."
California where I reside had a new law go into effect on January 1, 2020. California Assembly Bill 5 forbids freelance writers, editors and photographers from providing more than 34 content submissions to a media organization per year unless the organization hires the freelancer as a salaried employee. Patheos is a media organization, and I am a freelancer. So now I must limit my posts to 34 per year, or 1 post about every 10 days.
So as not to exceed my legal limit, between my postings here at Patheos I will publish my "extra" pieces at my personal blog, Monk Notes.
---