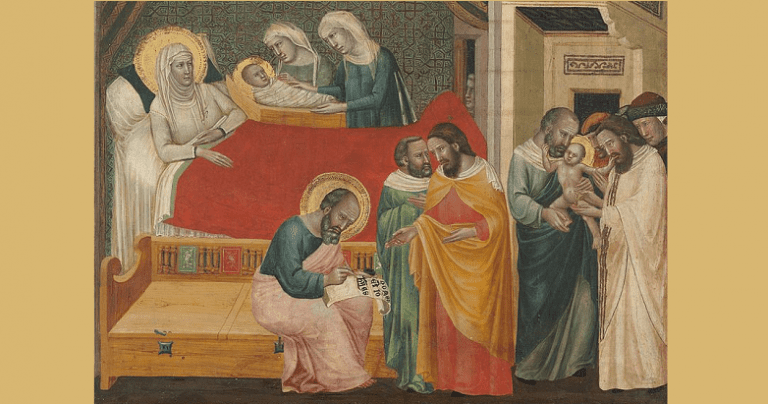 John receives a "cut" of the covenant.
Luke 1:67-79 for the morning and early afternoon on December 24.
In the Gospel of yesterday and today's Mass, the newborn son of Zechariah and Elizabeth is eight days old.
It is the day to circumcise the boy and give him a name among the Israelites, thereby taking him into the covenant of God with Abraham.
Neighbors and kin have come to witness the cutting, expecting by tradition that the child will receive the name of Zechariah his father.
But his mother Elizabeth said: No, he will be called John.
They protested, and turned to Zechariah.
Still speechless nine months after facing an angel, Zechariah wrote out for them what the angel had said: John is his name.
Then Zechariah's speech returned.
And today's Gospel says then the Holy Spirit filled Zechariah.
After nine months of silence in the face of heavenly and earthly mysteries, Zechariah poured out prophecy and blessings.
For longer than the last thousand and five hundred years, the Church has worshipped the Lord God with the spirited words of Zechariah each morning at the hour of Lauds.
Blessed be the Lord … God
a mighty Savior
the tender compassion of our God
the dawn from on high
At sundown today, we begin the spirited celebration of the birthday of the Dawning Sun from on High, the Light of the World.
Yet, within the present hour, he who is LIGHT FROM LIGHT shall visit this altar in his Redeeming Flesh and Blood to give us a cut of the New and Eternal Covenant.
Turn. Love. Repeat.