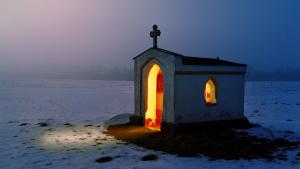 Where do I begin?
I often feel like I don't fit in. Theologically I am conservative, but not enough. And I am also not liberal enough to shed my conservative trappings. I have followed Christ since childhood but have not always found community. And I have not always been passionate about being creative, but I am more passionate about Christ, Community, and creativity. Let me explain why.
Maybe you feel that same kind of way. You want to be part of something, but nothing seems to fit. Your doubt, insecurity, or awkwardness keeps you from fully resting in the real you. Or maybe your doubt and insecurity, and awkwardness are in full splendor. After all, why settle for just one debilitating mental stress? I remember being in college, visiting my family, and bringing a girlfriend to my childhood home. She said she liked going home with me because I was much more relaxed and comfortable. What was happening back at college that had me so stressed out? I was trying to figure out who I was or wanted to be, which is a significant growth area and stress point.
Finding Theological Footing
My campus had been invaded by a collection of people who decided that the only proper way to understand scripture was through the lens of extreme or hyper-Calvinism. And the atmosphere was contentious.
You felt like you had to tiptoe around any discussion about God unless you wanted to hear a lecture about how wrong and spiritually immature you were. And for me, even if I could not explain it with theological clarity, I could not fully embrace certain parts of traditional Calvinism. It may be helpful to point out that many saints and great followers of Jesus knew nothing of Calvin or his take on theology. Many Christians killed other Christians in reformation times because they couldn't accept competing theologies. Many great Christians have fully embraced and lived out Calvin's tenets. So, whichever side of the argument you find yourself on (or oblivious to it), let's agree that it is not crystal clear that it is the one true theology.
Stuck Outside
It was clear how easy it was to find yourself on the outside for saying the wrong thing. Or even for asking the wrong question. I had a friend who stated he was unsure about Calvinism, so another friend gave him over 100 scripture references and an assignment to read through them and see the truth. My friend acted out of love believing that if you don't have the correct doctrine (or at least agree to the same doctrine), can you trust that you know Jesus? But the experience broke my other friend's heart, hurting him deeply.
I should probably say I don't have any specific bent against Calvinism. Still, I often wonder if our desire for mono theology (uniform belief) continually gets in the way of our creation of community. I have gone on to work in ministry with some of those same people and love them dearly, and I think they love me as a brother in Christ too. We didn't have to agree on every theological nuance. But it isn't easy to have a community when you feel judged or have to defend your words at every juncture.