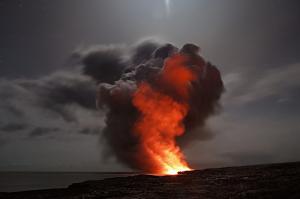 When the Israelites left Egypt, God led them by a cloud during the day and a pillar of fire during the night. Then they arrived at the Red Sea, and God provided a miraculous escape from Pharoah. But when the realities of the wilderness settled in, they lost their faith. Despite all the signs performed by God, they complained to and about Moses. They wondered if they would have been better off in Egypt. The wilderness will do that, make you question everything and search for faith.
New Cloud and Fire
What good is faith? Faith is the overflowing fountain of living water for those that see miracles. But the Bible contains stories of those who never saw the promised miracle. The book of Hebrews catalogs those waiting in faith but who did not see the miracle. Paul writes that he is more than a conqueror and that no weapon formed against him shall prosper while chained in prison. The disciples swore they would never leave Jesus until they all did. What good is faith in a world so violently chaotic and seemingly so randomly cruel?
At the fundamental level, faith translates into hope. We believe in a God who can and will make all things right. Our faith declares that the final word is not spoken, not even in death. We search for the refuge we find in hope. And we hope in the words of Jesus when He declares that just a tiny amount of faith makes all the difference. A mustard seed of faith can move a whole mountain. But like the three friends in the fire, we are called to have "even if" faith. Even if we never move mountains, we are called to follow the risen Savior. And even if we never see mountains move, our lives are better for living like Jesus.
Cloud of Witnesses
Hebrews 11 is a roll call for the heroes of the faith. So in light of those who have gone before us, the writer of Hebrews challenges us to follow in their footsteps. Their lives are our cloud by day. Why is the writer of Hebrews giving this charge? Persecution of the church by both the Jewish religious authorities and the government of Rome. Those skeptical about the truthfulness of the early reports of Jesus' resurrection must deal with the reality that those who would have known it was a hoax got nothing of earthly gain and went to their deaths, holding onto the belief in Jesus' death and resurrection. When my skeptical self begins to question the usefulness of faith, I reflect on the lives of such heroes as Peter, Stephen, and Paul.
I remember that God remains faithful when I find myself in the wilderness. I sometimes find myself sympathizing with the Israelites. I thought that life was going to be different. I believed that God was directing me to a place where I would find comfort and rest. Often though, it was only after experiencing that struggle that I found a new reservoir of peace that passes understanding. God often guides me through the places and experiences that form me into the person He wants me to be. Like Peter and Paul, I, too, can proclaim the goodness of God, even amid the storm. I can take great comfort in those who knew Jesus and still had hard days along with days full of blessings.
Fire Within
We have a fire that guides us as well. On the day of Pentecost, tongues of flame represented the disciples receiving the Holy Spirit. Jesus ascended so that we might have access to the Spirit. And for those who Jesus as Lord and Savior, the Spirit takes up residence in our hearts. Paul would say, we are to walk by the Spirit. He said that we should ask for the Spirit to guide us. Our job is to follow where the Spirit leads. The Spirit is our comforter and the power with which we live out our faith.
Searching For Faith
Faith and hope can be hard to find. But God still guides us today by clouds and fire. We have the cloud of witnesses, those heroes of the faith who have gone before. We have the fire of the Holy Spirit that lives and speaks to our hearts and souls. When life is hard, disappointing, and full of sickness and struggle, we, as followers of Jesus, find ourselves at the Red Sea—where we can't see how to move forward or go backward. I am grateful that Jesus said we only need a tiny seed of faith to move mountains.
Sometimes, we also find ourselves like the heroes at the end of Hebrews 11. We don't see what we hoped for in this life. Sometimes, God is at work, but we can't see what He is doing. And our job is to tend the fire that lives in our hearts. Hope burns strong and clear, even if we don't see how the Red Sea will part, even if we can't imagine dry land and a path to the promised land. We bring our little and allow God to move in mighty and big ways. Finding faith and hope is not always easy, but it is always worth the struggle.
Feel free to follow my Facebook page, The Unbroken Ground | Facebook, for updates and to leave any feedback or questions.