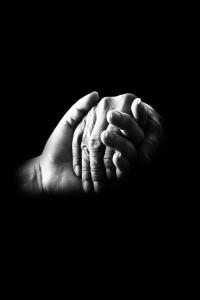 Honesty is the expectation of the journey in the wilderness. David was a wilderness wanderer. Read the Psalms and hear the raw honesty God places in the book most closely aligned to worship. Today, much Christian music (worship or otherwise) takes on much happier subjects. One song recently released feels straight from the wilderness. Cory Asbury writes with raw honesty in his song Kind. The words are a balm to those searching for the right words to say to God. And the song reminds us that God is with us even amid our darkest heartaches.
Can You Say That to God?
"I have had enough; take my life," Elijah cried out to God amid his wilderness wandering. Elijah had seen and done great things in God's name. He had prayers for drought and then prayers for rain answered. He prayed, and God sent fire from heaven to consume an offering that had been soaked in water. But he also found himself constantly pursued and was enemy number one of the king and queen of his country. Tired, alone, and broken, he poured out his heart to God.
Is there anything that God doesn't know? Do you think He doesn't know the thoughts you hide deep in your heart? If you are feeling lost and hurt, you can tell God. Tell God if you are tired and on the verge of giving up. Be honest. You can try to hide and pretend that God doesn't already know. But God loves you so deeply that you don't have to. We fear that if we are honest with God and admit what we think, God will reject us. Or maybe He would scold you and remind you how blessed you are and how much you look like a petulant child. But Jesus paints a much different picture of God as our Father.
Bread and Snakes
What kind of parent would give their child a rock if they asked for bread? Or who would think it would be ok to hand your child a snake when they are hungry for a fish dinner? Earthly, human parents don't do that kind of behavior. Would a God who is greater than any earthly parent do any less? We often try to add up the world's karma to understand our current season of life. Maybe we should have prayed, read our Bible, or tithed more. Maybe we slept in on Sunday morning one too many times, and God is ready to punish us with earthly trials. Jesus' disciples often tried to view life with a similar lens, and Jesus often found himself working to expand their understanding.
In "Kind," Cory writes about how people work through loss, trauma, and pain. We run, fight, yell, and try to kick down doors to work through our grief and loss. Such behavior will create distance and pain in human relationships, but God does not need us to hide behind a smile. Jesus knew and understood suffering to the very fiber of His being. We don't have a God who stays far away or one that distances Himself from our suffering. Instead, we have a God that redeems the broken parts of our life and our souls. He is constantly at work, somehow weaving all of the details of our life into a tapestry of good. But we can be honest when it hurts and when we don't understand. Honesty is the language most spoken in the wilderness in our spiritual journey.
Food for the Journey
God hears Elijah's cries and comforts him. Rest and eat. Then Elijah travels for 40 days to a cave on a mountain. Like Elijah, you can't just lay down and wallow in your sorrow for the rest of your life. Eventually, and everyone deals a little differently with their grief, you got to get up and keep going. You are on a journey, after all. Your destination is to become more like Jesus, and God uses every moment of our lives to accomplish that journey. If you are stuck, talk to God or find a godly friend or wise counselor to figure out the next steps you need. For some, the first step is admitting you are stuck. Own up to the fact that you have been hiding from God.
While Elijah is in the cave, he experiences a wind that tore at the rocks, an earthquake that shook the foundations of the mountain, and a fire burning. But God was not in any of those obvious and undeniable experiences. After the fire, there was a gentle breeze, almost a whisper, and Elijah knew that he was in the presence of God. I often wonder if we miss God because we want to be overwhelmed by an undeniable experience when He often sends the still, quiet voice to soothe our souls. A brilliant sky as the sun sets. A still-warm donut that melts in your mouth. A word of encouragement from a friend. A song that perfectly speaks the broken parts of your heart and brings you into the Holy place.
Hold On
Honesty is rarely an easy language, and wandering the wilderness can be a challenging journey. I like to bookend, listening to Cory sing "Kind" with another of my favorite songs by Jervis Campbell.
"Hold On"
So tell me how to make it through together
Cause I know that this hurt can't last forever
All of your love can make me better
So I, I will try
And you say
Hold on
Don't let go
I know you feel alone
But just hold on
You can hold on
And you say
Hold on
Don't let go
I know
It's been a long road
But just hold on
You can hold on
Find more in the Tips for a Spiritual Journey on The Unbroken Ground Patheos page.
Feel free to follow my Facebook page, The Unbroken Ground | Facebook, for updates and to leave any feedback or questions.