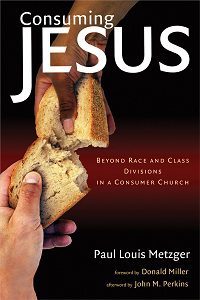 The multi-ethnic church movement is not some passing fad. It is more than a two-day conference. It is here to stay.
I am looking forward to participating in the Mosaix 2013 Multi-ethnic Church Conference November 5 – 6.  A thousand people will be coming together in Long Beach, California to interact with one another on the subject of the multi-ethnic church from various perspectives in service to Christ.
My plenary talk will be "We Shall Overcome" and I will be presenting a workshop called "Owning the Pond Together." Here I will claim that "Community transformation involves redistribution of relational need, responsibility, and resources. This workshop will address race and class tensions bound up with the myth of scarcity that impact churches negatively today, and how to get beyond this for Kingdom impact in the communities we serve." I will be developing further themes that first appeared in my book, Consuming Jesus.
I am excited to hear and engage friends, John M. Perkins, author of Let Justice Roll Down, and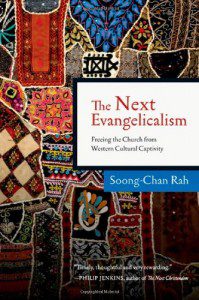 Soong-Chan Rah, author of The Next Evangelicalism: Freeing the Church from Western Cultural Captivity, among many others.
Here are some words of commendation from earlier endorsements I wrote for other conference presenters' works. Can't wait to hear them speak!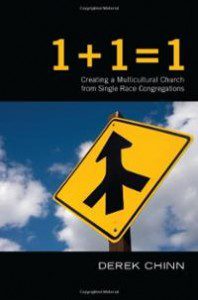 Derek Chinn's 1 + 1 = 1: Creating a Multiracial Church from Single Race Congregations:
"You don't need to be a math wizard to understand 1 + 1 = 1 by [Derek] Chinn . . . Based on biblical wisdom and practical advice gleaned from years of experience in leading a multiracial congregation, this timely and strategic book helps lead the way in resolving church growth and racial problems and puzzles for the sake of church transformation through the gospel of reconciliation."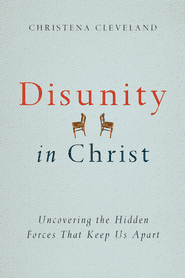 Christena Cleveland's Disunity in Christ: Uncovering the Hidden Forces That Keep Us Apart :
"In Disunity in Christ: Uncovering the Hidden Forces That Keep Us Apart (InterVarsity Press), [Christena] Cleveland helps readers view people of diverse cultural backgrounds as God's gifts, not thorns in the flesh. She provides invaluable insights, practical recommendations, and tools to help the Christian community identify and address the dynamics that fracture Christ's body… My hope, ultimately, is that Disunity in Christ will create new momentum toward fulfilling Jesus' prayer for unity amongst his followers. Those involved in building and supporting multiethnic Christian communities will be moved by Cleveland's stories, perspectives, and gracious spirit. Her book will, I hope, help us resolve generational, economic, political, and theological differences—and teach us to see that, truly, we are better off together." (Read my full review of this book at Christianity Today).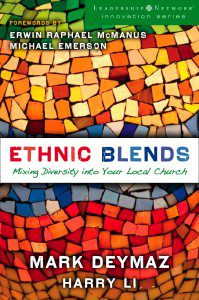 Mark DeYmaz's Ethnic Blends: Mixing Diversity into Your Local Church, co-authored with Harry Li:
"Ethnic Blends is a prophetic, Christ-centered road map that offers practical, pastoral wisdom on how to form multi-ethnic congregations. Mark DeYmaz and Harry Li are redemptive voices crying out in a wilderness of homogeneity for the church in all its ethnic diversity to be one as God is one. I thank God for their biblical vision and mission and firmly believe that Christ's church will bear more authentic witness to the world that God has sent his Son the more we heed the authors' multi-ethnic church claims."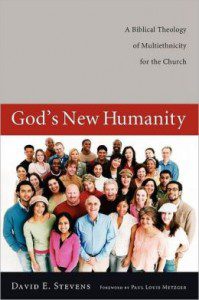 David Stevens' God's New Humanity: A Biblical Theology of Multiethnicity for the Church:
"This book isn't politically correct. It's biblically correct. The church is God's New Humanity in union with Christ Jesus. This driving conviction has a profound bearing on how we see ourselves and how we approach diversity in the body of Christ. We need to come to terms with the radical call to unity envisioned by God's breaking down dividing walls between people through Christ's atoning work and our new life in the Spirit. Drawing from the whole counsel of God, my friend Dr. David Stevens has provided an invaluable resource to the church in responding to the New Testament mandate for ecclesial existence: We are to experience and model our New Humanity identity in Christ rather than revert to our old ways bound up with various forms of societal separation. In God's New Humanity—the church—there are no ethnic, economic, and related divisions. So, be one as God is one."
These and other conference participants will be drawing our attention to what God is doing in cultivating a church that is truly multi-ethnic. This is no passing fad. It is more than a two-day conference in Long Beach. Along with a host of practitioners and academics coming together this coming week, our hope is that the multi-ethnic church will be coming soon to places near you – established by Christ and served and led by Christians of diverse ethnicities – people just like you.
This piece is cross-posted at The Institute for the Theology of Culture: New Wine, New Wineskins and at The Christian Post.