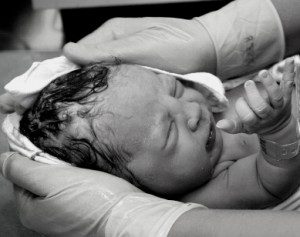 Nobody is scum or refuse. Every human has inherent dignity and worth as someone created in God's likeness. When we spit on somebody, we spit on God, for humanity is the spitting image of God.
What does it mean to be created in God's image? Many answers have been given throughout history. Some have spoken of the image in rational terms. Humanity is par excellence the thinking or wise creature (Homo sapiens). On this view, we best image God through reason. After all, what other creature does God invite to reason with him? (See for example Isaiah 1:18). Others have spoken of dominion in view of God giving humanity dominion in the creation in the Genesis 1 account (Genesis 1:28). Still others have emphasized moral qualities such as holiness, since God calls on people to be holy like God is holy (Leviticus 20:26). While we could discuss additional perspectives, I will introduce only one more at this point. I resonate most with Dietrich Bonhoeffer and Karl Barth, who spoke of the image in relational terms [See for example Karl Barth, Church Dogmatics, Vol. III/1, The Doctrine of Creation, ed. G. W. Bromiley and T. F. Torrance (Edinburgh: T. & T. Clark, 1958), page 191-206; Barth discusses Bonhoeffer's model on pages 194ff.].
A relational framework does not necessarily discount the other categories noted above in this post; in fact, in my estimation, it includes them, for the image as relational is truly foundational. Thus, at the core of our being, we are who we are in relation to others. This relational model safeguards our sacredness at every turn because we can never lose what we are—we are constituted in relationship with God and others.
Let's take further this discussion on the image of God in relational terms. Genesis 1 God speaks of humanity as a singularity, which includes duality. God creates man, which involves male and female (Genesis 1:27):
Then God said, "Let us make man in our image, after our likeness. And let them have dominion over the fish of the sea and over the birds of the heavens and over the livestock and over all the earth and over every creeping thing that creeps on the earth."

27 So God created man in his own image,

in the image of God he created him;

male and female he created them.

28 And God blessed them. And God said to them, "Be fruitful and multiply and fill the earth and subdue it, and have dominion over the fish of the sea and over the birds of the heavens and over every living thing that moves on the earth." 29 And God said, "Behold, I have given you every plant yielding seed that is on the face of all the earth, and every tree with seed in its fruit. You shall have them for food. 30 And to every beast of the earth and to every bird of the heavens and to everything that creeps on the earth, everything that has the breath of life, I have given every green plant for food." And it was so. (Genesis 1:26-30; ESV)
While the terminology "man" could simply indicate a classification as in species, I believe more is involved. As Barth argues in his discussion of this concept in Church Dogmatics III/1, Christ is the ultimate image of God, but he shares that reality with his church, which is his body (Colossians 1:15, 18) [See Barth, Church Dogmatics, Vol. III/1, page 205].
Given the corporate significance of the image, including an ecclesial designation, it is not simply 'married' couples like Adam and Eve in the Genesis creation account who image God relationally. All people image God in this way. Moreover, humanity images God in relation to the rest of the creation in which it exercises dominion [See Colin E. Gunton, "Trinity, Ontology and Anthropology: Towards a Renewal of the Doctrine of the Imago Dei," in Persons, Divine and Human, ed. Christoph Schwöbel and Colin E. Gunton (Edinburgh: T. & T. Clark, 1991), pages 57-58].
If the preceding points are in fact the case (as I believe it is), what difference does the concept of God's image make? Ultimately, it signifies that we do not image God based on capacities and performance of various kinds, but based on God's gracious presence in our lives. In place of Descartes' "I think. Therefore, I am," and in place of the free market's "I shop at Wal-Mart and Macy's. Therefore, I am," and in place of "I am famous to fifteen people on YouTube. Therefore, I am," the Bible teaches "We are loved by God. Therefore, we are." What difference does this relational model or ontology make in our lives?
What difference does it make for Down syndrome fetuses or babies? It signifies that their worth is not bound up with how well they reason, or degree of refined happiness bound up with reason, as it appears to be for Richard Dawkins (See my engagement of related themes in "Social Darwinism, Richard Dawkins and Down syndrome"). We must never spit on God by devaluing and discarding people, no matter how simple and frail.
What difference does it make for those who never marry, or married couples who can never produce children? It signifies that their worth or value is not bound up how large their families get, as it might have been for Darwin. Indeed, Darwin's ethical stance would likely have been that people should have big families, wherein the children reach adulthood (Read more at "Social Darwinism, Richard Dawkins and Down syndrome"). Thus, we should never spit upon barren women and infertile couples.
What difference does it make for the poor? It suggests that their worth is not bound up with their economic fitness or how much they can spend and consume, as it could be for Social Darwinians of the Homo economicus and Homo consumens varieties. What difference does it make for those who are not famous to anyone on Youtube? As with the others noted above, their foundational value does not depend on a capacity such as reason or money that can deteriorate with age or injury or a stock market plunge, nor upon fame that is fickle and fleeting, but on God's love that lasts forever. It is all the more striking that the image of which we speak is one of relation: we can never lose the image because of sin, since it was never something we possessed [See Barth, Church Dogmatics, vol. III/1, page 200]; rather, the image is a relational constitution determined by God, who loves us before the creation of the world in his beloved Son. We have sacred significance, as those who are constituted in relation to God and others.
The greatest flattery God could pay us is that the Father sent his Son into the world to be one of us. The image is ultimately Christ. As the archetypal human, Jesus is the spitting image of God (Colossians 1:15, Hebrews 1:3; see also Hebrews 2:5-18, which develops Psalm 8 in its treatment of humanity in a Christocentric manner). What distinguishes us ultimately from the rest of creation or nature is that Christ became human and as human we can become one with God through his Son. Further to what some of the church fathers wrote on this subject, he became what we are so that we can become what he is in relation to the Father through the Spirit. No greater compliment could God have paid to us. We are more than matter. We really matter because we are created in God's. In view of the divine compliment revealed in Jesus as God's spitting image, we should never spit on God's image, but cherish and marvel in the image of God in every human.
When we come to terms with such affirmation, we experience God's love going viral in our hearts. Nothing surpasses the height and depth, width and the length of such love, which transcends supreme brilliance and knowledge, skyrocketing spikes in the stock exchange, and the greatest number of hits on Youtube. Amazed and undone by such love, the Apostle Paul puts it well:
14 For this reason I bow my knees before the Father, 15 from whom every family[c] in heaven and on earth is named, 16 that according to the riches of his glory he may grant you to be strengthened with power through his Spirit in your inner being, 17 so that Christ may dwell in your hearts through faith—that you, being rooted and grounded in love, 18 may have strength to comprehend with all the saints what is the breadth and length and height and depth, 19 and to know the love of Christ that surpasses knowledge, that you may be filled with all the fullness of God.

20 Now to him who is able to do far more abundantly than all that we ask or think, according to the power at work within us, 21 to him be glory in the church and in Christ Jesus throughout all generations, forever and ever. Amen. (Ephesians 3:14-21; ESV)
We are loved by God, therefore we are. We have sacred significance as those created in God's image.