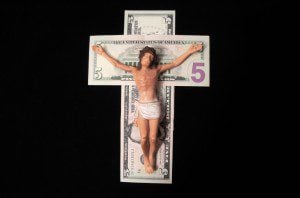 Jesus came to forgive world debt. We find Jesus making this claim in Luke 4:16-30, when he reads from Isaiah's scroll. He tells those around him in the synagogue who listen to him read that the Spirit of the Lord is on him in a singularly unique way. He will bring freedom from bondage to sin, including its hold on various spheres of our lives. Jesus is Jubilee justice.
"The Spirit of the Lord is upon me,

because he has anointed me

to proclaim good news to the poor.

He has sent me to proclaim liberty to the captives

and recovering of sight to the blind,

to set at liberty those who are oppressed,

to proclaim the year of the Lord's favor."
And he rolled up the scroll and gave it back to the attendant and sat down. And the eyes of all in the synagogue were fixed on him. And he began to say to them, "Today this Scripture has been fulfilled in your hearing." (Luke 4:18-21; ESV)
The Year of Jubilee, which Jesus' people most likely never celebrated in full, entailed abundant Sabbath rest of exceeding duration as well as the liberation of debts of various kinds (See Leviticus 25:8-55 for God's instructions about the Year of Jubilee). Such rest and liberation were intended to bring great joy to the people's lives. Rich and poor alike were to benefit from living according to God's kingdom Shalom modeled in the Jubilee Year. Jesus informs his listeners that the ultimate Year of Jubilee has dawned in him.
At first, the people in the hometown synagogue are amazed by what Jesus says. But upon further review, they cannot imagine this hometown boy making good on his promissory note to back up his claims (Luke 4:22). At this point, things turn ugly, as Jesus informs his townspeople that he will not be able to perform miracles in their midst because of their hardness of heart. Rather, as in the case of the great prophets Elijah and Elisha before him, he will perform his miraculous signs of liberation among the Gentiles. As a result, Jesus' townspeople try to destroy him by throwing him down the cliff of the hill on which their town is built (Luke 4:23-30). No doubt, prejudice against the Gentiles and disgust over Jesus' words that God would pass them by to have mercy on the Gentiles in view of their disbelief in Jesus leads to their hostile rejection of him.
How different are we than Jesus' townspeople? Do we like Jesus and his words as long as he makes us feel comfortable and holds back from making staggering claims about himself in relation to our very lives? What happens when Jesus gets personal and calls us out for our hardness of heart and prejudice against others?
Prejudice ruins us personally and societally. Prejudice destroys the possibility of our experiencing God's kingdom shalom. The people's disbelief concerning Jesus is a form of prejudice, broadly conceived. Just like us, they easily make judgments about Jesus without really knowing him and his ways. Our lack of confidence in Jesus (after all, he's only Joseph's Son!) keeps us from experiencing his goodness. Moreover, our prejudice against others of different backgrounds isolates us from one another relationally. Prejudgment leads to harmful practices in our society, including stopping motorists for driving while Black and firing verbal volleys and gun shots that wound and kill unarmed individuals simply because of the color of their skin, clothing, and manner. Prejudice entails disrespect for all people in uniform simply because they wear a badge.
All too often prejudice shapes the church. We divide over skin color, worship styles, age brackets, political affiliations, and the like (or rather, other forms of dislike). The church that Jesus created as his kingdom community is called to participate in his reconciling love that breaks down divisions of various kinds. Indeed, God has broken down the wall of division between Jews and Gentiles (and Gentiles and Gentiles) through Jesus in the Spirit and has made the two one (Ephesians 2:11-22). The church is that holy temple made up of people of diverse backgrounds who are called to live in the Spirit whose ultimate gift is love (See 1 Corinthians 12-14).
In contrast to the spirit of a given age that would cause us to look out only for our kind of people, the Spirit of God always leads us to turn outward in sacrificial concern for others (Contrast the spirit of the age in Ephesians 2:1-3 with the Spirit of God in Ephesians 2:18-22 as well as Luke 4:18-21; contrast as well the fruit of the flesh and fruit of the Spirit in Galatians 5:16-26). Jesus manifests the Spirit of God uniquely and definitively. In contrast to messianic pretenders who come to rule over people to benefit from them, Jesus comes to serve people in order to liberate them from oppression and benefit them (Luke 4:18-21). Such servanthood is a fundamental mark of his messianic vocation and deity.
At the outset of this piece, I claimed that Jesus came to forgive world debt. I have one qualification to make. The only debt Jesus does not come to forgive is the debt of love. Paul writes, "Let no debt remain outstanding, except the continuing debt to love one another, for whoever loves others has fulfilled the law" (Romans 13:8; NIV) Here is the full context of Romans 13:8:
Owe no one anything, except to love each other, for the one who loves another has fulfilled the law. For the commandments, "You shall not commit adultery, You shall not murder, You shall not steal, You shall not covet," and any other commandment, are summed up in this word: "You shall love your neighbor as yourself." Love does no wrong to a neighbor; therefore love is the fulfilling of the law. (Romans 13:8-10; ESV)
It is the debt of love that will move us away from prejudice and from pushing Jesus and whoever the Gentiles are to us over the cliff. The debt of love is the hill on which God's kingdom of Shalom is built. We need to move beyond prejudging others of whom we know virtually nothing to preloving them. It cannot stop there. We must continue loving them even after we find out more about them—including their faulty prejudgments against us. After all, we owe a debt to Jesus to love in this way. He loves us, though he knows everything about us, and forgives us our world full of debt. May we forgive our world full of debtors, as Jesus forgives us.