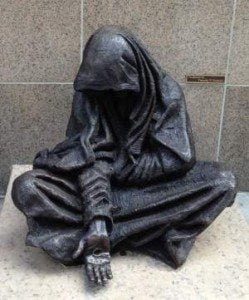 Nostalgia can be a good thing. But should we live in it? Take Christmas for example. We might long for a white Christmas, but how white? We might even long for the day when nativity sets would go back up in public with signs that read "Put Christ back in Christmas." But what if that never happens? Will that ruin Christmas for us? It appears that such would be the case for Sarah Palin (Refer here to a video interview with her on the subject of Advent and American culture).
And what if Christmas as we know it has pagan origins? Would that ultimately matter to us? Here's what Andrew McGowan, Dean and President of the Berkeley Divinity School at Yale and McFaddin Professor of Anglican Studies at Yale Divinity School, wrote in an article titled "How December 25 Became Christmas" published at Biblical Archaeology Society's site:
In the end we are left with a question: How did December 25 become Christmas? We cannot be entirely sure. Elements of the festival that developed from the fourth century until modern times may well derive from pagan traditions. Yet the actual date might really derive more from Judaism—from Jesus' death at Passover, and from the rabbinic notion that great things might be expected, again and again, at the same time of the year—than frompaganism. Then again, in this notion of cycles and the return of God's redemption, we may perhaps also be touching upon something that the pagan Romans who celebrated Sol Invictus, and many other peoples since, would have understood and claimed for their own, too.
Whether or not December 25th has pagan origins or associations, I would hope such considerations wouldn't take away Christians' Christmas spirit and joy. After all, we shouldn't live in the past, even when we have good memories, as some of us do when recounting Christmas from our childhood years. In my estimation, what matters most of all is how we celebrate Christmas today from our hearts.
What would the celebration of Christmas from our hearts entail? Among other things, it would entail making sure we don't discount but prize whoever we find along our path, especially the most vulnerable in our midst. After all, the Lord himself was a helpless babe, frail and forlorn, especially as there was no room for him and his parents in the inn, as the Christmas carol goes.
The mighty and privileged will go about their business to register their empires' subjects and make their profits. Lost in the hustle and bustle, and even Christmas fanfare, is the babe, the Son of Mary:
In those days a decree went out from Caesar Augustus that all the world should be registered. This was the first registration when Quirinius was governor of Syria. And all went to be registered, each to his own town. And Joseph also went up from Galilee, from the town of Nazareth, to Judea, to the city of David, which is called Bethlehem, because he was of the house and lineage of David, to be registered with Mary, his betrothed, who was with child. And while they were there, the time came for her to give birth. And she gave birth to her firstborn son and wrapped him in swaddling cloths and laid him in a manger, because there was no place for them in the inn (Luke 2:1-7).
We may miss Jesus in the midst of the holiday festivities and stresses, or those with whom he will be found, like the lowly shepherds who made their way to greet Jesus upon hearing the angelic host declare his birth (2:8-21). The angels did not go to Rome to declare the news to Caesar (as far as we know), nor to Herod in Jerusalem, but to the remote and forgotten ones like those in Bethlehem.
We don't need to place nativity sets in public places or replace "X" with Christ in greeting cards and signs to put Christ back in Christmas. We only need to put Christ back in our hearts and in our interaction with the innless and homeless, the refugees and immigrants, those the system marginalizes, no matter their religion or pedigree. If we want to put Christ back in Christmas, we will need to put ourselves back time and again with them.