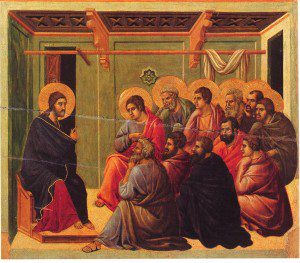 "Humanism" is a dirty word in some Christian circles. It is often associated with secular humanism, which connotes humans liberated from the stifling constraints of religion and enslaving concepts of deity.
The irony is that theologians like John Calvin for whom God was sovereignly involved in the affairs of humanity was a Christian humanist. He was critical of received traditions and went back to the original languages and sources for his arguments. Moreover, he affirmed humans as created in the image of God and having profound worth. And lastly, he was committed to social equity and justice (Nicholas Wolterstorff presents Calvin as a Renaissance, anthropological and social humanist; refer here).
Perhaps the most famous quote of Christian humanism is found in St. Irenaeus of Lyons' work Against Heresies:
For the glory of God is a living man; and the life of man consists in beholding God. For if the manifestation of God which is made by means of the creation, affords life to all living in the earth, much more does that revelation of the Father which comes through the Word, give life to those who see God (St. Irenaeus of Lyons, Against Heresies, IV, 20, 7).
Often mistranslated and distorted, Irenaeus in this statement envisioned "a living man" who is fulfilled in and through Jesus; in no way do Irenaeus' words suggest self-fulfillment (See Patrick Henry Reardon's article in Touchstone titled "The Man Alive—Irenaeus Did Not Teach Self-Fulfillment"); fulfillment only comes about through our solidarity as humans with Jesus. One of Irenaeus' key terms is recapitulation in which God in Jesus through the Spirit transforms all of creaturely reality. The Apostle Paul speaks to this reality in Colossians 1, where he reflects upon Jesus and his life work:
He is the image of the invisible God, the firstborn of all creation. For by him all things were created, in heaven and on earth, visible and invisible, whether thrones or dominions or rulers or authorities—all things were created through him and for him. And he is before all things, and in him all things hold together. And he is the head of the body, the church. He is the beginning, the firstborn from the dead, that in everything he might be preeminent. For in him all the fullness of God was pleased to dwell, and through him to reconcile to himself all things, whether on earth or in heaven, making peace by the blood of his cross (Colossians 1:15-20; ESV).
Jesus is for Paul the ground, the grid, and goal of creaturely life. As the image of the invisible God and firstborn over all creation, Jesus is the ultimate human. And so, he is the ultimate humanist.
If we are concerned for affirming rather than despising humanity, we should consider Jesus. If we are concerned for justice, equity and peace, we should consider Jesus. If we are concerned with returning to the origin of the faith, we should consider him. He is the ultimate source of renaissance, anthropological, and social humanism.
However, in our moralistic therapeutic deistic age, "God" serves as a boundary concept who intervenes only when we need him (and most of the time, we don't need him, according to this Zeitgeist). All too often, God functions as a placeholder until we can find something else to take his place in service to human flourishing. But what better treatment can be given of humanity that an exposition of Jesus and his life? His concern for others moves us beyond the rampant tribalism, racism, classism and nationalism that thwart concern for our global humanity. As Martin Luther King, Jr. claimed in his critique of the Vietnam War,
This call for a worldwide fellowship that lifts neighborly concern beyond one's tribe, race, class, and nation is in reality a call for an all-embracing, unconditional love for all men. This oft misunderstood and misinterpreted concept, so readily dismissed by the Nietzsches of the world as a weak and cowardly force, has now become an absolute necessity for the survival of mankind. And when I speak of love I'm not speaking of some sentimental and weak response. I am speaking of that force which all of the great religions have seen as the supreme unifying principle of life. Love is somehow the key that unlocks the door which leads to ultimate reality. This Hindu-Muslim-Christian-Jewish-Buddhist belief about ultimate reality is beautifully summed up in the first epistle of John: "Let us love one another, for God is love. And every one that loveth is born of God and knoweth God. He that loveth not knoweth not God, for God is love. If we love one another, God dwelleth in us and his love is perfected in us."
While Christians should be able to affirm sacrificial love in any and all religious and non-religious traditions that move us beyond the tribalism, racism and various other "isms" that threaten human well-being today, just as King affirmed here, we must ground the discussion in Jesus. It is worth noting that 1st John 4, which King quoted, centers the discussion on Jesus Christ. Between the verses King quoted, 1st John 4 reads:
In this the love of God was made manifest among us, that God sent his only Son into the world, so that we might live through him. In this is love, not that we have loved God but that he loved us and sent his Son to be the propitiation for our sins (1st John 4:9-10).
Jesus is the ultimate humanist. No doubt, the Nietzsches of the world will reject Jesus' self-sacrificial love as "a weak and cowardly force" (to quote from King's statement above), which must be removed if we are ever to move beyond humanity to the Übermensch. But for those who want to promote humanity rather than less-than-human or more-than-human constructs, we have no better place to go than to Jesus. Far from enslaving us, he liberates us to be truly human through his self-sacrificial love. So, if you really want to be a humanist, celebrate Jesus; and if you really want to honor Jesus, celebrate his humanitarian spirituality. Only then can we really honor God and humanity, for the glory of God is this living man.