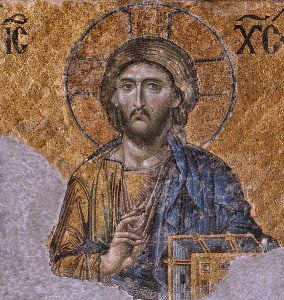 Many Christians celebrate the Epiphany of the Lord as well as his Baptism today. There is so much to marvel at when considering Jesus' worth and these two events.
Technically speaking, the Feast of Epiphany falls on January 6th, the twelfth day of Christmas. And yet, as a few articles referenced in this blog post point out, some churches move the celebration to the closest Sunday (today—January 8th). Epiphany marks the occasion of the manifestation of God's Son who became human as Jesus. Meaning "manifestation" or "divine manifestation," it derives its name from "the Greek 'epiphania,' which denotes the visit of a god to earth." For centuries, Christians have associated the Epiphany celebration with the encounter of the three kings from the East and Jesus, recorded in Matthew 2:1-12. As one article notes of the tradition,
The three kings – named Melchior, Caspar and Balthazar – followed the star of Bethlehem to meet the baby Jesus. According to Matthew 2:11, they offered symbolic gifts of gold, frankincense and myrrh.

The gifts were symbolic of the importance of Jesus' birth, the gold representing his royal standing; frankincense his divine birth; and myrrh his mortality.
The church often celebrates the Baptism of the Lord on the Sunday following Epiphany. There are similarities between the two celebrations (Refer here, for example). Before discussing a few of these similarities, we need to reference the biblical account of Jesus' Baptism.
Matthew 3:13-17 recounts Jesus' Baptism. Jesus appears to John the Baptist to receive his baptism of repentance. Jesus' desire to be baptized by him troubles John, since as he notes, he is in need of Jesus' baptism (Matthew 3:14). Still, John consents when Jesus insists that it must be done to fulfill all righteousness (Matthew 3:15).
Now for a few comparisons. We find certain parallels between Jesus' manifestation as a small child to the wise men from the East and his Baptism as an adult at the Jordan River. The wise men honor him as a divine king, as they come to worship him and present him with their gifts (Matthew 2:2, 11). Later, as Jesus is baptized, the Spirit descends upon him and God declares him to be his beloved Son with whom he is well-pleased (Matthew 3:16-17). Just as he is honored as divine royalty by the wise men, so he is anointed king and as God's Son in his Baptism. He is appointed as the firstborn of all creation, the most exalted among the kings of the earth (See Psalm 89:27; Colossians 1:15). Moreover, the wise men's third gift, myrrh, and John's baptism of repentance signify Jesus' connection with us in our human frailty. As the writer of Hebrews claims, "For we do not have a high priest who is unable to sympathize with our weaknesses, but one who in every respect has been tempted as we are, yet without sin" (Hebrews 4:15; ESV).
Both celebrations declare the profound mystery of the incarnation, which John's Gospel refers to as "The Word became flesh" (John 1:14). Jesus is: the eternal Word made flesh (John 1:14), the most exalted of the kings of the earth (Psalm 89:27), the firstborn over all creation (Colossians 1:15), God's beloved Son in whom he is well-pleased and on whom the Spirit descends (Matthew 3:16-17), who fulfills all righteousness (Matthew 3:15), and our high priest who identifies with us fully, yet without sin (Hebrews 4:15). May we who have seen his star from nations far and wide come to worship him who was born king of the Jews, bowing low and laying our gifts before him in joyful homage (Matthew 2:2, 10-11). May we receive his baptism of the Holy Spirit and fire and pray that we are wheat, not chaff (Matthew 3:11-12).
No one or two days can mark the significance of this divine and human manifestation. As has been said of the celebration of Epiphany, so it should be said of Jesus' incarnation as a whole:
the Epiphany is like a rich Oriental tapestry in which the various themes are woven and interwoven– now to be seen in their historical setting, again to be viewed from a different vantage point in their deep mystical significance.
Thus, in light of such a rich tapestry, it is fitting that for many Protestant churches, Epiphany marks the season from January 6th to Ash Wednesday and the beginning of Lent. Here the last Sunday associated with Epiphany is Transfiguration Sunday (Refer here).
The celebration of Epiphany as well as the Lord's Baptism should not end today. Keep them in mind as we move forward toward his Transfiguration (Matthew 17:1-13). Until Transfiguration Sunday, and long after, may we continue to marvel at Jesus, who is "God with us"—"Immanuel" (Matthew 1:23).