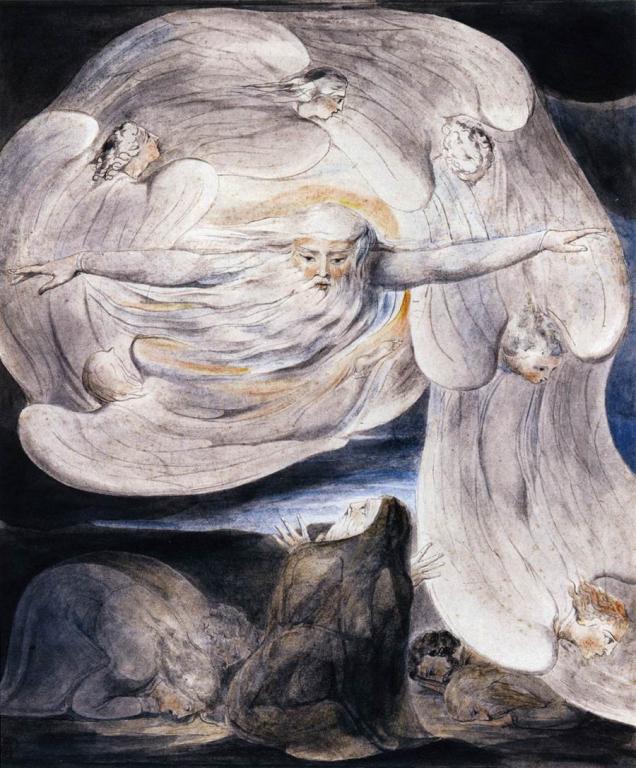 Many of you are familiar with the book of Job, which offers an account of a very godly man experiencing gross evil and trying to account for it in relationship to God. How would you and Job rate God's customer service ability in addressing the problem of evil? Good, fair, poor? If Job were an American, I wouldn't be surprised if he would have given God poor marks at best for responding to the problem of evil. It doesn't matter that most warranties won't cover acts of God. If Job were one of us, he would have likely gone to the Better Business Bureau to file an official complaint. To add insult to injury, God was slow to show up. Furthermore, he never answered Job's questions. Nor did God apologize for the disasters that befell Job and his household. Surely, it was going to hurt God's customer service ratings, right?
If it had been about customer satisfaction, Job would have been one of the shorter books of the Bible. But rather than being about customer service reviews, the book of Job was and is about relationship. What pained Job more than anything was God's silence through most of the book, even while having to deal with a lot of meaningless attacks from his friends. They should have remained silent the whole time, comforting him with their presence, but instead they sought to rationalize that Job was experiencing evil because he must have sinned (See Job 4-25).
Contrary to popular demand or opinion, Job had no trouble accepting evil from God's hand. When his wife urged him to curse God and die, which does not mean swearing at God but rather signing off from the relationship. Job told her, "'You speak as one of the foolish women would speak. Shall we receive good from God, and shall we not receive evil?' In all this Job did not sin with his lips" (Job 2:10; ESV). This goes to show that the book of Job is not ultimately trying to answer "Why do bad things happen to good people?" (ex. Harold S. Kushner), "Is this the best of all possible worlds?" (ex. Gottfried Wilhelm Leibniz), or "If God is good, all-powerful and all-knowing, where does evil come from?" (ex. David Hume). While each of these questions has relative merit, as we often ask them or their derivatives, the book of Job does not ask them. And yet, the Bible does not hide from the problem of evil, as Job is perhaps the oldest biblical book and it addresses the subject head on, albeit differently than we might like or assume.[1]
Job did not come away unscathed from the ordeal. I'm not simply talking about the scabs he scratches from his sores (Job 2:7-8), or the devastating loss of his children, servants, and vast property (Job 1:13-22). I'm talking about his response to God's silence wherein he claims to be more righteous than God. God never answered Job's questions about God's silence in the midst of the travail, but he did answer by speaking again to Job and blessing him abundantly again.
Job was not a pawn in a chess match between God and Satan, who functioned like a prosecuting attorney in attacking God's relationship with Job. Satan tried God and Job and we find that Job did not worship God in vain. However, his worship was not based on material blessings, but the blessing of relationship between God and Job (See Job 1:8-12; 2:3-6).
If Job were written in our Moralistic Therapeutic Deistic age, where we are often led to think we are blessed by God with happy, successful lives if we do the right thing (not so unlike Job's friends' view of life), Job would be a short book. Job would have asked for his refund in chapter 2 verse 10, and been on his way in search of another deity at e-Divine-Harmony. Providentially for those of us who would not curse God, but cry out to God, struggling with God in the midst of the silence, like Job does, the book continues on like our own journeys with the Ancient of Days.
Who knows how long Job's horrific ordeal lasted? He never stopped struggling, crying out to God to answer. How about us? Do we continue crying out, pleading for the God we love to speak? Or have we become despondent, even wondering if God exists? That was never Job's question, nor the question as to whether he should accept evil from God's hand. Rather, he wondered why God was silent.
If God had remained silent or had not blessed Job abundantly, then we could accuse God of being cruel and indifferent, according to the biblical account. God was not held to account for breaking the silence or granting Job renewed favor. That was simply up to God. What we do find at the close of the account is that God was not indifferent to Job. God questioned Job, rebuked Job for his challenges, rebuked Job's friends even more severely, and then blessed Job above and beyond what he had blessed Job with previously. Ultimately, a more in-depth relational disclosure of God's being, character and ways was Job's greatest blessing.
None of this was esoteric to Job, and none of it is esoteric to people of faith in the God of the Bible today. Quite literally, today my wife and I attended the funeral of a beautiful little girl who passed away quite unexpectedly in the middle of the night last week. She was and is a deeply loved daughter, sister and member of our church family. Such love was on display this Sunday and today at the funeral as church leaders consoled God's people in the face of the loss. They were very moving services. I was deeply touched by the pastoral words and the expressions of grief and love displayed toward this precious life and her family. Hope in the resurrection and hope in God's abiding love permeated the messages, as did remembrances of this beloved child. Gratefully, Job's friends were not in attendance. There was no attempt to explain away her death religiously. Rather, faith, hope and love in the God who cares, who is sovereign and who will raise the dead permeated hearts and thoughts. Such conviction comforted her family and their friends.
May God's relational presence continue to comfort and fill them, as well as you during seasons of grief along life's path. We can take comfort from Job who declared: "For I know that my Redeemer lives, and at the last he will stand upon the earth.  And after my skin has been thus destroyed, yet in my flesh I shall see God, whom I shall see for myself, and my eyes shall behold, and not another. My heart faints within me!" (Job 19:25-27; ESV)
Some try to explain evil away. The book of Job did not explain evil away, but left it hanging until the eschaton. The biblical canon finds the ultimate resolution to evil in Jesus who in his goodness consumed and destroyed evil while hanging on the cross and rising from the grave, the first fruits of our own resurrection: "Death is swallowed up in victory." "O death, where is your victory? O death, where is your sting?" (1 Corinthians 15:54b-55; ESV). As Paul declared, God "gives us the victory through our Lord Jesus Christ" (1 Corinthians 15:57). God as revealed in Jesus does not treat Job and us as his customers, but as his beloved people, for whom he gave his life and who will participate in his resurrection. It is a firm hope that comes with an eternal lifetime guarantee.
_______________
[1]I am grateful for the insights of my colleague Karl Kutz, Ph.D., Chair of the Biblical Languages Department at Multnomah University, who has researched the book of Job at great length. I am also thankful for conversations on the subject of theodicy with my colleague Derrick Peterson, Th.M., Administrative Coordinator at Multnomah University and Seminary's Institute for Cultural Engagement: New Wine, New Wineskins. I benefited greatly from my interaction with these friends as I developed and finalized this blog post.