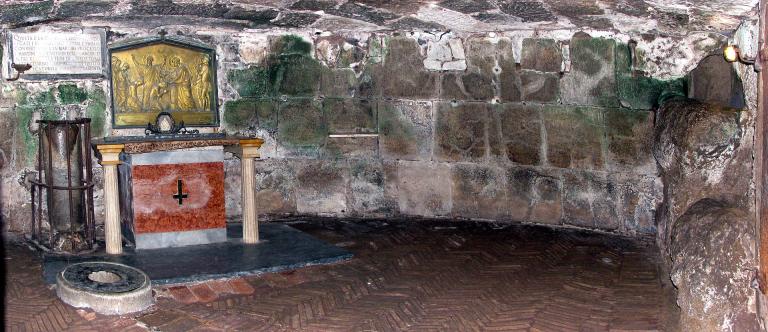 A young lady named Ana was severely injured in a head-on, hit and run automobile accident in mid-October. Ana has slowly proceeded from critical condition to rehabilitation. A friend of Ana's shared yesterday that Ana was asked what she is thankful for at Thanksgiving. Her response to the question? "God."
Ana's response moved me. Like Naomi and Ruth, who clung to Yahweh during desperate, vulnerable times as widows and refugees, and like Paul, who clung to Jesus while in chains in prison, Ana clings to the Lord God. Not only does she cling to God, but also she gives thanks to God and for God. Ana understands the secret to spiritual success, even in the midst of the most trying circumstances.
Paul wrote from his prison cell during his first Roman imprisonment that we are to rejoice in the Lord always, and to give thanks:
Rejoice in the Lord always; again I will say, rejoice. Let your reasonableness be known to everyone. The Lord is at hand; do not be anxious about anything, but in everything by prayer and supplication with thanksgiving let your requests be made known to God. And the peace of God, which surpasses all understanding, will guard your hearts and your minds in Christ Jesus (Philippians 4:4-7; ESV).
I am not inclined to say that Paul was thankful for his prison chains as such. While he had some liberties during his first imprisonment, still, imprisonment entailed shame. Moreover, it limited him access to move freely about in public to carry on his work of evangelism and pastoral care. Then there were the personal attacks he endured from Christians who used his chains to their envious advantage to stir up trouble for him: "Some indeed preach Christ from envy and rivalry, but others from good will. The latter do it out of love, knowing that I am put here for the defense of the gospel. The former proclaim Christ out of selfish ambition, not sincerely but thinking to afflict me in my imprisonment" (Philippians 1:15-17; ESV).
Even so, Paul was thankful and rejoiced in the Lord in the midst of his stressful and shameful situation:
I want you to know, brothers, that what has happened to me has really served to advance the gospel, so that it has become known throughout the whole imperial guard and to all the rest that my imprisonment is for Christ. And most of the brothers, having become confident in the Lord by my imprisonment, are much more bold to speak the word without fear (Philippians 1:12-14; ESV).
And again, "What then? Only that in every way, whether in pretense or in truth, Christ is proclaimed, and in that I rejoice" (Philippians 1:18; ESV).
Paul's attitude of rejoicing and thanksgiving gave him a new or renewed perspective in the midst of his difficult conditions. Among other things, he realized through rejoicing and thanksgiving that God was not going to allow the gospel to be chained based on his circumstances. As Paul says during his second imprisonment in Rome, the gospel is not chained: "for which I am suffering even to the point of being chained like a criminal. But God's word is not chained" (2 Timothy 2:9; NIV). Paul saw evidence of God's word not being chained, as the whole imperial guard, which was responsible for guarding him, had come to terms with Paul's testimony about Jesus (Philippians 1:13), and members of Caesar's own household were vibrant believers (Philippians 4:22).
Shortly after exhorting the Philippian believers to rejoice in the Lord (Philippians 4:4), Paul told them how he rejoices over them. In the midst of it, he shared that he has learned the secret of being content in all situations. Like Ana, Paul was/is thankful for the Lord. This was his secret. He could do all things through Jesus who strengthened him:
I rejoiced in the Lord greatly that now at length you have revived your concern for me. You were indeed concerned for me, but you had no opportunity. Not that I am speaking of being in need, for I have learned in whatever situation I am to be content. I know how to be brought low, and I know how to abound. In any and every circumstance, I have learned the secret of facing plenty and hunger, abundance and need. I can do all things through him who strengthens me (Philippians 4:10-13; ESV).
People like Paul and Ana give thanks the Christian way at Thanksgiving. Their example challenges and quickens me to ask, "What do I give thanks for? Do I only rejoice and give thanks when experiencing the good times and abundance? Or do I rejoice and give thanks even in the midst of hardship?"
Rather than kick the bucket, or get consumed and fixated on various trials like I do, Paul had a way of kicking his trying circumstances back to God by rejoicing in the Lord and giving thanks. In doing so, he gained a fresh perspective on his circumstances. Paul did not succumb to looking at life through paranoid eyes where everyone was out to get him and everything will turn out poorly. Rather, he perceived rightly that Jesus is victor and that he was providentially orchestrating his life to take him through travail to triumph.
How about you and me? I am not saying that we should rejoice in hardships as such, whether they be physical, financial, emotional and relational difficulties. What I am saying is that we should rejoice in the Lord in the midst of these challenges. It is all too easy given narratives of fortune and fame that shape our society's imagination at Thanksgiving to give thanks only when times are good and we are reveling in success. But given the goodness and sovereign care of the Lord Jesus, we can rejoice and give thanks in the midst of all situations, like Ana and Paul. As revealed in Philippians 4:10-13, this is the secret to spiritual contentment, no matter the situation. That is the secret to spiritual success at Thanksgiving, and throughout the year.