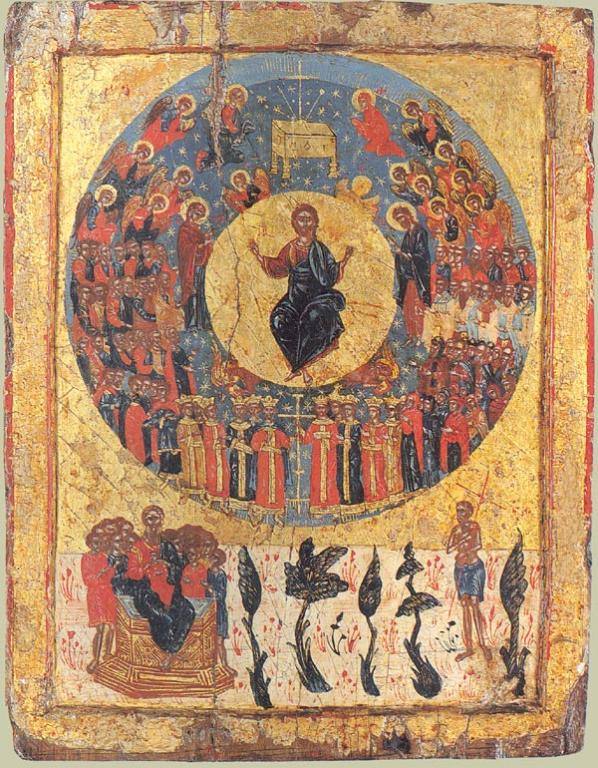 Christmas creep has nothing to do with the spread of Christianity. Rather, it refers to merchandisers featuring Christmas decorations and Christmas sale promotions prior to the start of the holiday season for shoppers, which officially begins the day after Thanksgiving or Black Friday. It is only fitting given the spread of secularism and consumerism that the church celebrates "Christ the King Sunday" today, which was established almost one hundred years ago in response to secular creep, or "increasing secularization movements worldwide." (Refer here for the quotation)
Christ the King Sunday is the newest day in the liturgical year. It is also the last Sunday of the Christian Year. Founded in 1925 by the decree of Pope Pius XI, it took place on the final Sunday of October in advance of All Saints' Day (did you see any Christmas decorations up around Halloween?). Now it falls on the Sunday just prior to the Advent Season. Advent begins next Sunday. Further to what was stated above, the occasion for the addition of Christ the King Sunday was to combat increasing secularization worldwide. Moreover, the day was marked to pay tribute to the plight of Mexican Christians who stood firm against their government's demands for their ultimate allegiance. Let's just call it government creep.
The church pays tribute to these Mexican Christians, and those persecuted for their faith worldwide, as we celebrate Christ the King. As one United Methodist publication reads, "So today our voices come alongside those persecuted for their faith in all times and places, including in Mexico in the early twentieth century and the thousands facing persecution all over the world this very day, and with them we all proclaim in many languages, "Christ is King! Cristo Rey!" (Refer here)
Whether or not the world around us increases in secular appetites and ambitions, it's important that Christians make sure nothing takes us captive. Rather, we are to take every thought captive to the obedience of Christ in the Christian community, as Paul exhorts us in 2 Corinthians 10:5: "We destroy arguments and every lofty opinion raised against the knowledge of God, and take every thought captive to obey Christ" (ESV). All too often, the secular calendar eclipses our sacred sense of time and how God's presence permeates all of life in light of Jesus' life story on earth as the Alpha and Omega (the first and last letters of the Greek alphabet). Jesus marks the beginning and end of the year, of time, and life, as the Ancient of Days and Lord of all.
In the midst of the furious flurry this Christmas season involving shopping and various festivities, it is important to note the significance of Jesus' life for time. He controls time as the one who enters history and lives forever as the Alpha and Omega. Thus, time does not need to control us, for he controls it and offers it to us as a gift. The liturgical calendar helps us come to terms with this reality. As one Catholic writes shares,
Our Liturgical seasons present a way to receive time as a continual gift and change the way we actually live our daily lives. Our choice to celebrate them helps us to grow in the life of grace as we say "yes" to their invitations. They invite us to walk in a new way of life which becomes infused with supernatural meaning; to enter into the mystery of living in the Church as the New World and thereby become leaven in an age which has lost its soul. Human beings have always marked time by significant events. The real question is not whether we will mark time, but how we will mark time? What events and what messages are we proclaiming in our calendaring? What are we saying with our lives in an age which needs the witness of God's loving plan?
The church calendar assists us with seeing time as our friend rather than as our foe. Such is the significance of the Sabbath or Lord's Day. Scripture makes clear that we are not to allow anyone to judge us according to a festival or new moon or Sabbath laws (See Colossians 2:16). After all, the Sabbath was made for us. We were not made for the Sabbath (Mark 2:23-27). Still, special days like Sunday can help us rest and remember and reimagine. Just as we are to come together to meet on the Lord's Day and at other times to encourage one another as we await the Lord's appearing (Hebrews 10:24-25), the liturgical calendar assists us in reorienting our lives and expanding our imaginations so that shopping mall religion and secular creep do not take us captive.
Don't think for a moment that the shopping mall fails to offer us religion. In fact, it's so religious that many churches have been designed to look like them. The shopping mall shapes our sense of time as well as space.[1] For example, you won't find clocks, only mirrors, in most department stores. The subliminal message, whether or not accompanied by store music, is "Forget time. Forget where you need to be. Immerse yourself in our products. Worship yourself!"
James K.A. Smith writes on shopping mall religion:
… the genius of mall religion is that actually it operates with a more holistic, affective, embodied anthropology (or theory of the human person) than the Church tends to assume! Because worldview-thinking tends to focus on ideas and beliefs, the formative cultural impact of sites like the mall tends to not show up on our radar. Such a heady approach focused on beliefs, is not really calibrated to see the quasi-liturgical practices at work … In order to recognize the religious power and formative force [of sites like the mall], we need to adopt a paradigm of cultural critique and discernment that thinks even deeper than beliefs or worldviews and takes seriously the central role of formative practices.…[2]
Humans are liturgical beings. It's one liturgy or another that will shape us. Which one will it be? Take everything, including the secular society's liturgy, including Black Friday weekend, captive to Jesus Christ. Everything pales in comparison to him: "Therefore let no one pass judgment on you in questions of food and drink, or with regard to a festival or a new moon or a Sabbath. These are a shadow of the things to come, but the substance belongs to Christ" (Colossians 2:16-17; ESV).
With liturgies firmly in mind, and as people flock to churches and malls today, I close with a liturgical account excerpted from the Companion to the Book of Common Worship to mark this day, Christ the King Sunday:
The festival of Christ the King (or Reign of Christ) ends our marking of Ordinary Time after the Day of Pentecost, and moves us to the threshold of Advent, the season of hope for Christ's coming again at the end of time.

The day centers on the crucified and risen Christ, whom God exalted to rule over the whole universe. The celebration of the lordship of Christ thus looks back to Ascension, Easter, and Transfiguration, and points ahead to the appearing in glory of the King of kings and Lord of lords. Christ reigns supreme. Christ's truth judges falsehood. As the Alpha and Omega, the beginning and the end, Christ is the center of the universe, the ruler of all history, the judge of all people. In Christ all things began, and in Christ all things will be fulfilled. In the end, Christ will triumph over the forces of evil.

Such concepts as these cluster around the affirmation that Christ is King or Christ reigns! As sovereign ruler, Christ calls us to a loyalty that transcends every earthly claim on the human heart. To Christ alone belongs the supreme allegiance in our lives. Christ calls us to stand with those who in every age confessed, "Jesus Christ is Lord!" In every generation, demagogues emerge to claim an allegiance that belongs only to God. But Christ alone has the right to claim our highest loyalty. The blood of martyrs, past and present, witnesses to this truth.

Behold the glory of the eternal Christ! From the beginning of time to its ending, Christ rules above all earthly powers!
_______________
[1]See Gretchen T. Buggeln's article on sacred spaces first published in The Christian Century for her closing statement on this theme: "We are perhaps too close to the architecture of our era to decipher its meanings so completely. Nonetheless, we should be aware of the messages our churches communicate about the place of religion in our lives and in our communities. Consider the megachurch. How honest are buildings that rely on sophisticated sound systems to mask dismal acoustics? Can a church built in the idiom of a secular consumer society effectively counter that culture's influences?" Refer also to my article in Christianity Today titled "Walls Do Talk."
[2]James K.A. Smith, Desiring The Kingdom: Worship, Worldview, and Cultural Formation, Cultural Liturgies, vol.1 (Grand Rapids: Baker Academic, 2009), page 24.