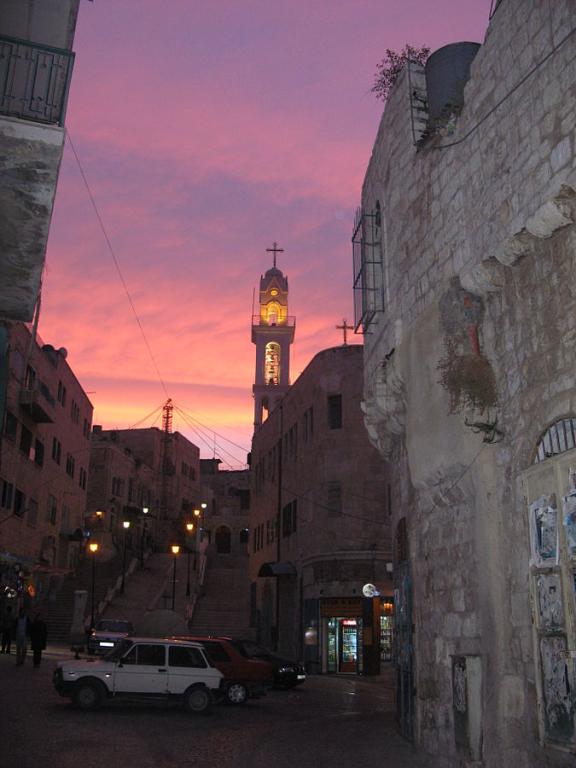 Today marks the second Sunday of Advent. As with all four Sundays of Advent, today celebrates Jesus' arrival in the world. Many churches use Advent Wreaths to mark the occasion. Often, the candle marking the second Sunday is called the "Bethlehem Candle." The emphasis is on faith and notes Mary and Joseph's sojourn to Bethlehem.
No doubt, people who casually engaged the Scriptures would have expected the Messiah to come from Jerusalem. After all, Jerusalem was the capitol city. But for those who knew well their Scriptures, they would have realized that the Messiah was destined to come from Bethlehem. Matthew 2:6 points this out, as the Gospel quotes a portion of Micah 5:2. Micah 5:2 reads,
"But you, O Bethlehem Ephrathah, who are too little to be among the clans of Judah, from you shall come forth for me one who is to be ruler in Israel, whose coming forth is from of old, from ancient days" (Micah 5:2; ESV).
Bethlehem had a special place in Israel's history. King David was born and raised there. However, it was an ordinary place lacking great significance by all other accounts. It's just like God to bring significance to otherwise insignificant places or people.
God often shows up in unexpected places. Who would have thought that God would have had Samuel journey to Bethlehem to anoint a king from the line of Jesse—in fact, the youngest of Jesse's sons, David? Even the prophet Samuel, whom God sent to Jesse's household to anoint one of his sons as the king to replace Saul, was not looking with God's eye point-of-view. When he sees the eldest of Jesse's sons, he assumes immediately that this young man is the person God has chosen as king. But God speaks to Samuel and said, "But the Lord said to Samuel, 'Do not look on his appearance or on the height of his stature, because I have rejected him. For the Lord sees not as man sees: man looks on the outward appearance, but the Lord looks on the heart'" (1 Samuel 16:7; ESV).
God's surprising choice of king did not begin there. Judah's line was chosen over Reuben's (Jacob or Israel's firstborn) and God's presumed favorite Joseph and his children, Ephraim and Manasseh. When Israel blessed his sons, he said of Judah: "The scepter shall not depart from Judah, nor the ruler's staff from between his feet, until tribute comes to him; and to him shall be the obedience of the peoples" (Genesis 49:10; ESV). Later in the story, we find that God chooses Ruth, a refugee from Moab, and Boaz of Bethlehem (See Ruth 2:4) in Judah to be the ancestors of the Messiah. They are the parents of Obed, who is the grandfather of David. Add to that the equally striking truth that Boaz was the son of Rahab, the prostitute from Jericho who responded in faith to God. Matthew's genealogy of Jesus includes the following: "and Salmon the father of Boaz by Rahab, and Boaz the father of Obed by Ruth, and Obed the father of Jesse, and Jesse the father of David the king" (Matthew 1:5-6; ESV). One can go so far back as to consider the surprising truth that God chooses a slave people, not Egypt, to be the chosen people. Israel was chosen based on their ancestor Abraham, who was himself a Gentile like all the other people of the earth until he was circumcised in response to God's call and promise by faith (See Genesis 12:1-3; 15:7; see also Genesis 17). The Jewish people stand by election, as do all other people who respond by faith to God's promise of the deliverer (again, see Genesis 12:1-3; Galatians 3:16, 29). God did not choose Egypt or Babylon or Rome, but Israel, not for its own sake, but for the sake of the world, to bring forth the Messiah. Mary and Joseph reflect as well God's upside down kingdom, as God chooses them to be the parents of the Messiah.
God orchestrates and uses the mighty Caesar Augustus' census to orchestrate his plan (Luke 2:1-7). No one in his or her right mind would have expected the Messiah to arise from Bethlehem, that is, unless they accounted for the prophetic word (See Micah 5:2). Instead, the peoples of the earth will look to Jerusalem or to Rome or Washington… They can move (or claim to move) capitols from places like Tel Aviv to Jerusalem. But ultimately, it is not Zion that marks the presence of God, but Jesus. Just as he is the living Torah and living Temple, so he is the living place where God dwells (Bethel). Jesus is God with us, Immanuel (Matthew 1:23).
God shows up in the least likely of places—places like Bethlehem, a town where many Palestinians live today, including Christians. In fact, Bethlehem has been recognized as "the most heavily Christian city in Palestine," even though many American Evangelical Christians do not appear to account for their brothers and sisters' existence. All too often, foreign policy, including Evangelical support for the recognition of Jerusalem as the capitol city of Israel, seems to overshadow Christian policy for Christian Zionists (Refer here, too).
God will continue to show up in the least likely of places and faces, faces like Mary and Joseph, and Palestinian Christians in Bethlehem and elsewhere, too. Governments will rise and fall, and capitols will move to-and-fro, but Jesus' kingdom in human hearts and lives of living faith across the region and globe will last forever. In view of his lasting presence in unsuspected places and people of faith, how then will you and I seek to discern God's presence today?