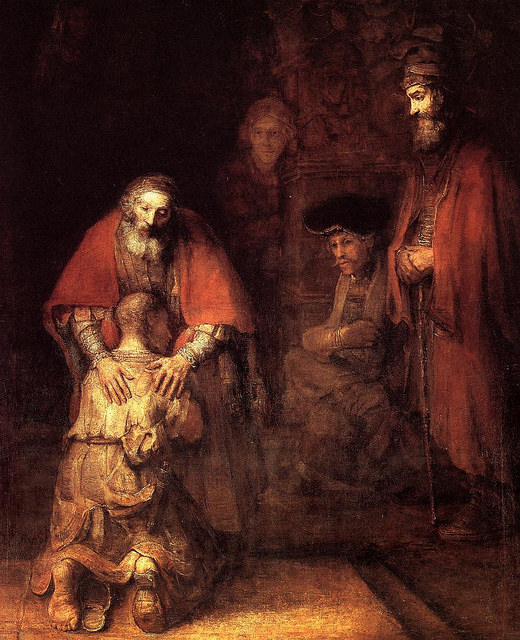 If and when I sketch something out on paper, and it doesn't meet my meager expectations, I crumple up the paper and throw it away—or better, recycle it. But I don't make any attempt to restore it. After all, it wasn't a masterpiece. Thank God that God did not take us, crumple us up and throw us away, when we ruined his great expectations for humanity at the fall. After all, there is a big difference between my sketches and God's handiwork. God's works are masterpieces! As the Psalmist exclaimed, "I praise you, for I am fearfully and wonderfully made. Wonderful are your works; my soul knows it very well" (Psalm 139:14; ESV).
I am not alone in making use of art to reflect upon sin and salvation. St. Athanasius illustrates what is involved with Jesus' atoning work through the following illustration using an artist and portraits. Actually, someone who is an artist in his own right, and who doesn't crumple up sketches as often as I do, drew my attention to this statement in Athanasius. Many thanks to Derrick Peterson at A Greater Courage for the good theological word—and good art! Now, here's Athanasius:
You know what happens when a portrait that has been painted on a panel becomes obliterated through external stains. The artist does not throw away the panel, but the subject of the portrait has to come and sit for it again, and then the likeness is re-drawn on the same material. Even so was it with the All-holy Son of God, he, the Image of the Father, came and dwelt in our midst, in order that He might renew mankind made after Himself, and seek out His lost sheep, even as it says in the Gospel: "I came to seek and to save that which was lost." This explains also his saying to the Jews: "Except a man be born anew…" He was not referring to a man's natural birth, but to the re-birth and re-creation of the soul in the Image of God…the Savior of us all, the Word of God, in his great love took to Himself a body and moved as Man among men, meeting their senses, so to speak, half way. He became Himself an object for the senses, so that those who were seeking God in sensible things might apprehend the Father through the works which the, the Word of God, did in the body (St Athanasius, De Incarnatione, pages 41-43).
I love Athanasius' word picture of Jesus being the subject who has to come and pose for the artist so that the portrait can be redrawn on the same material. Jesus who is like us in every way, yet without sin (Hebrews 4:15), can rightly sit in our place for the restoration of the portrait. After all, Jesus is the Son of God (John 3:16) and the Son of Man (Mark 10:45). He is the image of God (Colossians 1:15) and the firstborn of the new creation (Colossians 1:15).
Now we may think that the external stains on our portraits are not so bad. After all, we look pretty good, with or without makeup and cosmetic surgery. We might even think the stains that have penetrated the surface are not so bad and can be easily touched up. When we view matters in this way, it is very difficult to look at Jesus as nothing more than a great moral teacher, possibly even a divine butler or cosmic therapist, like young and old adherents of the ideology known as Moralistic Therapeutic Deism do.
This discussion calls to mind for me Jesus' exchange with the rich young ruler found in Matthew 19. Jesus invited the young man to participate in his life. Jesus looked upon his as a ruined masterpiece, whose life he longed to restore. The rich young ruler probably thought the blemishes on the canvas of his life were not so bad. For one, we are told in Matthew's account that the rich young ruler had obeyed the Law since his youth. Besides, given his wealth, he could even write the check and become Jesus' patron. Why would he need to follow Jesus and sit down with him while Jesus restores the masterpiece?
Such external detachment would not do! Jesus wanted this rich young ruler to enter the three-dimensional painting of Jesus' life and undergo a cathartic experience that would remove all the blemishes and stains, restoring and transforming the portrait with his 3-D blood, sweat, and tears. Jesus invites us to experience the same today through faith as we follow him. Don't settle for a cheap imitation or mass production. After all, you are the masterpiece Jesus longs to restore.