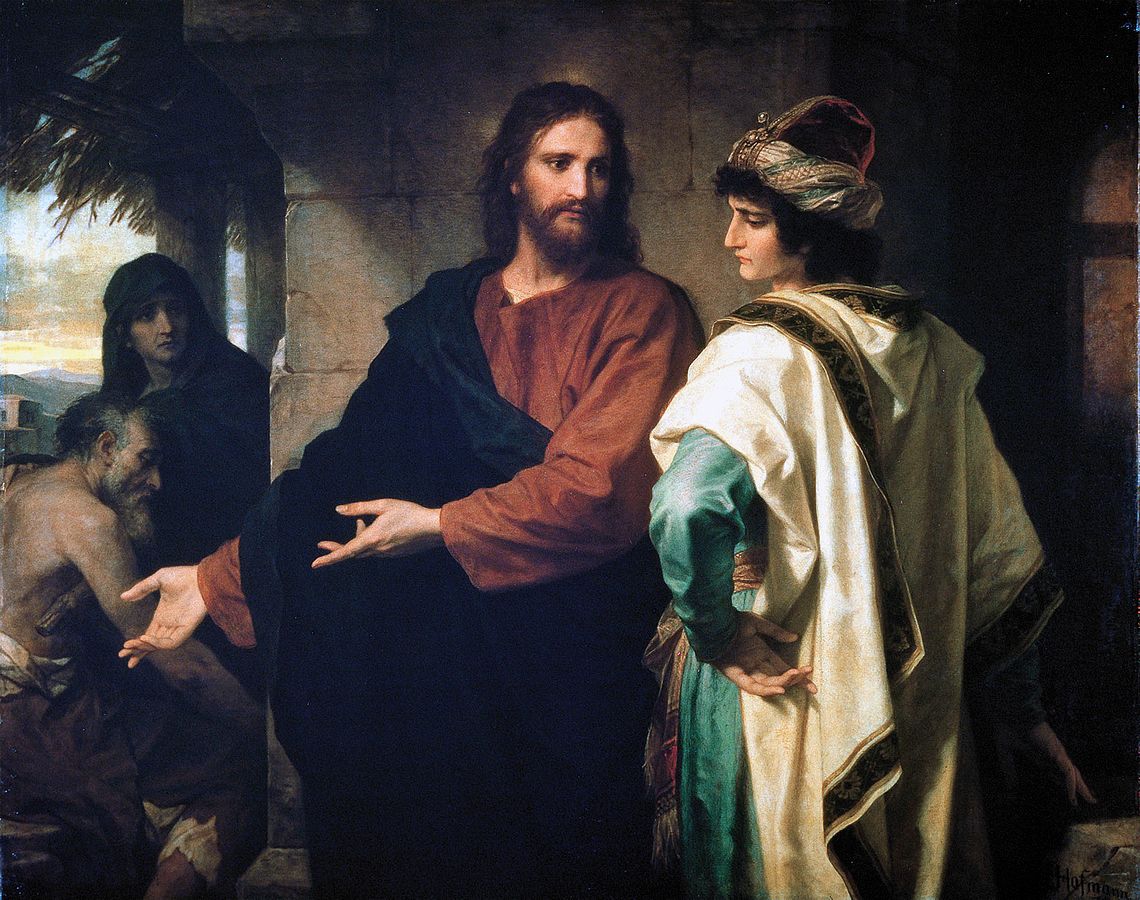 I have always been struck by Mark's account of Jesus and the rich young ruler. It is one of those passages to which I turn for consideration of the impact of sin on people's lives.
The rich young ruler knows Jesus is a person of sound substance and wise. Thus, he refers to Jesus as "Good Teacher" (Mark 10:17; ESV). When he asks Jesus how to inherit eternal life, Jesus directs him to the Law's commands (Mark 10:19). In response, the man tells Jesus, "Teacher, all these I have kept from my youth" (Mark 10:20: ESV). Mark's Gospel then tells us that "Jesus, looking at him, loved him" (Mark 10:21; ESV).
What sparks this response from Jesus? Is it that the man's adherence to the Law is so rigorous that he merits eternal life? No. The very next words out of Jesus' mouth indicate that according to the Lord the man 'falls short': Jesus says, "You lack one thing…" (Mark 10:21; ESV). In addition to what the text explicitly indicates, I also believe Jesus the Lord knows that the man—this rich young ruler—would not take Jesus up on his offer to surrender his possessions in pursuit of Jesus who is his disciples' eternal riches. As Mark's version of the story reveals, the man goes away dejected, for he loves his riches more than Jesus, who is eternal life: "Disheartened by the saying, he went away sorrowful, for he had great possessions" (Mark 10:22; ESV).
Now there are many good qualities to be found in the rich young ruler. In fact, Jesus' disciples think that if anyone should attain salvation it would be someone like this young, wealthy ruler. Thus, they are bewildered and distraught when Jesus tells them it is unbelievably difficult for the rich to inherit eternal life. They can't take their riches with them, or pay their way:
And Jesus looked around and said to his disciples, "How difficult it will be for those who have wealth to enter the kingdom of God!" And the disciples were amazed at his words. But Jesus said to them again, "Children, how difficult it is to enter the kingdom of God! It is easier for a camel to go through the eye of a needle than for a rich person to enter the kingdom of God." And they were exceedingly astonished, and said to him, "Then who can be saved?" (Mark 10:23-26; ESV).
No doubt, the disciples are ancient proponents of the prosperity gospel. In their minds, those who are rich must be very good people who experience God's favor more than the rest of us. Why else would they be rich? So, if the rich will experience great difficulty in seeking to enter the kingdom of God, the disciples' chances are even more slim. In their astonishment, they ask Jesus, "Then who can be saved?" (Mark 10:26; ESV).
Sin certainly has left its mark on the rich young ruler. In fact, I would go so far to say that he is totally depraved. We all are. As Jesus says in response to their question, "Then who can be saved?" (Mark 10:26; ESV), "with man it is impossible, but not with God. For all things are possible with God" (Mark 10:27; ESV).
Now total depravity does not mean we can do nothing right. Rather, it entails the notion that there is nothing we can do to save ourselves. The chasm in our hearts is too vast to cross, that is, apart from God's intervention through the divine Spirit. Total depravity also entails the notion that while we can do many good things, like helping elderly people across the road or obeying large portions of the Law, sin impacts every aspect of our being so that our reason, will and affections are all distorted by sin.
Certainly, Jesus witnesses good in the rich young ruler. That is why in response to the man's evident virtue he loves him. But such virtue still falls short, for the man comes up short and turns away from following Jesus.
Sin's impact on us so distorts our affections, will and reason that we fail to realize that Jesus is priceless. Even though all the gold and silver in the world can never compare with him, for he is the pearl of great price (Matthew 13:45-46), we still sell him short. Apart from God's gracious intervention, we will never find Jesus the embodiment of the good life, which is God's glorious character on display. Until we respond to God's invitation, we will continue to define the good life in very different terms—kind of like the high, social life that the rich enjoy, perhaps even the rich young ruler. Until we fall upon God's mercies, we distort Jesus' message consciously or subconsciously so that we can maintain our autonomy, attempting to earn or gain salvation on our own.
It reminds me of Christian Smith's engagement of Moralistic Therapeutic Deism—the religion of many rich or not so rich young people several years ago. On this model, sin and guilt give way to giddiness and grasping after quasi-heavenly straws in the autonomous, hellish dark:
The language—and therefore experience—of Trinity, holiness, sin, grace, justification, sanctification, church, Eucharist, and heaven and hell appear, among most Christian teenagers in the United States at the very least, to be being supplanted by the language of happiness, niceness, and an earned heavenly reward. It is not so much that Christianity in the United States is being secularized. Rather more subtly, either Christianity is at least degenerating into a pathetic version of itself or, more significantly, Christianity is actively being colonized and displaced by a quite different religious faith. Refer here for the research project findings by Christian Smith, "'Moralistic Therapeutic Deism' as U.S. Teenagers' Actual, Tacit, De Facto Religious Faith," page 57.
Try as we may to earn a heavenly reward and experience the good life on our own, we keep falling short. Paul's words apply to us, too: "all have sinned and fall short of the glory of God" (Romans 3:23; ESV), which is God's goodness. Even so, Jesus still loves us. He still waits for us with outstretched arms, beckoning us to come to him, the good teacher, who alone can lift us up and give us the good or blessed life. Hopefully, we will come to our senses and realize before it's too late that all our riches are nothing more than counterfeit bills and our fine clothes are like filthy rags (Isaiah 64:6).
I close with the words of the Lord Jesus to the wealthy and affluent church of Laodicea, as recorded in Revelation 3. May we take it to heart, if we would really experience the good life:
For you say, I am rich, I have prospered, and I need nothing, not realizing that you are wretched, pitiable, poor, blind, and naked. I counsel you to buy from me gold refined by fire, so that you may be rich, and white garments so that you may clothe yourself and the shame of your nakedness may not be seen, and salve to anoint your eyes, so that you may see. Those whom I love, I reprove and discipline, so be zealous and repent. Behold, I stand at the door and knock. If anyone hears my voice and opens the door, I will come in to him and eat with him, and he with me (Revelation 3:17-20; ESV).
Will we open the door and invite Jesus in?