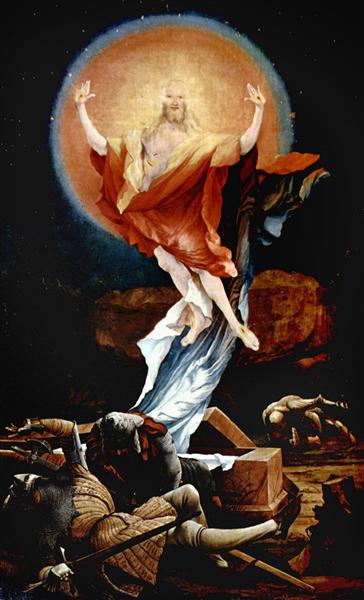 Jesus' victory doesn't end on Easter. It lasts forever. Just ask the author of Hebrews who encouraged his congregation enduring suffering not to give up but persevere. Their reward awaits them and will last forever in view of Jesus' lasting work on their behalf.
Hebrews 7-10 get at various aspects of how resilient and everlasting God's saving work on their behalf really is. First, Jesus' priesthood is eternal. It does not belong to the Aaronic order, but to the order of Melchizedek: "It is even more obvious when another priest arises, resembling Melchizedek, one who has become a priest, not through a legal requirement concerning physical descent, but through the power of an indestructible life. For it is attested of him, 'You are a priest forever, according to the order of Melchizedek'" (Hebrews 7:15-17; NRSV).
Second, the New Covenant which Jesus inaugurates is eternal. It is not like the covenant established by Moses, which according to the author of Hebrews is "obsolete": "'For I will be merciful toward their iniquities, and I will remember their sins no more.' In speaking of 'a new covenant,' he has made the first one obsolete. And what is obsolete and growing old will soon disappear" (Hebrews 8:12-13; NRSV).
Third, the heavenly temple in which Jesus serves presently is the eternal ideal. The earthly temple which was a copy of the eternal sanctuary has since been destroyed, but which was likely still standing at the time this epistle was written (See Hebrews 9:8-10). Regarding the copy and original temples or sanctuaries, the author of Hebrews writes, "For Christ did not enter a sanctuary made by human hands, a mere copy of the true one, but he entered into heaven itself, now to appear in the presence of God on our behalf" (Hebrews 9:24; NRSV).
Fourth, Jesus' sacrifice is priceless and never loses its value, whereas the bulls of blood and goats which can never cleanse us from sin had to be repeated indefinitely on behalf of the people. Now those sacrifices are no more, as the temple is no more. In contrast, Jesus' sacrifice is finished, though its cleansing, saving and perfecting benefits are once and for all and last forever, just like his priesthood: "And every priest stands day after day at his service, offering again and again the same sacrifices that can never take away sins. But when Christ had offered for all time a single sacrifice for sins, 'he sat down at the right hand of God'" (Hebrews 10:11-12; NRSV). Jesus achieves his lasting victory through the eternal Spirit through whom he offered himself unblemished to God (Hebrews 9:14).
All these points are summed up beautifully in the following passage in Hebrews 9:
But when Christ came as a high priest of the good things that have come, then through the greater and perfect tent (not made with hands, that is, not of this creation), he entered once for all into the Holy Place, not with the blood of goats and calves, but with his own blood, thus obtaining eternal redemption. For if the blood of goats and bulls, with the sprinkling of the ashes of a heifer, sanctifies those who have been defiled so that their flesh is purified, how much more will the blood of Christ, who through the eternal Spirit offered himself without blemish to God, purify our conscience from dead works to worship the living God! For this reason he is the mediator of a new covenant, so that those who are called may receive the promised eternal inheritance, because a death has occurred that redeems them from the transgressions under the first covenant (Hebrews 9:11-15; NRSV).
The Aaronic priesthood, Mosaic Law and Covenant, earthly temple and sacrifices of old all have important roles in God's story of salvation, but they do not stand alone. Rather, they foreshadow and serve as copies and types of God's perfect redemption made available to us in Jesus. And so, we must not go back to them or fall back never to return. Like the Hebrew Christians to whom the author of the epistle writes, we must press on to receive all that Jesus' Easter victory anticipates.
In Hebrews 10:19-39, we find the author giving his congregation a stern warning, not out of spite, but out of sincere concern for his community of faith's spiritual and eternal well-being. Members of his congregation are tempted to return to the copies and types and turn away from Jesus in the face of persecution. The warning regarding what awaits those who turn away from the one who alone can save them is real. However, in true pastoral form, the author of this epistle has confidence that his readers' faith is real, and that they will remain true to Jesus, their faithful high priest:  "But we are not among those who shrink back and so are lost, but among those who have faith and so are saved" (Hebrews 10:39; NRSV).
There are times when you and I may feel defeated, ready to give up and throw in the towel. During such times, it is easy to think that Easter is but one day of the year, and Jesus' victory on Easter Sunday does not carry over to Monday morning. It's almost as if Jesus went back to bed, or worse, the grave! When such feelings and thoughts arise, we need to step back and reconsider our spiritual surroundings, putting everything back in the broader context. We need to take note that such struggles, temptations and discouragements will not last forever. What will last forever is Jesus and his kingdom that conquered the grave, sin and guilt, and the ghastly devil on Easter morn. And so, we have every reason to get back up and run the race well to the end! I like how Thomas G. Long puts the matter in his discussion of Hebrews:
The Preacher knows that his congregation is tired, discouraged, and playing with injuries. The danger is that they will lose perspective and forget who they are, where they are, and the nature of the event, and simply quit. Losing sight of the goal, they will fear that they are merely running ragged rather than running in the great marathon of all time (see 12:1). So the Preacher tells them what they cannot see you are running in the supreme contest of humanity; the end of the race is near, and the victor's prize of the 'promised eternal inheritance' awaits (10:36; see 9:15).[1]
I have had the privilege of sharing life with missionaries and ministry leaders from across the world this spring at the Overseas Ministries Study Center in New Haven, Connecticut. I have been struck by their perspective on numerous occasions. No doubt, God has used life circumstances and challenges to refine them, helping them to discern what really counts in light of what really lasts: Jesus and his Easter victory. These Christian leaders from Myanmar, South Korea, Malaysia, Nigeria and other countries understand that Jesus' victory does not end on Easter but lasts forever. They are banking on Jesus in the midst of their disappointments and trials. They know he will come through and that they will receive their eternal reward. Their global and eternal perspective helps me see more clearly and focuses my eye on our eternal prize.
Long after we pick up the wrappings from chocolate Easter eggs and bunnies and clean up after Easter dinner, Jesus' victory on Easter Sunday will continue—longer than an eternity of Mondays. Unlike the prize a child gets for winning the Easter egg hunt, which like everything else on earth perishes in due course, Jesus' reward of life with God will last forever for us. Run the race well until the end.
_______________
[1]Thomas G. Long, Hebrews, Interpretation: A Bible Commentary for Teaching and Preaching (Louisville: Westminster John Knox Press, 1997), page 111.