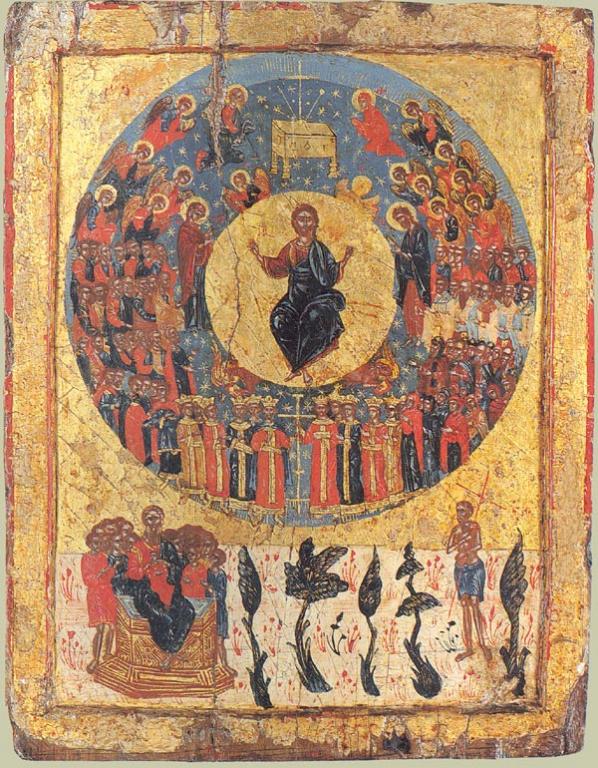 I grew up in a Protestant tradition that took seriously Luther's declaration "faith alone." We are saved by faith alone, and not by faith plus works. Luther did not deny the importance of works. Good works flow from union with Jesus through faith in God's Word as God's love is poured out into our hearts through the Spirit. Just as Luther did not deny works with his emphasis on faith alone, he did not deny the importance of the Christian community. While Luther struggled with the epistle to the Hebrews, I certainly don't. I am most enamored with its Christological reflections that serve as the ground for biblical faith. In my estimation, Hebrews gives rise to that central Lutheran claim: Christ alone. And yet, this epistle makes clear that Christ Jesus does not exist apart from his community of faith. The individual believer can take comfort from the fact that faith alone does not mean one has to go it alone in the life of faith. We are called to move forward in view of Jesus, the author and perfecter of our faith, and his household of faith.
Let's consider first the Jewish community of faith in this passage. Hebrews 10:22-25 puts the matter of their personal faith and interpersonal faith well:
Let us draw near with a true heart in full assurance of faith, with our hearts sprinkled clean from an evil conscience and our bodies washed with pure water. Let us hold fast the confession of our hope without wavering, for he who promised is faithful. And let us consider how to stir up one another to love and good works, not neglecting to meet together, as is the habit of some, but encouraging one another, and all the more as you see the Day drawing near (Hebrews 10:22-25; ESV).
F.F. Bruce points out that as the apostolic era came to an end, there was a tendency in certain circles to pull away from the Christian community. Bruce calls attention to Adolf von Harnack who claimed,
At first and indeed always…there were naturally some people who imagined that one could secure the holy contents and blessings of Christianity as one did those of Isis and the Magna Mater, and then withdraw. Or, in cases where people were not so short-sighted, levity, laziness, or weariness were often enough to detach a person from the society. A vainglorious sense of superiority, and of being able to dispense with the spiritual aid of the society, was also the means of inducing many to withdraw from fellowship and from the common worship. Many, too, were actuated by fear of the authorities; they shunned attendance at public worship, to avoid being recognized as Christians.[1]
Bruce goes on to reason that to withdraw from Christian fellowship "was to court spiritual defeat; only by remaining united could they preserve their faith and witness."[2]
In view of the tendency in some quarters to back away from the community of faith, the author goes on to warn them of the severity of judgment for those who abandon Jesus (See Hebrews 10:29-31). Even though the author believes the recipients of his letter are not those who will "shrink back and are destroyed," but rather "those who have faith and preserve their souls" (Hebrews 10:39; ESV), nonetheless, he goes on to encourage them in view of the example of the saints of old who are in the hall of fame of faith (See Hebrews 11). These Hebrew Christians' community of faith just got a lot bigger! By no means are these first century Jewish Christians alone. As Hebrews 12:1 highlights, they are "surrounded by so great a cloud of witnesses" (ESV).
You might be surprised by the praise the writer of Hebrews heaps on such figures as Abraham. There were at least a few times when the great Patriarch did not act so great. He was willing to hand over his wife (through whom the child of promise would come) to save his own skin! Then there is Samson. I have a hard time considering him such a hero of faith given how quick he was to turn away from the God of Israel at different points in his rule as judge of Israel. Actually, the fact that the writer references such frail people of faith is encouraging: there is hope for you and me to enter the hall of fame of faith, too!
There is more, however. Just as the writer encourages his readers to "draw near with a true heart in full assurance of faith" (Hebrews 10:22; ESV), and as they are encouraged to live in close fellowship with their fellow believers and in view of a full household of faith (Hebrews 11:1-12:1), so they are to look "to Jesus, the founder and perfecter of our faith" (Hebrews 12:2; ESV). Jesus did not lose sight of what really counted—fellowship with God and his followers. This was the "joy that was set before him" (Hebrews 12:2; ESV). Such joy made it possible for him to "endure the cross, despising the shame…" He is now victorious—seated at God's right hand (Hebrews 12:2; ESV). Both Jesus (!) and the great cloud of witnesses lived a life of faith, having an "assurance of things hoped for, the conviction of things not seen" (Hebrews 11:1; see also Hebrews 11:5-6 and 12:1-2; ESV). Let them inspire us on our faith journey until faith becomes sight.
If we are to draw near to God "with a true heart in full assurance of faith" (Hebrews 10:22; ESV), and win the race of faith, we will need others around us, and the Lord before us. After all, faith alone does not mean you have to go it alone. That is very reassuring, for without Jesus and our fellow believers, you and I will never make it.
_______________
[1]A. Harnack, Mission and Expansion of Christianity (London, 1908), i. pages 434f.; quoted in F. F. Bruce, The Epistle to the Hebrews, The New International Commentary on the New Testament (Grand Rapids: Eerdmans, 1964), pages 253-254.
[2]F. F. Bruce, The Epistle to the Hebrews, The New International Commentary on the New Testament (Grand Rapids: Eerdmans, 1964), page 255.