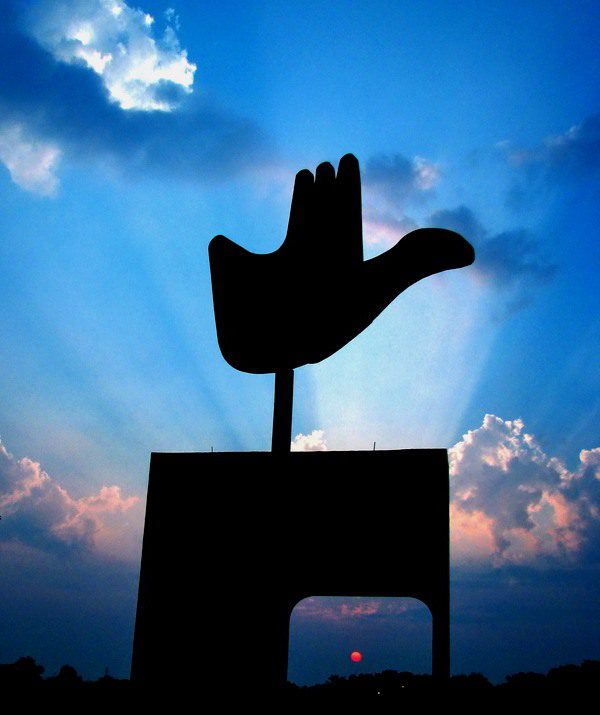 How do you build a global missional movement rather than a monument? More precisely, how do you become a vehicle through whom God builds Jesus' missional movement? The first step was covered in a previous post: "Be open to change" (Refer here). Here is the second of three not-so-easy, but all-important steps: be open-handed, not closed-fisted.
This principle of being open-handed stands in contrast to those monumental last words that destroy missional movements: "It's ours. We found-ed it." Being open-handed entails never being closed-fisted with the good news of Jesus. Certainly, we are to personalize the gospel, understanding that it is entrusted to us, as Paul did in asserting "my gospel" (Romans 2:16, 16:25; 1 Timothy 1:11; 2 Timothy 2:8). Still, while the gospel of the kingdom is entrusted to our care, we must never monopolize the gospel. After all, we do not own the gospel. God does.
In reflecting upon this theme, I am drawn to Acts 10, where Peter realizes the gospel does not belong to him and his people. The good news comes from and through the Jews, but is for all people. As Paul writes, the gospel is "first to the Jew, then to the Gentile" (Romans 1:16c; NIV). While the gospel is entrusted to Jewish apostles like Peter, the gospel belongs to God who invites people everywhere to receive the good news of Jesus' kingdom invitation and to experience the Spirit.
We find in Acts 10 that Peter is becoming open-handed with the gospel of the kingdom, not closed-fisted. Here are two selections that highlight this theme:
Then Peter began to speak: "I now realize how true it is that God does not show favoritism but accepts from every nation the one who fears him and does what is right. You know the message God sent to the people of Israel, announcing the good news of peace through Jesus Christ, who is Lord of all" (Acts 10:34-36; NIV).

While Peter was still speaking these words, the Holy Spirit came on all who heard the message. The circumcised believers who had come with Peter were astonished that the gift of the Holy Spirit had been poured out even on Gentiles. For they heard them speaking in tongues and praising God. Then Peter said, "Surely no one can stand in the way of their being baptized with water. They have received the Holy Spirit just as we have." So he ordered that they be baptized in the name of Jesus Christ. Then they asked Peter to stay with them for a few days (Acts 10:44-48; NIV).
Peter and the other Jewish apostles were entrusted with the gospel to proclaim the good news of forgiveness of sins and salvation by faith in Jesus' person and incarnate life work, which includes his sacrificial death by crucifixion, resurrection and ascended status as judge of the living and the dead (See Acts 10:34-48). There is no compromise on these claims, for they are "witnesses" to all that Jesus did and experienced (Acts 10:39) and Jesus "commanded" them to preach (Acts 10:42). They are stewards, not owners of the gospel.
The same is true for us who are leaders in the church today: we are stewards, not owners of the gospel. How easy, though, it is to forget that we are stewards, not owners of the good news. How easy we forget that we ourselves are debtors to God's grace who received eternal life through the forgiveness of sins through faith in Jesus' name.
God alone owns the gospel. This point came home to me one morning this spring during a devotional at the Overseas Ministries Study Center in New Haven, CT. Dr. Thomas Hastings, Executive Director of OMSC, asked the question, "Who owns the Gospel?" He shared of how American mission organizations had to face this question around the time of World War II in Japan, as the government was about to confiscate the land these foreign organizations owned in Japan. Rather than see it confiscated by the Japanese government, these American mission organizations handed the lands over to the Japanese church. After the war was over, only a few mission organizations requested or demanded that the property be returned to them. Most of them, however, honored their commitments. The properties (which were of incredible financial value) remained in the possession of the Japanese church. Those who rescinded their rights to the lands no doubt sought to safeguard against the missional movement of God's Spirit being turned into a monument, quite literally in the case of property and buildings. Rather than utter those monumental last words "It's ours. We found-ed it," they relinquished control for the sake of God's global missional movement.
Just as this story impacted me in writing this post, so, too, I have always been struck by pastors and missionaries who hand over the keys of their ministries to their successors rather than seek to control the show after retirement or after they depart for other ministry endeavors. There is a beautiful sense of selflessness and release when this happens.
However, it does not always happen. Pillars or founding members of churches and other Christian organizations can get caught up in a monument-al mindset. The mindset can show up in such statements as "That's my seat. Please move." It can also show up in such sentiments as "I earned my seat at the table. You have to pay your dues" or "I'm a close friend of the founder" or "I started this church." Those who say "I started it" and never let go are often those who will end a movement. Honoring precedent is one thing, but being self-referential is quite another.
Let's return to Peter and the movement of God among the Gentiles in Acts 10. Peter could have been very worried in witnessing that the Gentiles have received the gospel and the Spirit. But while Peter takes to heart his responsibility as one of the apostolic leaders of the church, he also understands at this juncture that the gospel does not belong to him, but to God. Peter is not in control, but under the control of the Spirit's guidance and direction here.
Would we respond similarly to Peter who relinquished any sense of control of the gospel to God? Or would we try to keep the 'Gentiles' (don't forget most of us today are Gentiles!)—whoever we deem as outsiders—from receiving the good news and the Spirit? Would we baptize them and give them our blessing to advance the good news, or would we curse them in passively aggressive ways? If we would baptize and bless their various efforts, we can be assured that we will remain agents of a missional movement, not a monument. Like Peter, let's be open-handed, not closed-fisted for the sake of the gospel of Jesus' kingdom. Being open-handed ensures that we belong to Jesus' global missional movement, not a monument.