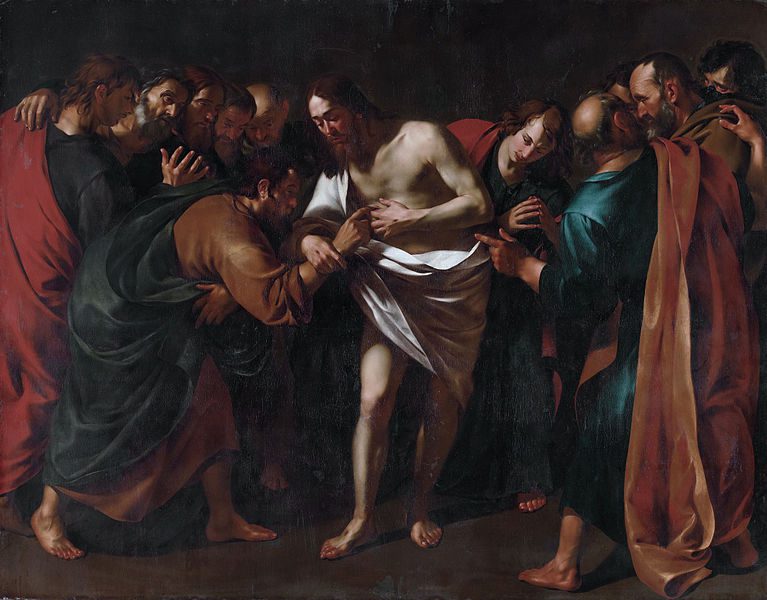 The Gospel requires embodied truth. A doctrine, no matter how true, does not go far enough. The Scriptures are quite clear on this matter, even the passage in which we find a key text for the doctrine of biblical inspiration.
2 Timothy 3:16 reads, "All Scripture is breathed out by God and profitable for teaching, for reproof, for correction, and for training in righteousness" (ESV). I was taught and teach that this text refers to the verbal plenary inspiration of the Jewish Scriptures.[1] 2 Peter 3:16 suggests that the same regard for the Jewish Scriptures of old is awarded to Paul's writings.
In classes on doctrine, including the doctrine of Scripture, it is important that we do not extract the truth claims from their intended results. To refer back to 2 Timothy 3:16, the inspired Scriptures are "profitable for teaching, for reproof, for correction, and for training in righteousness." The next verse goes further: so that the messenger of God "may be complete, equipped for every good work" (2 Timothy 3:17; ESV). Just as the Scriptures are complete, so the person of God who seeks to dwell within Scripture and embody its teaching, may become complete.
It is not enough to comprehend and articulate doctrine. We need to embody truth as the church in the world today. Dietrich Bonhoeffer reflects upon this theme:
A truth, a doctrine, or a religion needs no space for itself. They are disembodied entities. They are heard, learned, and apprehended, and that is all. But the incarnate Son of God needs not only ears or hearts, but living people who will follow him. That is why he called his disciples into a literal, bodily following, and thus made his fellowship with them a visible reality.[2]
We must be careful that in our teaching and admiration for the Christian Scriptures we do not fail to embody them. Sola Scriptura (Scripture alone) does not mean solitary confinement or isolation from Jesus and the church.[3] The written Word—Scripture—exists in vital relation to Jesus and the church.
With this point in mind, Karl Barth writes that there are three forms of the Word of God: Jesus, the living Word, Scripture, the written Word, and church proclamation, the proclaimed Word. Barth maintains that Jesus is revelation, and the other two forms of the Word are respectively the primary and secondary witnesses to Jesus as revelation.[4] In commenting on this perspective, Donald Bloesch claims that for Barth "there is something like a perichoresis in these three forms of the Word in that the revealed Word never comes to us apart from the written Word and the proclaimed Word, and the latter two are never the living Word unless they are united with the revealed Word."[5]
We find a similar relational dynamic in 2 Timothy 3 in that Jesus (whom John's Gospel refers to as the Living Word) is the one to whom the Scriptures point: Paul writes that the "sacred writings" are able to make us "wise for salvation through faith in Christ Jesus" (2 Timothy 3:15; ESV). Moreover, Paul speaks of the proclaimed Word of people in the church when he exhorts Timothy to "continue in what you have learned and have firmly believed, knowing from whom you learned it" (2 Timothy 3:14; ESV). I believe Paul has in mind Timothy's godly mother and grandmother. He also refers to himself in this context, as he contrasts himself with false teachers:
You, however, have followed my teaching, my conduct, my aim in life, my faith, my patience, my love, my steadfastness, my persecutions and sufferings that happened to me at Antioch, at Iconium, and at Lystra—which persecutions I endured; yet from them all the Lord rescued me. Indeed, all who desire to live a godly life in Christ Jesus will be persecuted, while evil people and impostors will go on from bad to worse, deceiving and being deceived (2 Timothy 3:10-13; ESV).
It is not enough to speak here of the proclaimed Word, as Paul does more than proclaim or instruct Timothy in the Scriptures. Paul embodies the written truth. The full truthfulness of Scripture must take up full residence in our lives as we seek to bear witness to what Paul refers to elsewhere as the fullness of deity in bodily form, namely Christ Jesus, in whom we find fullness (Colossians 2:9-10).
I am thankful for those who have modeled well for me the fullness of the Christian life—my late father and numerous other mentors over the years. We live in an age where scandals abound inside and outside the church. May we not give occasion for people today to deny the Gospel by living a lie. We must make sure that our lives bear witness to the Gospel as embodied truth, holding one another accountable as the visible church. The Gospel requires of us that we not simply believe in Jesus through the inspired Scriptures, but live inspired lives as we bear witness to Jesus by obeying and embodying the Word of God.
_______________________
[1]For a definitive Evangelical treatment of this subject, refer to Millard Erickson's discussion in Christian Theology, 3rd ed. (Grand Rapids: Baker Academic, 2013), chapter 8.
[2]See Dietrich Bonhoeffer, "A Visible Reality," in Called to Community: The Life Jesus Wants for His People, complied and edited by Charles E. Moore, with a foreword by Stanley Hauerwas (Walden, NY: Plough Publishing House, 2016), page 43. The selection is taken from The Cost of Discipleship, trans. Reginald H. Fuller (London: SCM Press, 1959), page 212, 223-232.
[3]I develop this theme in "The Relational Dynamic of Revelation," in Trinitarian Soundings in Systematic Theology (T. & T. Clark International, 2005), pages 21-35.
[4]Karl Barth, Church Dogmatics, vol. I/1, The Doctrine of the Word of God, ed. G. W. Bromiley and T. F. Torrance (Edinburgh: T. & T. Clark, 1975), pages 111–12.
[5]Donald G. Bloesch, Christian Foundations, vol. 1, A Theology of Word and Spirit: Authority and Method in Theology (Downers Grove, Ill.: InterVarsity Press, 1992), page 190. Bloesch also refers to Barth's connection between the threefold form of God's Word with the unity within the triune God (page 314, note 10). See also Church Dogmatics, vol. I/1, pages 120–124.