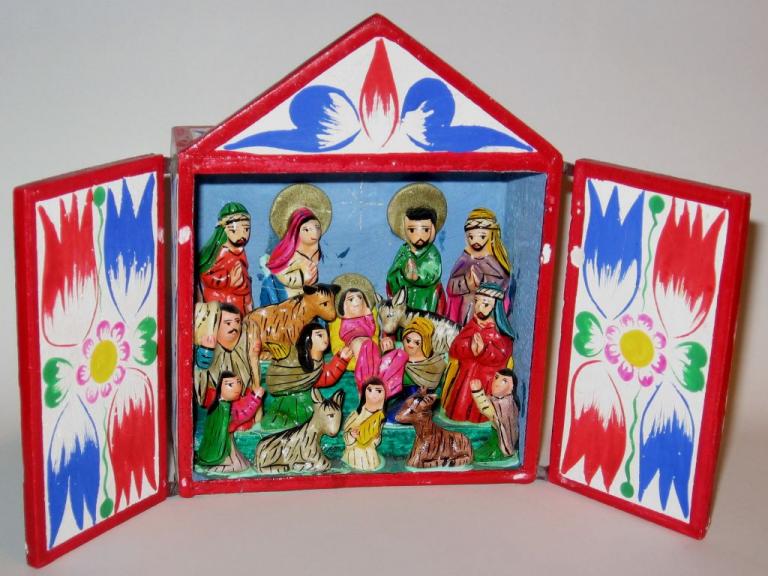 What did Jesus' mother do with Jesus three days after he was born? That would have been December 28th, if Jesus had been born on December 25th. According to one ancient source, Jesus' mother took Jesus out of the cave where he was born and placed him in a stable where animals like oxen and donkeys resided. Maybe it was an ancient version of a petting zoo.
Now, let's pause for a moment. Is that account of farm animals being present biblical or apocryphal? For some of us, our first response might be to look not in the Bible, but under the Christmas tree.
Many of us grew up with nativity sets on display under the Christmas tree at home. In addition to Mary, Joseph and Jesus who's lying in a manger, there were shepherds and sheep, and quite possibly oxen and donkeys. And yet, apart from mention of shepherds watching over their flock at night out in the field when an angel appears to them to announce Jesus' birth (Luke 2:8-9), there is no explicit mention of animals in the birth narratives of the canonical gospels. In fact, there is no indication that the shepherds took sheep with them when they traveled to Bethlehem to see the Christ child (Luke 2:15-16). Given that they set out in a speedy manner, it is quite doubtful that they brought sheep along for the ride (or rather, walk). Here's the full account:
And in the same region there were shepherds out in the field, keeping watch over their flock by night. And an angel of the Lord appeared to them, and the glory of the Lord shone around them, and they were filled with great fear. And the angel said to them, "Fear not, for behold, I bring you good news of great joy that will be for all the people. For unto you is born this day in the city of David a Savior, who is Christ the Lord. And this will be a sign for you: you will find a baby wrapped in swaddling cloths and lying in a manger." And suddenly there was with the angel a multitude of the heavenly host praising God and saying,

"Glory to God in the highest,
and on earth peace among those with whom he is pleased!"

When the angels went away from them into heaven, the shepherds said to one another, "Let us go over to Bethlehem and see this thing that has happened, which the Lord has made known to us." And they went with haste and found Mary and Joseph, and the baby lying in a manger. And when they saw it, they made known the saying that had been told them concerning this child. And all who heard it wondered at what the shepherds told them. But Mary treasured up all these things, pondering them in her heart. And the shepherds returned, glorifying and praising God for all they had heard and seen, as it had been told them (Luke 2:8-21; ESV).
Back in 2012, Pope Benedict sought to set the record straight about the nativity scene in which animals are at the manger in his book Jesus of Nazareth: The Infancy Narratives. According to one article on Pope Benedict's perspective,
"In the gospels there is no mention of animals," the pope states. He says references to the ox and the donkey in other parts of the Bible may have inspired Christians to include them in their nativity scenes.
The Pope's pronouncement won't keep many or any of us from putting various farm animals on display in our nativity sets. In fact, the same article noted that
The Vatican itself has included animals in the nativity scenes it sets up each year in St Peter's Square, and Benedict concedes that the tradition is here to stay. "No nativity scene will give up its ox and donkey," he says.
While the article claims that "Ox and donkey are latter-day additions to nativity scene," actually there is at least one ancient apocryphal source that mentions them. Chapter 14 of The Gospel of Pseudo-Matthew reads,
And on the third day after the birth of our Lord Jesus Christ, the most blessed Mary went forth out of the cave, and entering a stable, placed the child in the stall, and the ox and the ass adored Him. Then was fulfilled that which was said by Isaiah the prophet, saying: The ox knows his owner, and the ass his master's crib (Isaiah 1:3). The very animals, therefore, the ox and the ass, having Him in their midst, incessantly adored Him. Then was fulfilled that which was said by Abacuc the prophet, saying: Between two animals you are made manifest. In the same place Joseph remained with Mary three days.
So, it is not simply my favorite Christmas carol "What Child Is This?" that mentions farm animals at the nativity. At least one apocryphal writing does as well. By the way, do you remember those melodious lines from that famous Christmas carol?
Why lies He in such mean estate, Where ox and ass are feeding?
Jesus did indeed lie "in such mean estate," such a humble abode. Many of us would concur that this claim is biblical. But whether there were animals like oxen and donkeys present, we have no idea. All we have is the power of suggestion based on Jesus lying in a manger on which animals' food would be placed.
In the end, no matter if we view the presence of animals by Jesus' manger as biblical or apocryphal, explicit or implicit, or simply deeply speculative, we should come to terms with the reality that animals have a special place in God's heart. After all, through Jesus, God created all things. And just perhaps, Jesus has a special place in animals' hearts, namely, that they "incessantly adored him," as The Gospel of Pseudo-Matthew proposed.
While it is important to note that there is no explicit mention of animals like oxen and donkeys at the original manger where Jesus was laid, we can continue to make a place for them in our nativity sets. Even more importantly, let's make a special place for them in our hearts—as well as all other animals entrusted to our care as God's stewards here on earth. Let's make a special place for animals in our hearts, not just on the third day after Christmas, but every day of the year.