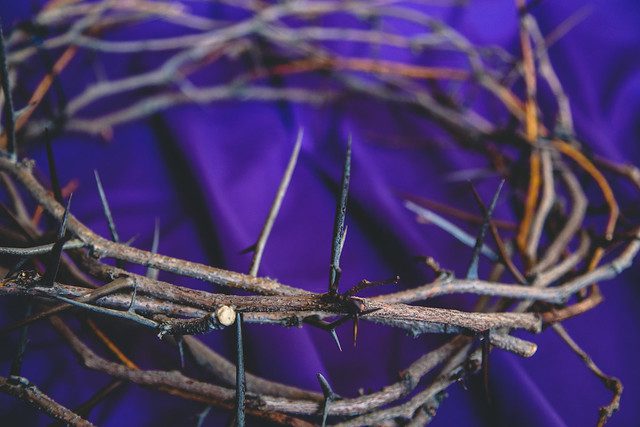 People often associate Lent with giving up some vice for God. It might be cigars or alcohol or sweets, or something a bit more devious. Now if spinach or prunes counted, I think you would find a lot more people claiming to keep the fast.
But Lent is not only about giving up vice. It is also about gaining. What do we gain? The virtuous Savior. Just as Jesus went into the wilderness and suffered hunger and thirst for forty days to encounter and experience God in a more intense manner while being tempted by the Devil (See Matthew 4:1-11), so we give up something during Lent to gain more of Jesus. We give up vice to gain and savor the Savior.
The Apostle Paul wrote during his first Roman imprisonment (he was imprisoned on account of his bold Christian witness) that for him "to live is Christ, and to die is gain" (Philippians 1:21; ESV). While he did not likely pen those words during the Lenten season, nonetheless, his words bear on the subject of Lent.
Paul was pondering what stood before him—possible death, or release from imprisonment. Regardless of the possibility of death, he did not fear. Why? Death simply entailed his departure to be with Christ, which is "better by far" (Philippians 1:23; NIV). After all, Paul's whole existence was Christ. Even so, Paul determined for the sake of his brothers and sisters in Christ here on earth that it was best for him to remain on earth for a time to support and build up the Christian community (Philippians 1:24-26).
Later, in Philippians 3, Paul returned to the Christocentric thrust of his life, and how suffering loss was central to his spiritual participation in Jesus' life. Consider the following:
"But whatever gain I had, I counted as loss for the sake of Christ. Indeed, I count everything as loss because of the surpassing worth of knowing Christ Jesus my Lord. For his sake I have suffered the loss of all things and count them as rubbish, in order that I may gain Christ and be found in him, not having a righteousness of my own that comes from the law, but that which comes through faith in Christ, the righteousness from God that depends on faith—that I may know him and the power of his resurrection, and may share his sufferings, becoming like him in his death, that by any means possible I may attain the resurrection from the dead. Not that I have already obtained this or am already perfect, but I press on to make it my own, because Christ Jesus has made me his own. Brothers, I do not consider that I have made it my own. But one thing I do: forgetting what lies behind and straining forward to what lies ahead, I press on toward the goal for the prize of the upward call of God in Christ Jesus. Let those of us who are mature think this way, and if in anything you think otherwise, God will reveal that also to you. Only let us hold true to what we have attained" (See Philippians 3:7-16; ESV).
The fellowship of sharing in Jesus' sufferings was not an ellipsis for Paul. It was essential (See Philippians 3:10). Part of suffering loss involved dying to the egoistic drive of pursuing perfection by way of self-righteousness (Philippians 3:7-8), something in which Paul had excelled (Philippians 3:1-6). Paul's rejection of self-righteousness and challenge to others who still embraced it did not go over well in many circles. Much of the suffering Paul experienced was at the hands of those who did not give up their egos 'during Lent' and throughout the year to embrace a righteousness by faith in Christ Jesus for a lifetime.
It is important to note here that there is nothing inherently good or virtuous about giving up something like a vice as a Christian if it is not ultimately tied to gaining Jesus by faith. They belong together. For Paul, you could not have one without the other: suffering and savoring intimacy with the Savior went together.
Like any intimate relationship, it is not only the good times that cultivate intimacy. Suffering together also builds the relationship. So it is for the believer with Jesus. Here I call to mind my mother and father. My parents were married for over sixty years. When they took their wedding vows, they did not only take seriously the parts about "better" and "richer" and "health." There was no ellipsis, that is, no omission of words that involved suffering, pain, and difficulty. They embraced their entire wedding vows throughout their marriage, which lasted until my father died of cancer several years ago: "to have and to hold, from this day forward, for better, for worse, for richer, for poorer, in sickness and in health, to love and to cherish, till death do us part."
My mother cherishes my father now as much as she ever did, and longs to see him. So it was for Paul in his walk with Christ. He longed to see Jesus, and he viewed participation in the bad times as well as the good times, that is participation in Jesus' sufferings as well as resurrection glory, to be essential to his faith. One of the fundamental differences between a healthy marriage in the here and now and what Scripture refers to as the church's marriage to Christ Jesus is that the latter lasts forever. Thus, what we give up now to gain greater intimacy with Jesus has far greater significance. After all, the bond is eternal.
Paul's passion in his Christian life was to connect with the whole Christ, and nothing but the whole Christ. For him, loss and suffering were not the end goal. They were simply the vehicle on the path for gaining Christ Jesus. How about us during Lent and beyond? Do we look at suffering and loss as an obstacle, or as an opportunity to gain Christ Jesus? What are you giving up during Lent? And what—or better whom—do you hope to gain by faith through it?