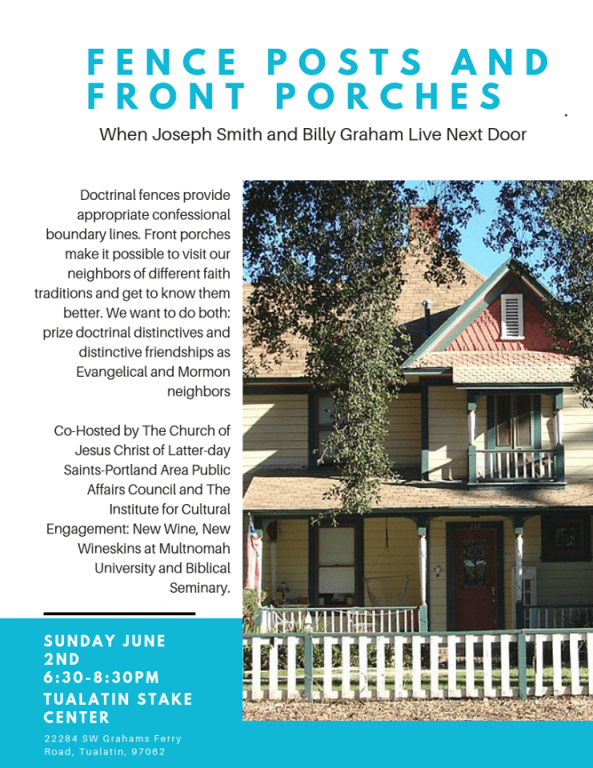 By Paul Louis Metzger and John W. Morehead  Two upcoming events focus on Christian witness, specifically evangelism and religious diplomacy. These events in the Greater Portland area occur within a few days of one another. Their proximity in time provide us in this blog post with an opportunity to discuss their relationship. Evangelism and religious diplomacy complement rather than contradict one another, when pursued in a straightforward and honest manner.
On Thursday, May 30, the Luis Palau Association is putting on an event titled "Show & Tell: What's at the Heart of our Faith?" Mark Mittelberg, Greg Stier, and Shaila Visser are the featured speakers in a two-part activity for the day. The first part is a "Lunch Gathering for Leaders" that takes place from 9:30 a.m. to 1:00 p.m. As the Palau website states, "This special event presented by the Portland Evangelism Team" will include "inspiring conversation about the heart of gospel-sharing faith." The second part of the day's event is an "Evening Gathering for Local Believers" from 7:00 to 8:30 p.m. This will be a time to hear inspiring stories about Christians sharing their faith so as to equip Christians for evangelism.
Three days later on June 2 there will be an Evangelical and Latter-day Saint dialogue event. This is the fourth gathering in a series of dialogues that have been held over a period of two years. The title is "Fence Posts and Front Porches: When Joseph Smith and Billy Graham Live Next Door." "Fence Posts" serve as a metaphor for doctrinal boundaries between diverse religious and ideological neighbors. "Front Porches" provide spaces where people of diverse religious and ideological perspectives living in close proximity gather for friendly conversations. The conversation will be held from 6:30-8:30 p.m. at the Tualatin Stake Center of The Church of Jesus Christ of Latter-day Saints. The participants include two Evangelicals, Paul Louis Metzger of Multnomah University and John Morehead of Multifaith Matters, and two Latter-day Saints, Spencer Fluhman of Brigham Young University and Ed Stone, a Portland area leader. The Institute for Cultural Engagement: New Wine, New Wineskins at Multnomah University & Seminary is co-hosting the event with the Portland Area Public Affairs Council of The Church of Jesus Christ of Latter-day Saints.
At first glance these two events may not seem as if they complement one another. In "Show and Tell," an Evangelical evangelistic organization focuses on equipping Evangelicals to share their faith effectively. In "Fence Posts and Front Porches," members of two evangelistic communities—Evangelicals and Latter-day Saints—focus on building trust and understanding involving dialogue. Typically, in interreligious dialogues, and especially in interfaith contexts, evangelism is off limits. But this is where religious diplomacy is different. Conversations can make space for evangelism, if sharing one's faith is welcomed and pursued in a spirit of mutuality. This does not mean that evangelism is the only or primary aim in religious diplomacy. Religious diplomacy is multifaceted. It includes but is not limited to evangelism. Religious diplomacy also avoids evangelistic efforts that involve bait-and-switch tactics and perspectives where individuals are seen largely as objects of value only for conversion.
We see the work of religious diplomacy as a fitting complement to the evangelistic work promoted by the Luis Palau Association. In fact, the Palau Association has proven exemplary over the years in their evangelistic work here and abroad as well as in their rigorous emphasis on holistic care for people in need in cities like Portland.
Even the left-of-center publication Willamette Week has spoken of LPA President Kevin Palau quite favorably in diplomatic terms: "he acts as God's diplomat, influencing one skeptic at a time."
In each instance—evangelistic witness and religious diplomacy, the following biblical text comes to the foreground: "but in your hearts honor Christ the Lord as holy, always being prepared to make a defense to anyone who asks you for a reason for the hope that is in you; yet do it with gentleness and respect" (1 Peter 3:15; ESV). Genuine and respectful forms of religious diplomacy provide opportunities for genuine and respectful forms of evangelism. So, too, evangelism gives rise to religious diplomacy. Regardless of whether anyone converts, multi-faceted conversations involving faith and practice and neighborly care should continue. With the fence posts that help make for good neighbors still standing, we can invite one another over for enriching and friendly conversations that take place on our respective front porches. We encourage fellow Evangelicals to cultivate skill in two-fold witness involving evangelism and religious diplomacy. These two complementary events will serve to enhance your witness.