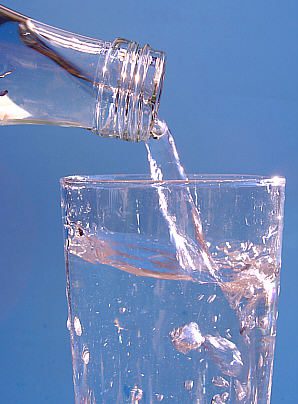 In the previous post, we reflected on scorched earth tactics involving the poisoning of water in warfare from ancient times to the present. Fortunately, many of us have not and will not likely have to worry about scorched earth tactics of poisoning water supplies. And yet, all of us still have to concern ourselves with what's in the water we drink. For example, there has been longstanding concern about high levels of arsenic in well water in Washington state where I live (Refer here). Many people turn to bottled water as a solution due to astute marketing. One article asserts: "Though health advocates have cheered the news of soda's declining fortunes, the rise of bottled water is less a nutritional success story than a victory for good old-fashioned American marketing—or, to be more precise, of companies deftly navigating the murky space between what people want and what they can be convinced they need."
Just like stylish faucets in homes and hotels that may lead us to think the tap water we drink is clean and healthy, we should not let the pretty packaging and astute marketing tactics lead us to think all bottled water is pure and beneficial for our health. For example, a few bottled waters contain unsafe levels of arsenic, according to Consumer Reports. Another site warns: "Just because water is bottled doesn't mean it's better for you. In fact, some bottled waters are essentially the same as (or worse than) tap water and others are almost as bad as soda — yikes!"
Thus, it's not only efforts to poison water that put us at risk. A lack of sound governmental regulation and savvy though unsavory marketing techniques can also jeopardize our health in drinking unsafe water. So, we must be vigilant in asking: "What's in the water?"
The same goes for our spiritual lives. The dangers we face are not always diabolical, like enemy forces that aim to poison water supplies. We need to be on guard not simply against the Devil and demonic forces, that is the Principalities and Powers in heavenly places (Ephesians 6:12), but also against our fleshly appetites, as well as the world system involving its own array of savvy marketing techniques that stands opposed to God's values (1 John 2:16). We need to take to heart biblical marketing techniques that reflect well on the delight one has from drinking from the refreshing waters of the fountain of life: "As a deer pants for flowing streams, so pants my soul for you, O God. My soul thirsts for God, for the living God. When shall I come and appear before God?" (Psalm 42:1-2; ESV)
The preceding discussion leads me to ask: What satisfies our spiritual hunger and our thirst? What appeals to satisfy our hunger and thirst do we find attractive? It matters, since we become what we eat and what we drink. We also become what we love.
While it is true that we become what we love, we should ask: do we love what we become? It is good to discern carefully what we love and above all guard our hearts for they are the wellspring of life (Proverbs 4:23). Everything flows from there, not the externals, like stylish faucets and eye-striking bottled water. As the Lord exhorted Samuel in his efforts to discern who among Jesse's sons would be chosen as king, "Do not look on his appearance or on the height of his stature, because I have rejected him. For the Lord sees not as man sees: man looks on the outward appearance, but the Lord looks on the heart" (1 Samuel 16:7; ESV).
On the import of the heart as the wellspring of life, J. Hampton Keathley III writes: "The heart needs guarding because the heart is the wellspring of life; the fountain of attitudes, values, beliefs, aspirations, and pursuits (Pr. 4:23; Matt. 13:34; 15:18; 6:21). Because of this, we must guard it or we develop those of the world and this will always lead us astray." In a similar vein, Warren Wiersbe asserts: "'The heart is the "master-control" of the life; a wrong heart always produces a wrong life. To allow sin into the heart is to pollute the entire life… 'The unexamined life is not worth living,' said Socrates. The Lord is pondering (examining) our lives (Pr 5:21, 15:3, Je 17:10, 2 Chr 16:9), and we must examine them too (cp 2 Co 13:5). Live in God's Word and He will protect your path, direct your path, and perfect your path, for the glory of Jesus Christ" (The quote is found at Precept Austin).
In succeeding posts, we will reflect upon several spiritual taste buds in the effort to discern whether we are alert to how healthy the wellsprings of our hearts are. Always be alert to ask: what's in the water?