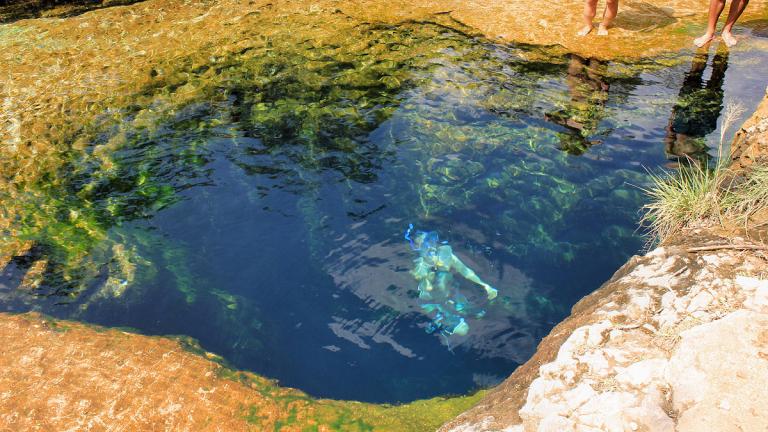 Proverbs 4:23 reads, "Keep your heart with all vigilance, for from it flow the springs of life" (ESV). Just as it is important to guard against polluting groundwater and wellsprings, so it is important to guard against polluting the heart. After all, the heart is the wellspring of life.
Polluted groundwater is no joke. The Groundwater Foundation lists several dangers from drinking polluted groundwater:
Drinking contaminated groundwater can have serious health effects. Diseases such as hepatitis and dysentery may be caused by contamination from septic tank waste. Poisoning may be caused by toxins that have leached into well water supplies. Wildlife can also be harmed by contaminated groundwater. Other long term effects such as certain types of cancer may also result from exposure to polluted water.
What are some of the sources for groundwater contamination? The same site lists the following sources of contamination:
Groundwater contamination occurs when man-made products such as gasoline, oil, road salts and chemicals get into the groundwater and cause it to become unsafe and unfit for human use.
Materials from the land's surface can move through the soil and end up in the groundwater. For example, pesticides and fertilizers can find their way into groundwater supplies over time. Road salt, toxic substances from mining sites, and used motor oil also may seep into groundwater. In addition, it is possible for untreated waste from septic tanks and toxic chemicals from underground storage tanks and leaky landfills to contaminate groundwater.
If polluted groundwater or a polluted wellspring is no joke, the same is certainly true of a polluted heart, which metaphorically speaking represents the center of one's spiritual being. The heart is the wellspring of spiritual life.
Now one of the chief problems in trying to identify pollutants in groundwater and wellsprings is that such water is below the surface, that is, until it surfaces. It is important that we test well water regularly at a certified laboratory. Certainly, something similar should occur when it comes to our spiritual lives. God's Word serves as our chief authority or guide for testing for polluted wells, that is, hearts. As Hebrews 4:12 indicates, "For the word of God is living and active, sharper than any two-edged sword, piercing to the division of soul and of spirit, of joints and of marrow, and discerning the thoughts and intentions of the heart" (ESV). Hebrews also indicates the importance of meeting together regularly with God's people to encourage one another to keep the faith as the day of Jesus' coming fast approaches (Hebrews 10:24-25). It is important that believers meet together to encourage one another and hold one accountable to God's Word rather than run wild with personal whims.
In the following blog post on this subject, I will discuss five areas where our heart trajectories surface. In keeping with Christian Scripture, we need to guard our hearts so that we cherish substance over style and celebrity; stewardship over success; soul over stuff; connections to people over careers; and the glory of God over the glory of people. We are better able to discern the quality of the wellsprings of our hearts as we test for pollutants according to these and related measurements.