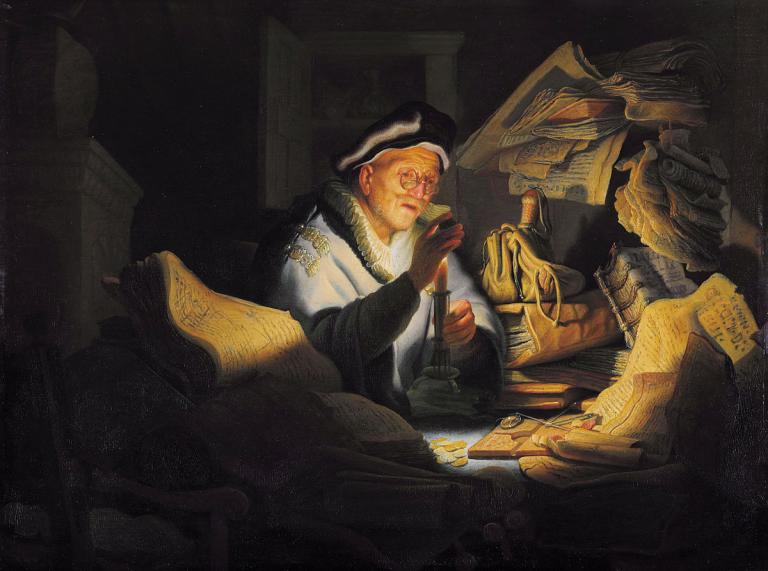 Today marks the eighteenth Sunday in Ordinary Time. How might Ordinary Time's emphasis on ordering our lives according to Jesus' life and teaching bear upon inordinate desire today and every day of the year?
It is worth noting that the Gospel reading for Ordinary Time this Sunday is taken from Luke chapter 12:13-21. The text addresses the subject of greed, avarice, inordinate desire for material gain. Let's read:
Someone in the crowd said to him, "Teacher, tell my brother to divide the inheritance with me." But he said to him, "Man, who made me a judge or arbitrator over you?" And he said to them, "Take care, and be on your guard against all covetousness, for one's life does not consist in the abundance of his possessions." And he told them a parable, saying, "The land of a rich man produced plentifully, and he thought to himself, 'What shall I do, for I have nowhere to store my crops?' And he said, 'I will do this: I will tear down my barns and build larger ones, and there I will store all my grain and my goods. And I will say to my soul, "Soul, you have ample goods laid up for many years; relax, eat, drink, be merry."' But God said to him, 'Fool! This night your soul is required of you, and the things you have prepared, whose will they be?' So is the one who lays up treasure for himself and is not rich toward God."
It is quite clear from this text that Jesus does not subscribe to the idea that those with the most toys wins. Rather, Jesus calls such individuals fools—which is exceptionally strong language in his context.
The rich person in question makes a poor judgment and decision. Just because his land produces plentifully does not mean that he has plenty of time. In fact, his time is up: "But God said to him, 'Fool! This night your soul is required of you'" (Luke 12:20). So much for his wishful thinking that he can "relax, eat, drink, be merry" for "many years" (Luke 12:19).
One commentator on this passage for this Sunday claims,
Today we feel a deep sense of crisis in the collective conscience. The greed that governs us is just a symptom of this crisis. The greed to get at all costs what we don't have; the greed to keep what we have, whatever the price; the greed that makes us live above our means.

This is avarice at its worst, with implications for our individual well-being and implications on the political level of a society constantly crucified with scandals and corruption. Little do we realise that Christian tradition ranks avarice, or greed, ahead of lust and second only to pride. It is what Thomas Aquinas called "the immoderate desire for temporal possessions", the emphasis being on 'immoderate'. Avarice is among the most hidden and dangerous sins.
One does not have to be Roman Catholic like St. Thomas Aquinas to get this point. Even though Protestantism has traditionally viewed every sin as mortal, such consideration should never minimize how deadly avarice or greed is. Moreover, one does not have to be rich in material wealth to struggle with greed. This inordinate desire for material gain can take root in all of us. In other words, greed is no respecter of traditions or persons. This being the case, I am always struck by people who live in such a way that they steward their possessions relationally well before God and others. For example, I know a wealthy Christian philanthropist who looks at money in a unique way: "Money is like manure. It helps me grow things." This person seeks to honor God and invest in initiatives that serve the underserved in ways that sustain and strengthen them for their own long-term vitality and personal growth. It appears that this Christian philanthropist has taken to heart the message of Luke 12:13-21. From all that I know of this philanthropist, he also cherishes his relationships with family and friends. He has done well to avoid a costly mistake that a mutual friend who is an estate attorney often finds when providing legal counsel to wealthy individuals: those who are possessed by their financial possessions are estranged from their families and they don't even know why.
In Luke 12, it appears that the man in the crowd who begs Jesus to tell his brother to divide their inheritance is not concerned for relationship given that Jesus tells this parable of the rich fool. Certainly, the rich fool is not concerned for relationship with God and others, but only his own well-being "to relax, eat, drink, be merry" for "many years" (Luke 12:19; ESV). Jesus warns us to guard against being like this man with his inordinate desire for financial gain and material well-being. For everyone who is like this rich fool will end up with a similar fate: "So is the one who lays up treasure for himself and is not rich toward God" (Luke 12:21; ESV).
John Paul Thomas writes of this passage in Luke 12 for this Sunday in Ordinary Time that while not everyone is called to take the vow of poverty, every Christian must seek to live out poverty of spirit. Thus, we must guard our hearts in such a manner that we cherish and embrace only the great life-long treasures of faith, hope, and love.[1] Only then can we move beyond the fear bound up with what Walter Brueggemann calls "the myth of scarcity" and live into "the liturgy of abundance."[2]
Speaking of liturgy, the liturgical year helps us not fall prey to the idea that time is on our side and that we will live this life as we know it forever. We must live ever mindful that our mortal existence could end this day or this night and that we will have to stand before God and give an accounting for what we did with our resources during our lifetime. While the IRS does not account for inordinate desires of greed, only that we have our financial records in good legal order, God's accounting addresses our heart's deepest values and whether we have invested relationally well with God and others. After all, as Jesus warns us, "Take care, and be on your guard against all covetousness, for one's life does not consist in the abundance of his possessions" (Luke 12:15). If Jesus' exhortation out of concern for our eternal and relational well-being does not cure inordinate desire during Ordinary Time, I don't know what will.
_______________
[1]See John Paul Thomas, Daily Reflections for Ordinary Time: Weeks 18-34 (Washington, D.C.: My Catholic Life!, 2016). This biblical text was chosen for the eighteenth week of Ordinary Time in year C of the church calendar.
[2]Walter Brueggemann, "The Liturgy of Abundance, The Myth of Scarcity," Christian Century, March 24-31, l999; used by permission at Religion Online/prepared for Religion Online by John C. Purdy.